What are the countries with the most threatened species of fish?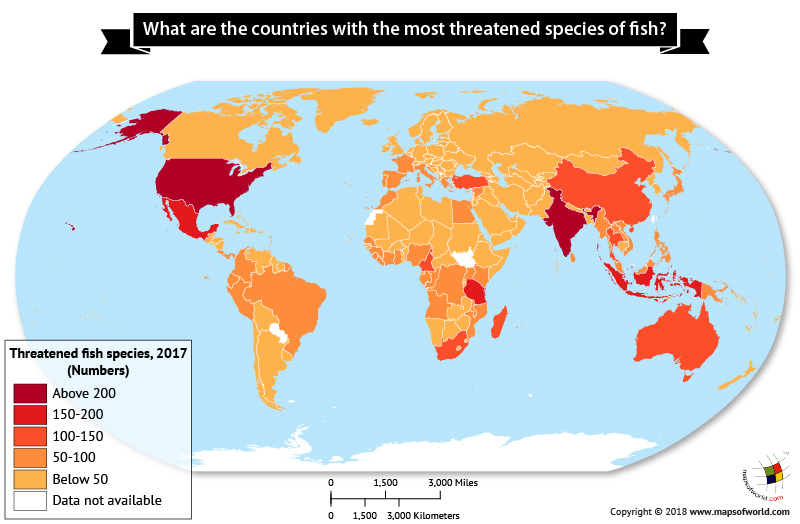 Extinction of any species of animal or bird happens because of two reasons- loss of natural habitat and loss of genetic variation. Human activities of deforestation and exploitation of the natural resources contribute to the loss of habitat. Extreme weather conditions, that is, too hot or too cold, are responsible for the loss of genetic variation since the species find it difficult to survive in a rapidly evolving climatic condition.
Fish are among the most endangered species group of animals on the planet. Experts believe that unsustainable fishing practices along the coast of western and central Africa contribute to the soaring number of threatened fish species.
Here is a list of countries and the threatened fish species as per 2017 records.
| | |
| --- | --- |
| Country | 2017 |
| United States | 251 |
| India | 228 |
| Mexico | 181 |
| Tanzania | 176 |
| Indonesia | 163 |
| China | 134 |
| Turkey | 131 |
| Australia | 123 |
| Cameroon | 121 |
| South Africa | 120 |
| Madagascar | 110 |
| Thailand | 107 |
| Colombia | 98 |
| Malawi | 98 |
| Congo, Dem. Rep. | 94 |
| Philippines | 93 |
| Brazil | 90 |
| Malaysia | 87 |
| Vietnam | 82 |
| Spain | 80 |
| Greece | 80 |
| Japan | 77 |
| Guinea | 76 |
| Kenya | 73 |
| Nigeria | 72 |
| Gabon | 72 |
| Mozambique | 67 |
| Liberia | 64 |
| Portugal | 64 |
| Croatia | 64 |
| Costa Rica | 62 |
| Ecuador | 61 |
| Uganda | 60 |
| Papua New Guinea | 60 |
| Cote d'Ivoire | 58 |
| Sri Lanka | 57 |
| Sierra Leone | 57 |
| Congo, Rep. | 57 |
| Ghana | 57 |
| Senegal | 56 |
| Lao PDR | 55 |
| Morocco | 55 |
| Panama | 55 |
| Egypt, Arab Rep. | 54 |
| Myanmar | 53 |
| Angola | 52 |
| France | 52 |
| Syrian Arab Republic | 51 |
| Italy | 51 |
| Peru | 51 |
| Cambodia | 49 |
| United Kingdom | 47 |
| Iran, Islamic Rep. | 46 |
| Israel | 45 |
| Pakistan | 45 |
| Cuba | 45 |
| Bahamas, The | 45 |
| Albania | 44 |
| Mauritania | 44 |
| Equatorial Guinea | 44 |
| Belize | 44 |
| Venezuela, RB | 44 |
| Canada | 43 |
| Honduras | 43 |
| Uruguay | 43 |
| Argentina | 41 |
| Guinea-Bissau | 41 |
| Algeria | 40 |
| Tunisia | 39 |
| Russian Federation | 39 |
| Benin | 39 |
| Saudi Arabia | 38 |
| Yemen, Rep. | 38 |
| Nicaragua | 38 |
| Togo | 37 |
| New Caledonia | 37 |
| Guatemala | 37 |
| Trinidad and Tobago | 36 |
| Oman | 36 |
| Cabo Verde | 35 |
| New Zealand | 35 |
| Gambia, The | 35 |
| Bosnia and Herzegovina | 35 |
| Namibia | 33 |
| Slovenia | 33 |
| Libya | 32 |
| Cayman Islands | 32 |
| Suriname | 32 |
| Montenegro | 32 |
| Guyana | 32 |
| St. Lucia | 31 |
| Somalia | 31 |
| Puerto Rico | 31 |
| Jamaica | 31 |
| Antigua and Barbuda | 30 |
| St. Vincent and the Grenadines | 30 |
| Turks and Caicos Islands | 30 |
| Dominica | 30 |
| Dominican Republic | 30 |
| Haiti | 30 |
| Barbados | 30 |
| British Virgin Islands | 29 |
| Singapore | 29 |
| St. Kitts and Nevis | 29 |
| Sint Maarten (Dutch part) | 29 |
| St. Martin (French part) | 29 |
| French Polynesia | 29 |
| Grenada | 29 |
| Bangladesh | 29 |
| Lebanon | 28 |
| Sudan | 28 |
| Curacao | 28 |
| Ireland | 27 |
| Virgin Islands (U.S.) | 27 |
| Korea, Rep. | 27 |
| Micronesia, Fed. Sts. | 26 |
| Eritrea | 26 |
| Bermuda | 26 |
| Sao Tome and Principe | 25 |
| Chile | 25 |
| Solomon Islands | 25 |
| Ukraine | 24 |
| Germany | 24 |
| Cyprus | 24 |
| Maldives | 24 |
| Aruba | 23 |
| Norway | 23 |
| Seychelles | 23 |
| Malta | 22 |
| Palau | 22 |
| Romania | 22 |
| Bulgaria | 22 |
| Djibouti | 20 |
| Mauritius | 20 |
| Zambia | 20 |
| United Arab Emirates | 19 |
| Vanuatu | 19 |
| Fiji | 19 |
| Iraq | 18 |
| Marshall Islands | 18 |
| Denmark | 18 |
| Korea, Dem. People's Rep. | 18 |
| Gibraltar | 18 |
| Kuwait | 17 |
| Burundi | 17 |
| Qatar | 16 |
| Iceland | 16 |
| Tonga | 16 |
| El Salvador | 16 |
| Samoa | 16 |
| Jordan | 15 |
| Sweden | 15 |
| Netherlands | 15 |
| Northern Mariana Islands | 15 |
| Monaco | 15 |
| Hong Kong SAR, China | 15 |
| Serbia | 15 |
| Kazakhstan | 14 |
| Kiribati | 14 |
| Ethiopia | 14 |
| Guam | 14 |
| Brunei Darussalam | 14 |
| Tuvalu | 13 |
| Macedonia, FYR | 13 |
| Bahrain | 13 |
| Belgium | 13 |
| American Samoa | 12 |
| Azerbaijan | 12 |
| Faroe Islands | 12 |
| Austria | 11 |
| Nauru | 11 |
| Timor-Leste | 11 |
| Turkmenistan | 11 |
| Georgia | 11 |
| Comoros | 10 |
| Switzerland | 9 |
| Hungary | 9 |
| Greenland | 9 |
| Moldova | 8 |
| Poland | 8 |
| Bolivia | 8 |
| Nepal | 7 |
| Uzbekistan | 7 |
| Rwanda | 7 |
| Latvia | 6 |
| Finland | 6 |
| Lithuania | 6 |
| Afghanistan | 5 |
| Slovak Republic | 5 |
| Macao SAR, China | 5 |
| Tajikistan | 5 |
| Estonia | 5 |
| Niger | 4 |
| Swaziland | 4 |
| Burkina Faso | 4 |
| Armenia | 3 |
| Kyrgyz Republic | 3 |
| Central African Republic | 3 |
| Zimbabwe | 3 |
| Bhutan | 3 |
| Czech Republic | 2 |
| Isle of Man | 2 |
| Mongolia | 2 |
| Mali | 2 |
| West Bank and Gaza | 2 |
| Belarus | 2 |
| Botswana | 2 |
| Chad | 1 |
| Lesotho | 1 |
| Luxembourg | 1 |
| Andorra | 0 |
| Liechtenstein | 0 |
| San Marino | 0 |
| South Sudan | 0 |
| Paraguay | 0 |
Source: World Bank
Related Maps: