Which US State has The Most Active Volcanoes?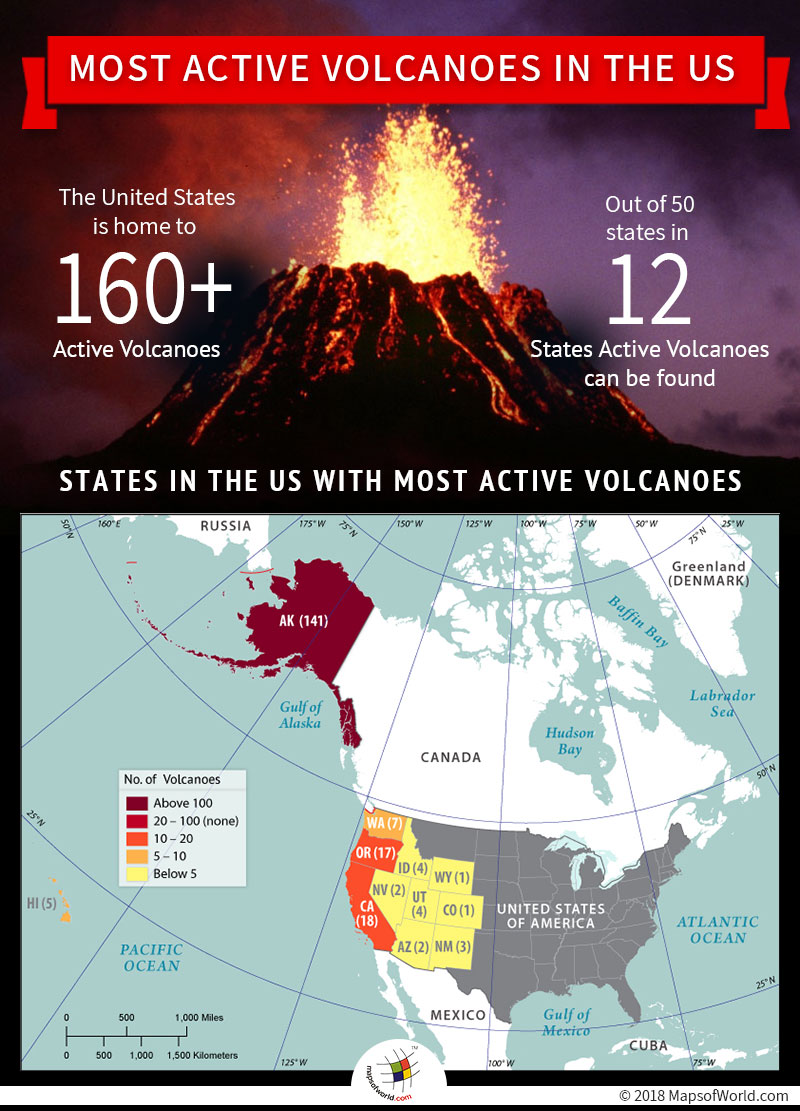 The United States is home to many majestic peaks, however, some of them can be equally terrifying because of the volcanoes that lurk within them. The United States is home to more than 160 active volcanoes. But, of the 50 states of the country, active volcanoes can be found in only 12 states. Though Hawaii is home to the most active volcanoes, but in terms of numbers, it loses out to Alaska which has the largest numbers of active volcanoes in the entire country.
Majority of the volcanoes in the United States can be found in the state of Alaska. There are more than 141 active volcanoes in the state and every other year sees the eruption of a volcano. However, as a majority of these volcanoes are located in the remote parts of the state, so their eruption hardly causes any threat to life or property. Some of the active volcanoes in the state include Mount Redoubt, Augustine Volcano, Mount Iliamna, Mount Spur, Mount Pavlof, Novarupta Volcano etc.
California is the second most volcanic region after Alaska; however, it falls at a distant second place. As compared to the 141 active volcanoes in Alaska, California has just 18. Meanwhile, the state has many fault lines, which also pose a threat of earthquakes in the state. As per the US Geological Survey, there are three volcanoes that are considered to be in the highest risk category and these are the Long Valley Caldera, Mount Shasta in Siskiyou County, and the Lassen Volcanic Center in Shasta County.
Oregon has a large number of volcanoes, but many of them are dormant. Still, there are around 17 active volcanoes in the state. Of these four are considered to be of a very high-level threat and include Three Sisters, Mount Hood, Crater Lake, and Newberry Volcano. Washington with seven active volcanoes has also seen one of the biggest eruptions. Around 57 people were killed when Mount St Helens erupted in 1980.
At the fifth place is Hawaii, with five active volcanoes. In fact, the state was formed by volcanic activity. Among these, Kilauea is the most active and has been witnessing eruptions since 1983 which are continuing till this day. The other active volcanoes are Loihi, Mauna Loa, Hualalai, and Haleakala. The other states home to active volcanoes are Utah, Idaho, New Mexico, Arizona, Nevada, Colorado, and Wyoming.
Related Map: