What are some of the most popular places to visit in Kansas?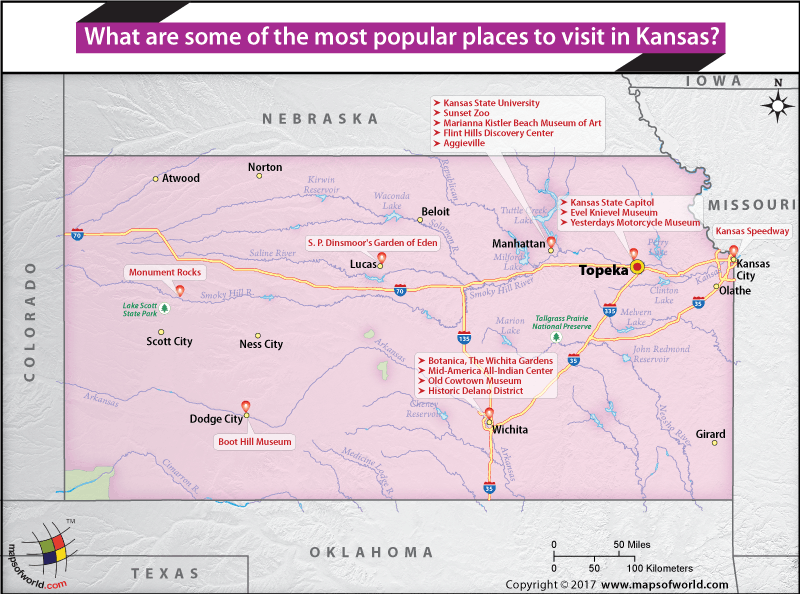 The state of Kansas is best known for its fields of wheat and sunflowers, but there is much more to offer across this Great Plains state. From historical marvels to sprawling grasslands and quaint towns to high tech urban centers, Kansas offers a plethora of attractions for everyone.
The largest city in the state, Wichita boasts a large number of museums, as well as a sprawling 18-acre garden called Botanica, which has several different gardens including a butterfly garden, a children's garden, and a rock garden. The two best known museums in Wichita will take you way back into early Kansan history. The Mid-America All-Indian Center features the heritage of Native Americans, while the Old Cowtown Museum is a living-history museum that transports visitors all the way back to 1865. Wichita's historic Delano District is a destination for shopping and entertainment.
Topeka is the vibrant capital of Kansas, which has plenty to explore. The city tour begins with a visit to the Kansas State Capitol building, climbing the 296 steps of its dome for great views. Other Topeka experiences include the Evel Knievel Museum which displays the iconic skycycle and the world's largest collection of Evelabilia (memorabilia featuring the daredevil). Motorcycle enthusiasts should also pay a visit to the Yesterdays Museum at Harley-Davidson.
Another Kansas destination to visit is Dodge City, which offers the perfect concoction of legends and lore along with museums and rodeos to check out. Boot Hill Museum offers gunfight reenactments, exhibits on cowboys and the old West, and entertaining dinner shows. Those visiting Dodge City in August can check out the annual Dodge City days, which hosts more than 50 events including a rodeo, parade, and barbecue.
S.P. Dinsmoor's Garden of Eden in Lucas, Kansas is a mecca for folk art lovers, with an entire acre of art work, including over 200 sculptures, as well as a mausoleum where the artist, Dinsmoor, and his first wife are interred.
Kansas also has plenty of natural sites to check out, such as Tallgrass Prairie National Preserve, where the remaining 4% of tallgrass ecosystem is preserved.  The Chalk Pyramids or Monument Rocks are natural formations 70 feet in height, formed around 80 million years ago, which are worth the short detour from the highway. The erosion of these formations revealed fossils, including those from sharks whose aquatic habitats once covered the Great Plains of Kansas.
The 1280-acre Lake Scott State Park is an oasis in the prairielands of Kansas, offering hiking through its forests, swimming in the natural springs, camping, biking and more.
If you feel the need for speed, then Kansas Speedway in Kansas City is the place to be. The speedway features a tri-oval race track with driving classes on-site and hosts annual NASCAR races
Though most famous for being home to the Kansas State University, Manhattan, Kansas, or the "Little Apple" (a play on the other Manhattan in New York) is known for its Sunset Zoo, Marianna Kistler Beach Museum of Art, Flint Hills Discovery Center and Lazy T Ranch. Aggieville is the state's oldest shopping district, and a popular destination among locals who frequent its bars, restaurants and shops. Manhattan also is known for four lush green manicured golf courses.
Here are some options for a unique stay in Kansas:
Great Wolf Lodge, Kansas City
C&W Ranch Bed & Breakfast, Smolan
Grand Central Hotel & Grill (Cottonwood Falls)
Swedish Country Inn (Lindsborg)
Boot Hill Bed and Breakfast (Dodge City)
Netherfield Natural Farm (Fontana)
Sunnyland Bed and Breakfast (Garden City)
Courtland Hotel, Fort Scott
Related Maps: