Where are the Ivy League schools located?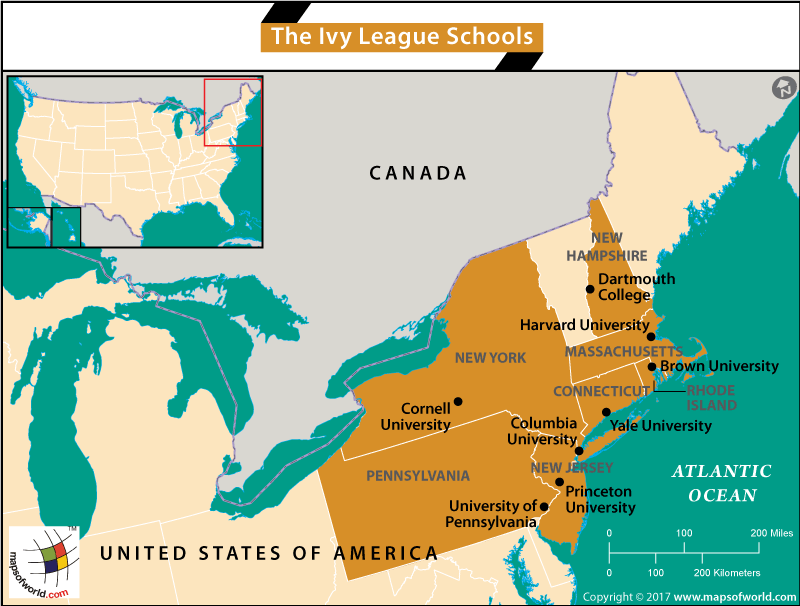 Ivy League schools form a group of premier (private) colleges in the United States that have come to be known for their academic excellence and superlative status.  Not only are the Ivy League schools among the best ranked universities across the globe but are also a symbol of prestige and elitism due to their selectivity in acceptance of applicants. These Ivy League schools are located in different states of the US. Here is a snapshot of the eight Ivy League schools and their locations –
| Ivy league School | Year of Establishment | Location | State |
| --- | --- | --- | --- |
| Harvard University | 1636 | Cambridge | Massachusetts |
| Yale University | 1701 | New Haven | Connecticut |
| Princeton University | 1746 | Princeton | New Jersey |
| Columbia University | 1754 | New York | New York |
| Brown University | 1764 | Providence | Rhode Island |
| Cornell University | 1865 | Ithaca | New York |
| Dartmouth University | 1769 | Hanover | New Hampshire |
| University of Pennsylvania | 1740 | Philadelphia | Pennsylvania |
The Ivy League colleges are some of the most sought after educational institutions in the world and have set a standard in academic brilliance and sporting excellence. Earning a degree from one of these is a coveted dream of every student who wishes to pursue higher education. A number of US presidents such as George W. Bush, Bill Clinton, and Barack Obama have earned their degrees from an Ivy League school. Apart from these, the Ivy League colleges have produced some of the most brilliant lawyers, writers, sportsmen, statesmen, business leaders, and other public figures over the years. Most Ivy League colleges are fiercely patronized by their alumni and receive endowments from them too. Many alumni families take pride in an unbroken tradition of attending these colleges for generations – a form of social elitism that an Ivy League education brings with it.
While academic brilliance and top scores are definitely one way of getting into the Ivy League colleges, this is not the only option. These colleges hold a legacy of accepting budding sporting talents who represent them in various events. The Ivy League schools harbor a fierce internal rivalry in sports such as football, basketball, and hockey. Most of them offer prestigious scholarships for deserving applicants making it possible for stellar achievers to graduate from these. Each year between 6,500 and 20,000 graduate students find admission in each of these colleges. Seven of the Ivy League colleges were established before the American Revolution.
Related Maps: