What are the popular places to visit in Shimla?

Snowy peaks at a distance and winding road ahead – that's exactly how tempting Shimla is. This picturesque hill station in Himachal Pradesh is for those who love aesthetics. A serene environ, snow-capped mountains, majestic views, and a cool climate made it the Summer Capital of British India in 1864. The British left an indelible imprint on this hill station. One of the many things that attract tourists here is the quintessential English charm that this place has.
Facts about Shimla
Shimla is situated 2,202 meters (about 7,224 feet) above sea level.
The Kalka-Shimla Railway is a UNESCO World Heritage Site.
Shimla is home to the oldest natural ice-skating rink in Asia.
The city hosts the legendary mountain biking race MTB Himalaya. It is the biggest event of its kind in Southeast Asia.
The Photo Art Gallery in Potter's Hill has over 20,000 beautiful photographs of Himachal Pradesh.
'Spoonies' is an irresistible dessert that is unique to Shimla.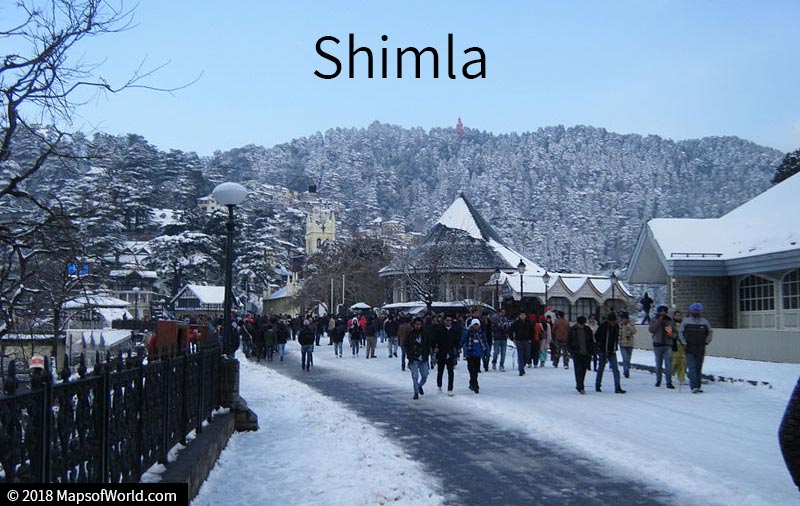 Shimla Tourist attractions
Christ Church: Built in 1844, the second oldest church in North India is a fine example of Elizabethan architecture. The church has a pipe organ that is considered one of the biggest in the country. The stained-glass windows make this church even more charming.
Viceregal Lodge: Located on the Observatory Hills, the Viceregal Lodge was built in 1888 and was used as the official residence of Lord Dufferin, the Viceroy of India. It is now the new address of the Indian Institute of Advanced Studies (Shimla-based research institute). The lodge not only gives an insight into the British rule in India but also offers spectacular views of sunrise and sunset.
Summer Hill: It is very popular amongst tourists looking to get away from the hustle and bustle of commercial Shimla. Oaks, cedars, rhododendrons, and many more grow alongside its paths. Manorville Mansion is the most famous building in the area as it was the place where Mahatma Gandhi, the Father of the Nation, stayed when he visited Shimla.
The Ridge: It is where most activities take place since it is located at the center of the city. The Ridge has very important historical landmarks and hosts a number of events, apart from offering a beautiful view of the surrounding mountains. It is very important for the survival of Shimla because the water reservoir below it is responsible for the supply of water to a major portion of the city.
Mall Road: The Mall Road is popular owing to the location of major landmarks in its vicinity. This commercial hub of Shimla is replete with restaurants, clubs, bars, and souvenir shops.
St. Michael's Cathedral: Built in 1850, it is the first Catholic church of Shimla. It has five marble altars that were brought all the way from Italy in 1855. The fine stained-glass windows are a feast to the eyes.
Gaiety Theater: It was built in 1887 to provide entertainment opportunities to the British residents of Shimla. The Neo-Gothic architecture of the building is impressive. It also has an art gallery along with an exhibition hall, an amphitheater, and many other facilities. It is a must-visit for any lover of fine arts.
Jakhoo Hill: The highest peak in Shimla offers panoramic views of the surrounding landscape. Jakhoo Temple, which is located at the top of the hill, is dedicated to Lord Hanuman.
Kalka-Shimla Railway: The toy train that has been connecting Shimla to the city of Kalka since the mid-19th century is one of the most popular ways of reaching the town, albeit a slow one. However, the scenic view that one gets during this 96-km (about 60 miles) long track is worthwhile. The train crosses around 806 bridges and passes through 103 tunnels.
Tattapani: Located a few kilometers from Shimla, the sulfurous hot springs at Tattapani are considered to have therapeutic benefits. Hence, it is a popular hub for medical tourism. Besides the hot spring, the cold water of Sutlaj is ideal for river rafting.
Kotgarh: Located a few miles from Shimla on the old Hindustan-Tibet road, the place is famous for its apple orchards. The first commercial orchard in Himachal Pradesh was planted here in 1914.
Shimla Water Catchment Sanctuary: Spread over an area of 10.25 sq. km. (about 33.62 sq. miles), this sanctuary is home to coniferous forests, steep terrain, and small streams. Located 12 km (about 7.5 miles) east of Shimla, it is a refuge for Brown Bear, Barking Deer, Indian Red Fox, and Striped Hyena.
Kali Bari Temple: Set amidst the lush green forests, this majestic temple is dedicated to Goddess Kali. It is quite popular with tourists and locals alike. Besides the spiritual significance, it is also important for being a vantage point to view the Himalayas.
Scandal Point: Its mysterious name along with its proximity to other tourist destination, makes it a popular destination for tourists. This is the point where the Ridge intersects the end of the Mall Road.
Things to Do in Shimla
Resting on the lap of the Shivalik range, Shimla is a perfect platform for adventure sports. The hiking and trekking expeditions in and around the city can last for a few days or sometimes even weeks. Skiing at Kufri and NarkandaIis are the several options open to adventure freaks.
The ice-skating rink in Shimla is the largest open-air rink with naturally frozen ice. You can try your hands at ice skating here between December and February.
Travel 110 km (about 68 miles) from Shimla to Rohru and go fishing in the Pabbar river where both Rainbow and Brown Trout are found. Tattapani is another good place for fishing.
One of the oldest golf courses in India is in Naldera, which is 23 km (about 14 miles) from Shimla. It is a nine-hole course and is considered one of the toughest in India.
The splendor of nature is best celebrated by camping. Mashobra and Baldian, located close to Shimla, have all the camping facilities for you to explore.
What you cannot afford to miss in Shimla is shopping at the Mall Road. Lakkar Bazaar is an ideal place for buying wooden handicrafts and other souvenirs. Most of the restaurants, clubs, bars, and shops are located in this popular stretch.
Hotels in Shimla
Visitors looking for budget accommodation should check out Hotel Rock Heaven and Hotel Victory. While Hotel Hot Spring Therme and the Royal Jardin Whistling Pines Resort are excellent mid-range options, Chapslee and The Oberoi Cecil are popular luxury accommodations in the town.
Restaurants in Shimla
Shimla has a wide array of eateries and food joints catering to discerning travelers. Ashiana has not only mastered the art of preparing Indian dishes, but it is also popular among those who love Chinese and Thai food. For desserts, people flock to the Embassy Restaurant. The Indian Coffee House is the best place to sit down over a cup of your favorite beverage. Cafe Sol, Goofa Ashiana Bar and Restaurant, Park Cafe, and Wake & Bake are some of the other popular eateries in Shimla.
Best Time to Visit Shimla
There is no ideal time to visit Shimla as it experiences the pleasant climate throughout the year, but it experiences cold winters. The best time to visit Shimla would be from October to November and from March to May. If you wish to enjoy adventure sports then March to May is the ideal time to try paragliding, trekking, camping, and rafting. Those who wish to enjoy ice skating and skiing, visiting Shimla after October would be ideal.
How to Reach?
By Air – Shimla Airport is located about 22 km (about 13.5 miles) away from Shimla town and a drive through the hilly roads and switchbacks will take about 50 minutes. It is a small airport and most of the flights only connect nearby cities.
The nearest major airport is located in Chandigarh which is about 115 km (about 71 miles) away. Driving to Chandigarh Airport from Shimla will take over three hours.
By Rail – The Kalka Railway Station is the closest major railway station to Shimla and is connected to other parts of the country. It is about 88 km (about 55 miles) away and a drive from the railway station to the town takes over two and a half hours.
By Road – The hill station is well-connected to other cities by road. There are a number of buses that ply between Shimla and its nearby cities. It is about 360 km (about 224 miles) away from Delhi with a drive of over seven hours.
Know more:
Related Maps: