What are the popular places to visit in Vienna?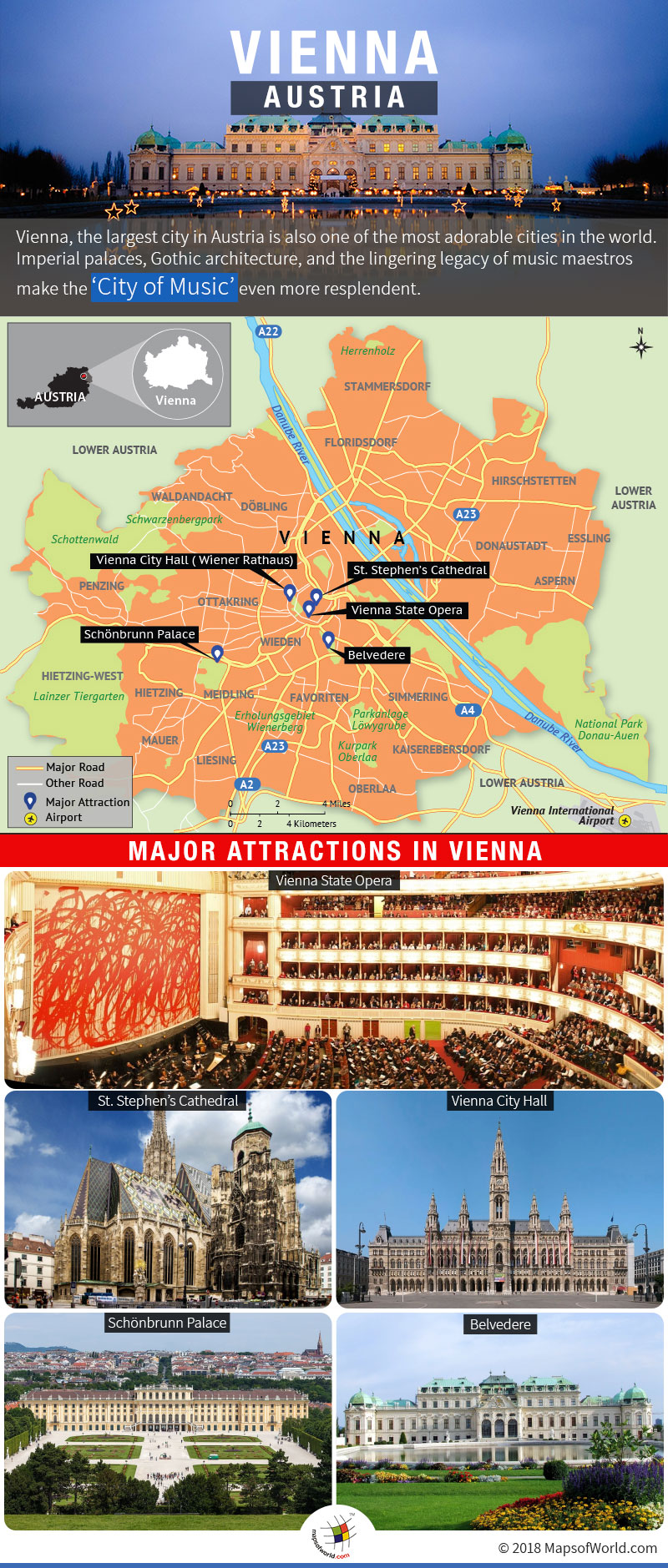 The Celtics thrived here, the Romans ruled here, and the Austro-Hungarian empire made it its bastion. Vienna, the largest city in Austria, is also one of the most charming cities in the world. 
Imperial palaces, Gothic architecture, and the lingering legacy of music maestros make the 'City of Music' even more resplendent. From the blue waters of Danube River to the old-world charm of Innere Stadt, Vienna creates a timeless aura that never leaves us. It is no exaggeration to say that no other city in Europe has encountered more historical, cultural, and musical transformations than Vienna.
Facts about Vienna
At the age of six, Mozart gave his very first performance at the Hall of Mirrors in Schönbrunn Palace to Empress Maria Theresa.

Famous artists such as Gustav Klimt, Erwin Schrodinger, and Fritz Lang were born in Vienna.

Vienna is often called the 'City of Dreams' as it was home to Sigmund Freud, the father of psychoanalysis.

Several offices of the United Nations such as UNIDO, UNODC, OPEC, IAEA, and CTBTO, are located in the city.

Vienna is one of the few capital cities with its wineries.

More than 450 balls – some with a live orchestra – are held in the city each year.
Schönbrunn Palace – The palace, covering an area of 160 hectares, is known for its astounding Rococo-style architecture. Opened to the public in 1699, the palace includes 1441 lavish rooms, world's oldest Tiergarten Schönbrunn Zoo, labyrinths of gardens, and world's largest gloriette. Schönbrunn Palace was declared a UNESCO World Heritage Site in 1996.
Belvedere Palace – Constructed in the early 18th century, it has two (Upper and Lower) Baroque palace buildings. Visitors love to walk around the decorative fountains, gardens, and Sphinx sculptures. It has two museums featuring the best of Austrian artworks.
Vienna State Opera House – One of the most reputed opera houses in the world leaves its viewers enthralled. The beauty of marble staircases, glowing chandeliers, and prolific interiors is matchless.
St. Stephen's Cathedral – Also known as Stephansdom, it is the most important religious building in Vienna. The white cathedral – 351 feet tall and 131 feet wide – is made out of limestone. It contains 23 bells and 18 altars as well as chapels, crypts, and tombs.
Other tourist attractions that deserve a visit include The Third Man Museum, Wiener Rathaus, Burgtheater, Hofburg, Spanish Riding School, and the Natural History Museum.
Things to Do in Vienna
Explore History – Royal palaces and museums give travelers a close look at the city's cultural background. Skimming the surface of Vienna can never be enough; you ought to plunge deep into the repertoire of Viennese art in historic neighborhoods.
Go Shopping – Naschmarkt is the largest market of its kind in the city. It is about 1 mile in length. The flea market on Saturdays attracts large numbers of tourists.
Vienna Ring Road – This is the outer ring road of the city where visitors go on tram tours and walking tours to museums, royal palaces, and parliament building.
Donauinsel – A hub for recreational activities such as rollerblading, jogging, cycling, and canoeing — this is a narrow island between two channels of Danube River. Donauinselfest – the biggest open-air music festival of Europe – is held here each year in June.
Prater – Wiener Riesenrad is almost 700 feet tall Ferris wheel in Prater amusement park. This vantage point allows unparalleled views of the city. Movies such as The Third Man and Before Sunrise has featured this Ferris wheel.
Boat ride – Iconic Danube River is the perfect place to enjoy a boat tour in Vienna. In the evening, you can embark on a romantic boat ride of your choice to get the best views the city has to offer.
Accommodations
If you don't want to compromise on luxury, go for Hotel Ambassador, Hotel Rathaus Wein & Design Wien, Hotel Imperial, The Ritz-Carlton, and Le Méridien Vienna. For mid-range accommodations, Hotel Beethoven Wien, Hotel Erzherzog Rainer, and Hotel das Opernring are recommended. Moreover, there are plenty of options for budget travelers. Hotel Cyrus, Allegro and Hotel Geblergasse are some of the value-for-money accommodations.
Restaurants
From Wiener Schnitzel to Tafelspitz, the Viennese cuisine has won the hearts of diners with its range and taste. Try authentic Austrian dish at Gasthaus Pöschl, Reinthaler's Beisl, Steirereck, and Vestibül. The streets of Vienna draw connoisseurs to coffee houses such as Café Prückel, Cafe Drechsler, and Café Sperl. Indian, Continental, and multi-cuisine eateries are also available.
Best Time to Visit Vienna
Spring and fall are the best times to visit. It is not just the mild weather and fewer tourists that make it a tempting proposition; it's also the events like Vienna International Film Festival, Vienna Fashion Week, and the Vienna Spring Festival. Summers and winters are crowded with tourists from across the world.
How to Reach?
By Air – Vienna International Airport is only 11 miles southeast of the city center. Most European and international flights operate from this airport.
By Train – Trains are the most common form of transport in Austria. Wien Westbahnhof and Wien Meidling are two major train stations in Vienna. Both the stations operate regular trains to nearby European cities. The Vienna subway system (Vienna U-Bahn) has five lines spread out through the city.
By Road – Eurolines Austria is the primary bus operator. Both state-owned and private buses are available in Vienna. A1, A4, A22, and A23 are among the Autobahns (freeways) that connect the city with the rest of Austria. European route E59 gives direct access to Vienna from the Czech Republic, Slovenia, and Croatia.
Know more:
Related Maps: