Where Is Yugoslavia Located?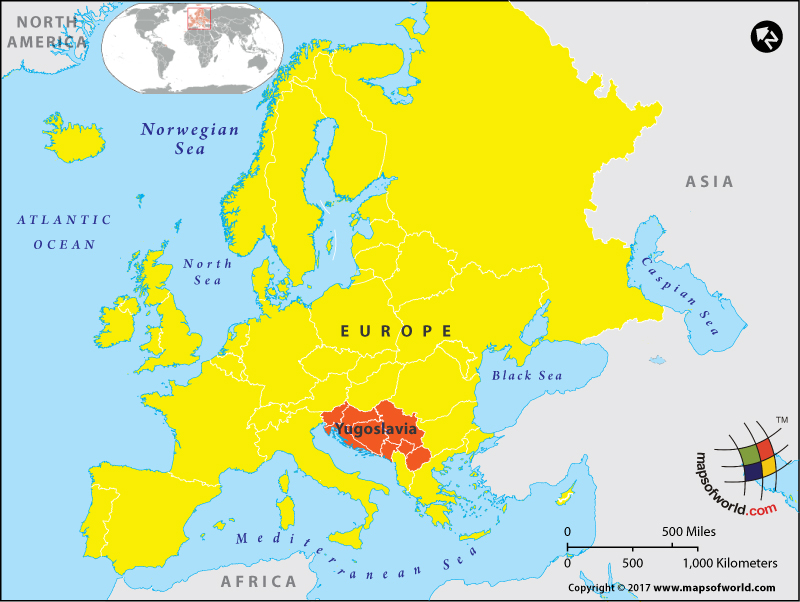 Where is Yugoslavia?
Yugoslavia no longer exists as a country.
The Kingdom of Yugoslavia came into existence in 1929 and existed till the end of World War II. Then came the Socialist Federal Republic of Yugoslavia which disintegrated by 1991. The next state that came up in the region was called Yugoslavia for over a decade and then assumed its current name – Serbia and Montenegro.
Towards the end of World War I, the disintegration of Austria-Hungary, gave rise to numerous smaller kingdoms and states. The Kingdom of Serbs, Croats, and Slovenes was formed on December 1, 1918, in the Balkan Peninsula. The newly formed kingdom incorporated parts of the territory that had previously been part of the Ottoman Empire and Austria-Hungary. It included modern-day Slovenia, Croatia, Dalmatia, Bosnia and Herzegovina, Serbia, and Montenegro. Additionally, four Bulgarian territories also joined this kingdom in 1919. This Kingdom of Serbs, Croats, and Slovenes existed for about a decade. In 1929, the then monarch, King Alexander I assumed dictatorship and renamed the state Yugoslavia. Yugoslavia roughly translates into 'land of the Southern Salvs.'
The Kingdom of Yugoslavia was formed on October 3, 1929. The kingdom was invaded and partly occupied by the Axis powers during World War II. This was a time of much political flux and chaos. The rise of the Yugoslav Partisans as a protest against German occupation also gave rise to the proclamation of Democratic Federal Yugoslavia in 1943. This was a unique form of government that gained the approval of the king but when the monarchy itself was abolished in 1945, the state disintegrated.
The Federal People's Republic of Yugoslavia was formed in 1946 and came to be governed by a communist government. The six constituent republics that formed this federation were – Bosnia and Herzegovina, Croatia, Macedonia, Montenegro, Serbia, and Slovenia. Serbia included two autonomous provinces – Kosovo and Vojvodina.
The federation went through political and social turmoil through the 1980s and eventually, the republics that formed the federation broke up. Serbia and Montenegro joined together to form the Federal Republic of Yugoslavia (FRY) in 1992. Eventually, this federation also broke up in 2006 and Kosovo declared independence in 2008.
Related Link:

Related Maps: