What are the Key Facts of Yemen?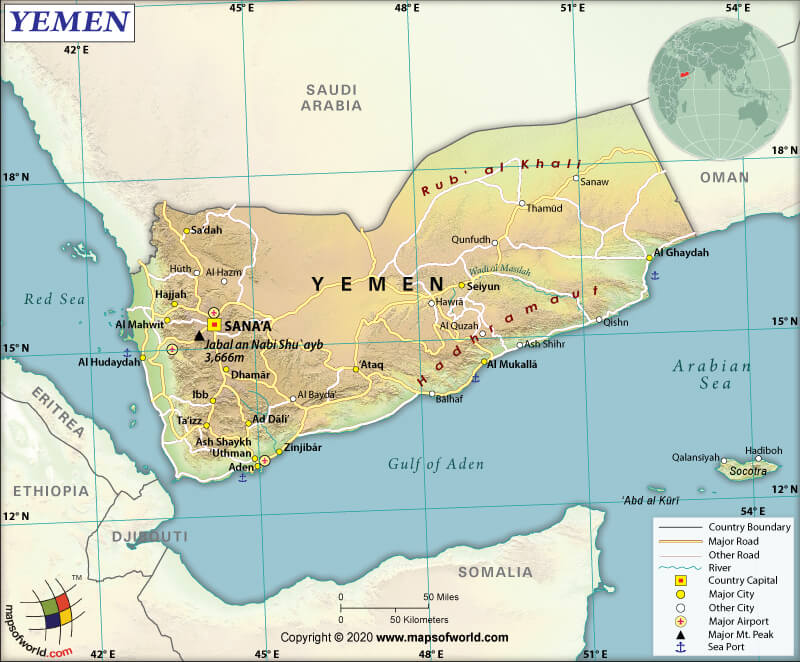 | | |
| --- | --- |
| Official Name | Republic of Yemen |
| Continent | Asia |
| Capital | Sana'a |
| Largest City | Sana'a |
| Coordinates | 15.000000, 48.000000 |
| Area | 203,850 sq. mi ( 527,968 sq. km) |
| Land Boundaries | 995 mi (1,601 km) |
| Coastline | 1184 mi (1,906 km) |
| Currency | Yemeni rial (YER) |
| Neighboring Countries | Oman, Saudi Arabia, Maritime Neighbors: Djibouti, Eritrea, Somalia |
| Population | 29,162,000 (World Bank, 2019) |
| Official Languages | Arabic |
| Major Religion | Islam |
| National Day | 22 May (Unification Day) |
| National Anthem | "al-qumhuriyatu l-muttahida" |
| Form of Government | Unitary presidential constitutional republic (de jure), transitional government (de facto) |
| President | Abdrabbuh Mansur Hadi (in exile) |
| Prime Minister | Maeen Abdulmalik Saeed |
| GDP per capita (PPP) | $ 3,688.5 (World Bank, 2013) |
| GDP per capita (nominal) | $ 968.2 (World Bank, 2018) |
| HDI | 0.463 (2019), Rank: 177 |
| Literacy Rate (%) | NA |
| Space Agency | NA |
| Military Expenditure Ranking | NA (SIPRI, 2019) |
| No. of Olympic Medals | 0 (as of 2018) |
| Driving Side | right |
| Calling Code | 967 |
| Time Zone | UTC+3 (AST) |
| Internet TLD | .ye |
Where is Yemen?
Yemen (officially called the Republic of Yemen) is a Western Asian country located at the southern end of the Arabian Peninsula. It shares its international borders with Saudi Arabia in the north and Oman to the east. The Red Sea is to its west, and the Gulf of Aden and Guardafui Channel lies to its south. Yemen has more than 200 islands.
What is the Geography of Yemen?
Yemen is spread across a total area of 203,850 sq. mi (527,968 sq. km), out of which 203,850 sq. mi (527,968 sq. km) is land area and 0 sq. km (0 sq. mi) is water area.
The Republic of Yemen's total land boundary is 994.8 mi (1,601 km) long. It shares its border with Saudi Arabia (812 mi or 1,307 km) to the north, Oman (182.7 mi or 294 km) to the east, the Red Sea to the west, and the Gulf of Aden and Guardafui Channel to the south. As it is landlocked, there is no coastline.
The mean elevation of Yemen is 3,277.6 ft (999 m). While the highest point is Jabal An Nabi Shu'ayb at 12,027.6 ft (3,666 m), the lowest point is the Arabian Sea at 0 m (0 ft).
The terrains of Yemen consist of narrow coastal plain backed by flat-topped hills and rugged mountains. In the center, you'll find dissected upland desert plains that slope into the desert (located in the Arabian Peninsula's interior).
The highest mountains in Yemen are Jabal an Nabī Shu'ayb, Jabal Ţiyāl, Jabal aţ Ţiyāl, Jabal 'Aybān, Jabal Rihqah, Jabal Z̧ufār (Sanaa), Jabal al Qullah (Ibb), Jabal Shakhab 'Ammār (Ibb), Jabal ash Sha`r (Ibb), Jabal Şabir (Ta'izz), etc.
The essential deep wadis or riverbeds are Wadi Hadhramawt, Rima, Mawza, Zabid, Siham, Surdud, Mawr, Rasyan, Warazan, Jahr, and Hajar.
What is the Climate of Yemen?
Yemen has a subtropical dry, hot desert climate. The annual rainfall amount is low, and the temperatures remain very high in summer. Especially in the inland areas, the significantly high-temperature differential is found during summer.
The summer season starts in June and continues till September. During summertime, the amount of rainfall remains very low, and the daily maximum temperature easily reaches 104 °F (40°C) or more.
Winter season remains cooler, and rainfall takes place occasionally. Both Spring and Autumn seasons remain warm, pleasant, and dry. The maximum temperature hovers within 77 °F (25 °C) and 95 °F (35 °C). At night, the temperature remains within 59 °F (15 °C) and 71.6 °F (22 °C).
During summer and spring times (especially from March to August), a hot, dust-laden wind (called Shamal) blows. It can get extreme and lead to sandstorms (which are most common during springtime). Rainfall during winter is usually short and sudden. However, it happens with heavy cloudbursts and thunderstorms.
What is the Economy of Yemen?
Yemen is one of the lowest income economies in the world. Whether it is stabilization or economic growth, it suffers from difficult long-term challenges. The ongoing conflict has exacerbated these already skewed challenges.
With the ongoing war, export has halted, the exchange rate of Yemen's currency is under pressure, inflation has accelerated, imports of food and fuel are severely limited, and infrastructural damage is widespread.
The Yemeni conflict has resulted in the largest cholera outbreak in the world (with around 1 million cases). Around 80% of the population needs humanitarian assistance. Approximately 7 million people in Yemen are at risk of famine.
Earnings from oil and gas accounted for around 65% of the Yemeni government's revenue and 25% of GDP before the Yemeni war. Almost after 5-years of escalating conflict, rehabilitation of oil exports is delayed, which in turn has severely limited government revenue as well as the supply of foreign exchange for essential imports. The economic crisis has further compounded because of the bifurcation of national capacity, including that of the Central Bank of Yemen (CBY).
The annual GDP growth rate of Yemen was 7.7% in 2010. With the start of the Yemeni war in 2014, the growth rate nosedived to -0.189% the same year and further to -27.99% in 2015. However, it recovered to 0.75% in 2018.
Yemen's nominal GDP was rising continuously since 1998. It was US$6.325 billion in 1998, increased to US$26.911 billion in 2008, and went on to reach its peak in 2014 to US$43.206 billion. As the war started, it nosedived to US$24.561 billion in 2017 and recovered some ground to US$27.591 billion in 2018.
The unemployment rate in this Western Asian country was steadily increasing since 1999. It grew from 11.46% in 1999 to 13.47% in 2014. However, since 2015 it came down from 13.4% to 12.91% in 2019. Since 2015, the Yemeni economy has lost US$89 billion of economic activity, which ultimately led to a surge in poverty.
A UNDP (United Nations Development Program) report has said that Yemen will become the poorest country in the world if the Yemeni conflict continues until 2022. It also noted that since the war started in 2014, the poverty rate in Yemen has gone up from 47% in 2014 to 75% in 2019.
The Yemeni population living in extreme poverty is projected to increase from 19% in 2014 to 65% in 2022.
What is the Transportation System of Yemen?
The transport network in Yemen is limited. There are 57 airports in the country, out of which 17 have paved, and 40 have unpaved runways.
Major airports of Yemen are Aden International Airport (Aden), Hodeida International Airport (Al Hudaydah), Riyan International Airport (Mukalla), Sana'a International Airport (Sana'a), Seiyun International Airport (Seiyun), Ta'izz International Airport (Ta'izz), etc.
The country has 71,300 km (44,303.8 mi) of roadways, out of which 6,200 km (3,852.5 mi) is paved and 65,100 km (40,451.3 mi) is unpaved. The major ports and terminals are Al Mukalla, Al Hudaydah, and Aden.
What International Organizations is Yemen part of?
WTO, IMF, UN, NAM, ILO, AFESD, AMF, CAEU, CD, FAO, G-77, IAEA, IBRD, ICAO, ICRM, IDA, IDB, IFAD, IFC, IFRCS, IMO, IMSO, Interpol, IOC, IOM, IPU, ISO, ITSO, ITU, LAS, MIGA, MINURSO, MINUSMA, MONUSCO, OIC, OPCW, UNAMID, UNCTAD, UNESCO, UNHCR, UNIDO, UNISFA, UNMIL, UNMIS, UNOCI, UNWTO, UPU, WCO, WHO, WIPO, WMO, ITUC (NGOs), WFTU (NGOs), OAS (observer), EITI (temporarily suspended)
Related Maps: