What are the Key Facts of Vietnam?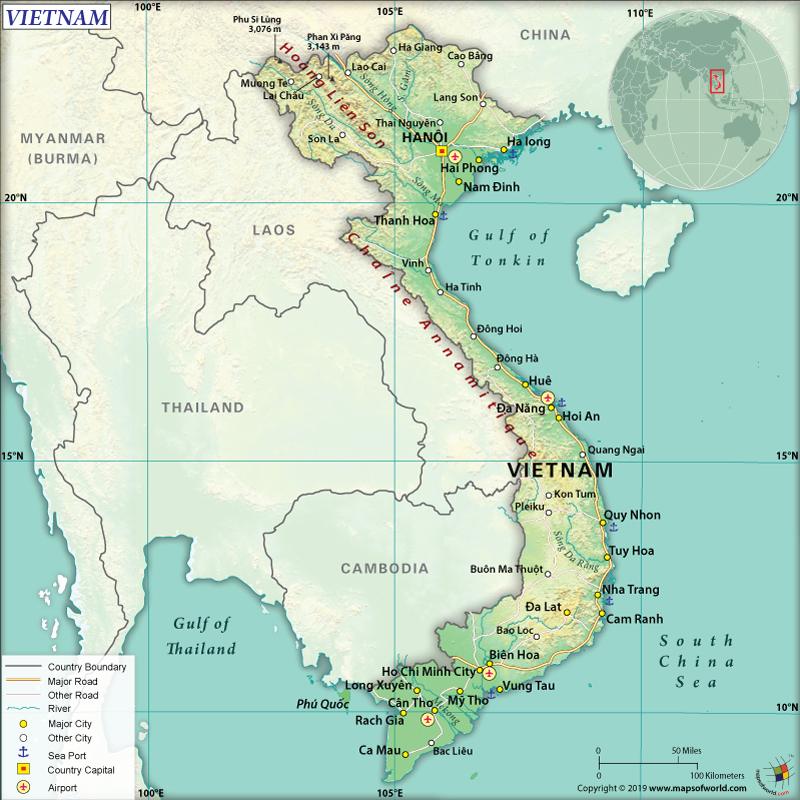 | | |
| --- | --- |
| Official Name | Socialist Republic of Vietnam |
| Continent | Asia |
| Capital | Hanoi |
| Largest City | Ho Chi Minh City |
| Coordinates | 16.166667, 107.833333 |
| Area | 127,882 sq. mi ( 331,212 sq. km) |
| Land Boundaries | 2,868 mi ( 4,616 km) |
| Coastline | 2,140 mi ( 3,444 km) |
| Currency | đồng (₫) (VND) |
| Neighboring Countries | China, Laos, Cambodia |
| Population | 94,569,072 (2016 est. ) |
| Official Languages | Vietnamese |
| Major Religion | Majority Non-religious or folk religion |
| National Day | 2 September (Independence Day) |
| National Anthem | "Tien quan ca" |
| Form of Government | Unitary Marxist-Leninist one-party socialist republic |
| President | Nguyễn Phú Trọng |
| Prime Minister | Nguyen Xuan Phuc |
| GDP per capita (PPP) | $ 7,434.7 (World Bank, 2018) |
| GDP per capita (nominal) | $ 2,563.8 (World Bank, 2018) |
| HDI | 0.694 (2017), Rank: 116 |
| Literacy Rate (%) | 95.00 (UNESCO, 2018) |
| Space Agency | Vietnam National Space Center |
| Military Expenditure Ranking | 34 (SIPRI, 2017) |
| No. of Olympic Medals | 4 (as of 2018) |
| Driving Side | right |
| Calling Code | +84 |
| Time Zone | UTC+07:00 (Vietnam Standard Time) |
| Internet TLD | .vn |
Where is Vietnam?
Vietnam is a Southeast Asian country. It shares its borders with its three neighboring countries (China, Cambodia, and Laos). It also borders South China Sea, Gulf of Tonkin, and the Gulf of Thailand.
What is the Geography of Vietnam?
The total area of Vietnam is 331,210 sq. km (127,881 sq. mi), out of which 310,070 sq. km (119,719 sq. mi) is land area and 21,140 sq. km (8,162 sq. mi) is water area. It has a 4,616 km (2,868 mi) long land area, which is shared with Laos (2161 km or 1,343 mi), China (1,297 km or 806 mi), and Cambodia (1,158 km or 720 mi). Excluding the islands, Vietnam has a 3,444 km (2,140 mi) long coastline.
The mean elevation of the Socialist Republic of Vietnam is 398 m (1,306 ft). While Fan Si Pan is the highest elevation point of the country at 3,144 m (10,315 ft), South China Sea is the lowest elevation point at 0 m (0 ft). Besides Fansipan, the other major mountains of the country are Nui Ba Den, Ngu Hanh Son, etc. There are many rivers in Vietnam and they are Mekong, Serepok, Red River (Song Hong), Hoai, Han, Ben Hai, etc.
Vietnam's landscape is characterized by tropical lowlands, densely forested mountains, and rolling hills with lots of greeneries. Around 20% of the terrains are low-level lands. The hills in front of the Red River delta rise gently to the mountains (in the northwestern parts of the country). A large part of the central parts of the terrain is covered by the Annam Highlands. The Mekong River Delta and the coastal lowlands merge in the southern parts of Vietnam. The narrow coastal lowlands from the Red River Delta to the Mekong Delta are fertile. The far-southern parts of the country have thick jungles as well as mangrove swamps.
The climatic conditions of Vietnam can be categorized into tropical and temperate zones. The most common factors influencing Vietnam's climate are strong influences of the monsoon, high rainfall rate, significantly high humidity, and considerable amount of sunlight. The weather becomes quite uncomfortable sometimes due to high humidity. The climate in the mountainous regions as well as in the places near the tropics is more temperate and slightly cooler.
The average annual temperature remains within 22-27 °C. The year-round temperature in the southern parts of the country remains almost the same. In the winter season, the northern regions of Vietnam remain significantly cold. However, the summertime remains significantly warm too. There are 4 distinct seasons in Vietnam are most prominent in the provinces located in the northern parts of the country. In the southern provinces, two seasons are prominent and they are summer during May-to-October and cold during November-to-April.
What is the Economy of Vietnam?
The economy of Vietnam is one of the largest economies in the world (comes within top-50 economies in terms of nominal GDP and purchasing power parity). This densely populated developing economy started transforming from an agrarian economy to a more industrial one since 1986. It is currently categorized among the lower-middle-income countries. Vietnam expects to become a developed nation by 2020.
In 2018, the nominal GDP grew at over 7% to reach US$ 244.948. During 1985-2018, the Vietnamese economy grew at an average of over 6.45%. The growth primary was propelled by strong manufacturing exports and significant increases in domestic demand.
The strong aspects of this robust economy are strong manufacturing sector, robust FDI inflows, stable currency, relative low inflation, stable political system, high young population (around 70% of the population is below the age of 35 years), and an ever-expanding middle class (which is currently 13% of the total population and is expected to reach 26% by 2026).
The human capital index (HCI) has improved significantly and Vietnam's rank is 48 out of the 157 countries. The World Bank data shows that the unemployment rate in the economy is just 1.89%. With significant gains in terms of economic growth and improvement in the provision of basic services has led to around 75% reduction in poverty.
Available data shows that the poverty rate was 6.7% in 2017. During 2015-17, the rate of poverty decreased by 1.59% every year (which surpassed their annual poverty decline rate of 1-1.5%).
What is the Transportation System of Vietnam?
Vietnam has 195,468 km (121,548 mi) long roadways, out of which 148,338 km (92,173 mi) is paved and 47,130 km (29,285 mi) is unpaved. It has a significantly developed waterway, which is around 47,130 km (29,285 mi). However, 30,831 km (19,157 mi) waterway is capable of transporting below 50 tons.
The main seaports of the country are Cam Pha Port, Quy Nhon, Phu My, Haiphong, and Da Nang. There are 1,863 merchant marine ships. There is 2,600 km (1,616 mi) of railway track present in Vietnam, out of which 178 km (111 mi) is standard gauge and the rest 2,169 km (1,348 mi) is narrow gauge. Vietnam has 45 airports, out of which 38 have paved runways and the rest 7 have unpaved runways.
What International Organizations is Vietnam part of?
WTO, UN, IMF, WHO, ILO, Interpol, ADB, APEC, ARF, ASEAN, CICA, CP, EAS, FAO, G-77, IAEA, IBRD, ICAO, ICRM, IDA, IFAD, IFC, IFRCS, IMO, IMSO, IOC, IOM, IPU, ISO, ITSO, ITU, MIGA, NAM, OIF, OPCW, PCA, UNCTAD, UNESCO, UNIDO, UNWTO, UPU, WCO, WIPO, WMO, WFTU (NGOs), ICC (NGOs)
Related Links:

Related Maps: