What are the Key Facts of Mongolia?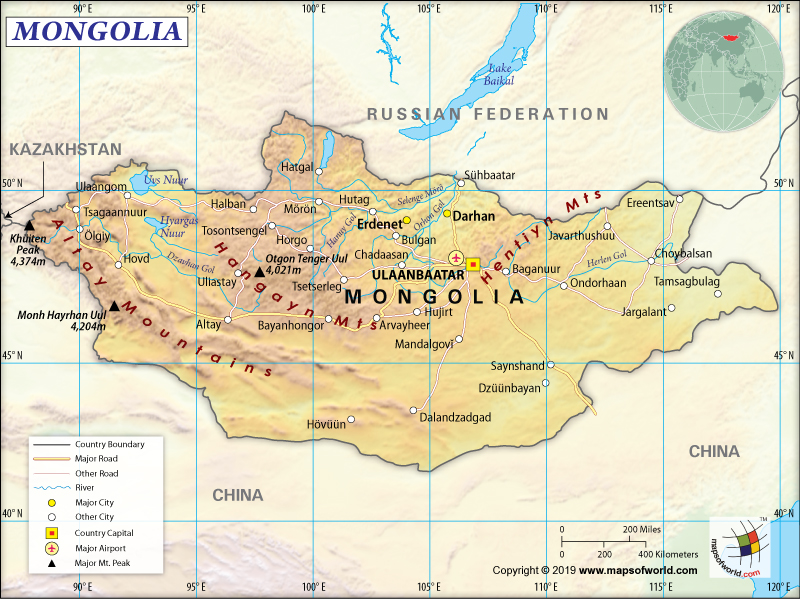 | | |
| --- | --- |
| Official Name | Mongolia |
| Continent | Asia |
| Capital | Ulaanbaatar |
| Largest City | Ulaanbaatar |
| Coordinates | 46.000000, 105.000000 |
| Area | 605,000 sq. mi ( 1,566,000 sq. km) |
| Land Boundaries | 5,108 mi ( 8,220 km) |
| Coastline | 0 mi ( 0 km) landlocked country |
| Currency | Tögrög (MNT) |
| Neighboring Countries | China, Russia |
| Population | 3,256,176 (2019 est. ) |
| Official Languages | Mongolian |
| Major Religion | Buddhism |
| National Day | 11 July (Independence Day) |
| National Anthem | "Mongol ulsyn toriin duulal" |
| Form of Government | Unitary semi-presidential republic |
| President | Khaltmaagiin Battulga |
| Prime Minister | Ukhnaagiin Khürelsükh |
| GDP per capita (PPP) | $ 13,735.4 (World Bank, 2018) |
| GDP per capita (nominal) | $ 4,103.7 (World Bank, 2018) |
| HDI | 0.741 (2017), Rank: 92 |
| Literacy Rate (%) | NA |
| Space Agency | NA |
| Military Expenditure Ranking | 123 (SIPRI, 2017) |
| No. of Olympic Medals | 26 (as of 2018) |
| Driving Side | right |
| Calling Code | +976 |
| Time Zone | UTC+7/+8, Summer (DST) UTC+8/+9 |
| Internet TLD | .mn |
Where is Mongolia?
Mongolia is an East Asian country. It is landlocked between China (to the south) and Russia (to the north). It has a total land border of 8,082 km (5022 mi), out of which it shares 4630 km (2,877 mi) with China and 3452 km (2,145) with Russia. Though Mongolia and Kazakhstan don't share any border between themselves, they are just 37 km (23 mi) apart.
What is the Geography of Mongolia?
Mongolia is spread over a total area of 1,566,000 sq. km (605,000 sq. mi), out of which 1,553,556 sq. km (599,831 sq. mi) is land area and 10,560 sq. km (4077 sq. mi) is water area. As the country is landlocked, there is no coastline. While the western parts of the country are characterized by mountains, grass steppe, and desert/semi-desert plains, the south-central parts have Gobi Desert.
The largest freshwater lake of Asia, Lake Khövsgöl, is present in Mongolia. The Mongolian landscape also consists of many salt lakes, rolling grasslands, alpine forests, marshes, sand dunes, and permanent mountain glaciers. Both the northern and western parts of the country have multiple hot springs as well as extinct volcanoes. These parts are also notorious for being seismically active and witness frequent earthquakes.
While Khüiten Peak (in the Altai Mountains) is the highest elevation point of Mongolia at 4,374 m (14,350 ft), the lowest point is Hoh Nuur at 560 m (1,837 feet). The mean elevation of the country is 1,528 m (5,013 feet). There are two major mountain ranges in Mongolia, and they are the Altai Mountains and Khangai Mountains.
The higher of the two ranges is the Altai Mountains, which stretches on a northwest-to-southeast axis across Mongolia's western and southwestern regions. The Khangai Mountains are located mainly in the central and north-central parts of Mongolia and trend from the northwest to the southeast direction. Plains occupy a majority of the country's eastern region. A trending depression is located between the eastern frontier and the Gobi Desert region in the southern part.
The major rivers are located in the northern parts of Mongolia. Some of the major rivers of the country are Selenge River and Onon River. There are some major lakes in Mongolia, such as Uvs Lake, Khövsgöl Nuur, Ulaan Lake, and others. Interestingly, the rivers and lakes cover an area of 10,560 sq km (4,077 sq mi) or 0.67% of the total area of Mongolia.
Mongolia remains sunny (or cloudless) for an average 257 days every year. That's why it is called "Country of Blue Sky" or "Land of the Eternal Blue Sky". While it remains extremely cold during the winter season, the summer remains hot. The average temperature drops to as low as −30 °C (−22 °F) in January. The cold temperatures in river valleys and low basins are caused by the cold fronts from the Siberian winter. The mountain slopes in the country have a much warmer climate.
Siberian anticyclone causes severe winter in certain parts of Mongolia. The capital city, Ulaanbaatar, has less severe cold. Its annual average temperature revolves around −1.3 °C (29.7 °F).
Formation of the microclimate is caused by the Khangai Mountains. The warmest town in this microclimate is Tsetserleg. In January, the daytime temperature remains within 0 °C (32 °F) to 5 °C (41 °F) and the nighttime temperature usually remains within −30 °C (−22 °F). The country also suffers from the unique but occasional harsh climatic condition known as Zud.
Rainfall is maximum in the northern parts of Mongolia. This part gets an average of 8-14 in (200-350 mm) of rainfall every year. The southern part of Mongolia gets the lowest amount of rainfall at an annual average rate of 4-8 in (100-200 mm).
What is the Economy of Mongolia?
After the collapse of the Soviet Union in1991, and its own democratic revolution in 1990, Mongolia gradually transitioned to a market economy. Today, the economy of Mongolia is a rapidly growing economy. In 2018, the nominal GDP was US$13.01 billion, and the annual growth rate was 6.9%. While around 30% of the workforce is involved in agriculture, around 50% is involved in the service sector. The service sector contributes around 50%, the industrial sector around 38%, and agriculture around 12% to the GDP. The industrial production in Mongolia is powered by extensive mineral deposits of copper, coal, gold, tungsten, tin, and molybdenum.
The economy has transformed itself in the last 25 years. It not only trebled its GDP per capita but also increased school enrolments significantly. In fact, child and maternal mortality have also declined dramatically. The long-term development prospects of Mongolian economy are bright, thanks to the increasingly educated population of the country.
During 2014-16, the economy suffered a sharp slowdown due to the declining FDI and commodity prices. However, the economic growth of the Mongolian economy improved from 1.2% in 2016 to 5.3% in 2017 and 6.9% in 2018. The economic turnaround happened because of steady exports of copper and coal, FDI recovery, business sentiment improvement, and economic adjustment program's effective implementation.
The significant economic growth in 2018 took place because of the robust growth in both private investments (manufacturing as well as mining) and private consumption. During 2017-18, the household income increased, which helped in poverty reduction.
What is the Transportation System of Mongolia?
The total railway line in Mongolia is 1,810 km (1,124 mi) long. One of the major transport systems in the country is the Trans-Mongolian Railway (runs for 1,110 km or 690 mi) that connects Mongolian capital Ulaanbaatar and Erenhot with Chinese capital Beijing and Russia's Ulan Ude. While one spur line connects Darkhan with Erdenet's copper mines, another connects the capital city with Baganuur's coal mines. Daily trains run through Ulaanbaatar, Sukhbaatar, Darkhan, Sainshand, Choir, Zamyn-Üüd, and Erdenet, thereby helping the regular commuters.
The network of paved roads is being expanded fast in Mongolia, which is around 4,800 km (2,983 mi). Another 3,900 km of roads are either graveled or improved. Around 40,000 km (24,855 mi) of the official road network in Mongolia is cross-country track.
The main traffic over water is carried on at Lake Khövsgöl's 580 km (360 mi) of waterways. Limited traffic is carried on the Selenge (270 km or 168 mi) and Orkhon (175 km or 109 mi) rivers. Chartered boats for tourists ply on Lake Khovsgol. Currently, there are 265 merchant marine ships, out of which 107 are general cargo, 68 are oil tankers, 4 are bulk carriers, 3 are container ships, and 83 others.
Mongolia has 44 airports, out of which 15 are paved and 29 unpaved. There is only one heliport in the country. Chinggis Khaan International Airport is the main airport of Mongolia, and the country has three registered air carriers.
What International Organizations is Mongolia part of?
WTO, ADB, ARF, IMF, CD, UN, CICA, NAM, CP, UNAMID, EBRD, Interpol, FAO, UNCTAD, G-77, IAEA, UNESCO, IBRD, ICAO, UNISFA, ICCt, ICRM, UNIDO, IDA, IFAD, UNWTO, IFC, IFRCS, ILO, IMO, WHO, IMSO, WIPO, IOC, IOM, WMO, IPU, ISO, WCO, ITSO, ITU, UNMISS, ITUC, MIGA, MINURSO, UPU, MONUSCO, OPCW, OSCE, ICC (NGOs), EITI (compliant country), SCO (observer)
Related Link:
Related Maps: