What are the Key Facts of Iraq?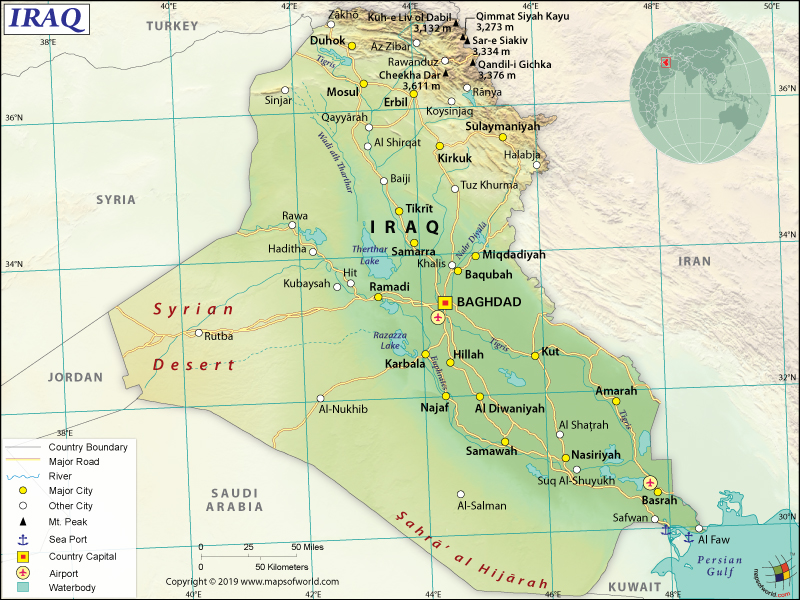 | | |
| --- | --- |
| Official Name | Republic of Iraq |
| Continent | Asia |
| Capital | Baghdad |
| Largest City | Baghdad |
| Coordinates | 33.000000, 44.000000 |
| Area | 168,754 sq. mi ( 437,072 sq. km) |
| Land Boundaries | 2,367 mi (3,809 km) |
| Coastline | 36 mi ( 58 km) |
| Currency | Iraqi dinar (IQD) |
| Neighboring Countries | Iran, Kuwait, Saudi Arabia, Jordan, Syria, Turkey |
| Population | 37,202,572 (2016 est.) |
| Official Languages | Arabic, Kurdish |
| Major Religion | Islam |
| National Day | 3 October (Independence Day) |
| National Anthem | "Mawtini" |
| Form of Government | Federal parliamentary constitutional republic |
| President | Barham Salih |
| Prime Minister | Adil Abdul-Mahdi |
| GDP per capita (PPP) | $ 17,510.2 (World Bank, 2018) |
| GDP per capita (nominal) | $ 5,878.0 (World Bank, 2018) |
| HDI | 0.685 (2017), Rank: 120 |
| Literacy Rate (%) | 50.14 (UNESCO, 2018) |
| Space Agency | NA |
| Military Expenditure Ranking | 32 (SIPRI, 2017) |
| No. of Olympic Medals | 1 (as of 2018) |
| Driving Side | right |
| Calling Code | +964 |
| Time Zone | UTC+3 (AST) |
| Internet TLD | .iq |
Where is Iraq?
Iraq is an Asian country that is located between Kuwait and Iran. It borders the Persian Gulf.
What is the Geography of Iraq?
Iraq is spread across a total area of 437,072 sq. km (168,754 sq. mi), out of which 437,367 sq. km (168,868 sq. mi) is land area and 950 sq. km (367 sq. mi) is water area. The country has a 3,809 km (2,367 mi) long land boundary and 58 km (36 mi) of coastline with the Persian Gulf.
The land boundaries are shared with six neighboring countries including Iran (1,599 km or 994 mi), Saudi Arabia (811 km or 504 mi), Syria (599 km or 372 mi), Turkey (367 km or 228 mi), Kuwait (254 km or 220 mi), and Jordan (179 km or 111 mi).
Most of the landscape in Iraq consists of broad and sandy plains. The Syrian Desert, mountains, vast swamplands, and two major rivers disrupt this vast plane. The Syrian Desert is located at the extreme western part of Iraq. The land remains low, marshy, and flooded in the southeast part, especially near the Persian Gulf.
The northern region of the country is mountainous. The Zagros Mountains are found along the Iraq-Iran and Iraq-Turkey borders. Cheekha Dar at 3,611 m (11,847 ft) is the highest elevation point of Iraq. The Persian Gulf at 0 m (0 ft) is the lowest elevation point of the country. The mean elevation of Iraq is 312 m (1,024 mi).
The major mountains in Iraq are Cheekha Dar Mountain, Hasar-I-Rost, Siyah Kayu, Kuhe Haji Ebrahim, Gird-i San, Kawrak, and many more. The major rivers in the country are Khasa, Euphrates, Tigris, Lower Zab, Diyala River, Great Zab, and many more. There are many significant lakes in the country including Milh, Mosul Dam, Umm al Binni Lake, Hammar, Habbaniyah, Hamrin, Dukan, Qadisiyah, Sawa, and many more.
The climate in Iraq is hot and dry. The summers remain hot and dry. They persist for longer periods of time. The winters are cool but they are short. While the areas around the Arabian Desert have a subtropical arid climate, the areas around the Persian Gulf have subtropical humidity.
The coldest month of the year is January when the temperature revolves within 5 °C (41 °F) and 10 °C (50 °F). The hottest month of the year is August when the temperature rises up to 30 °C (80 °F) or even more.
Summertime generally gets lots of sunshine and the climate remains warm and hot in most parts of Iraq. However, the southern coastal areas along the Persian Gulf have high humidity. On average, the daily temperature can be very hot and in some days it can easily surpass 45 °C (113 °F). The danger of getting exhausted due to heat remains in the desert areas. Desert winds blow and they are hot and dry. Sometimes they can cause violent sandstorms.
Most of the yearly rainfall (around 70%) takes place from November to March. Local flooding can also take place during winter. June, July, and August are the driest months of the year.
What is the Economy of Iraq?
Iraq is predominantly an oil-based economy. Petroleum accounts for around 80% of the total foreign exchange earnings and 85% of the government revenue. Due to civil violence as well as a sluggish oil market, the Iraqi economy decelerated by -1.7% in 2017.
However, after the defeat of ISIS on Iraqi soil improved the overall security situation of the economy. The economic recovery of the economy has since been slow. In 2018, the nominal GDP grew by just 0.6% to reach US$225.914 billion.
The major export items were crude petroleum, petroleum gas, gold, refined petroleum, tropical fruits, etc. The major import items include packaged medicaments, jewelry, gold, cars, and poultry meat. In 2017, Iraq exported US$60.8 billion worth of goods and imported US$29.7 billion worth of goods, resulting in a positive balance of trade of US$31 billion.
The unemployment rate in Iraq was 7.93% in 2018. A May 2018 World Bank report states that the rate of poverty was 22.5%. There were 38.5 million people below the poverty line in Iraq.
What is the Transportation System of Iraq?
Iraq has 59,623 km (37,048 mi) long roadways and all of them are paved. 2,272 km (1,411 mi) long standard gauge railway is present in the country. There are 102 airports in Iraq, out of which 72 have paved runways and 30 have unpaved ones. 16 heliports are there in the country.
Waterways are pretty developed in Iraq. 5,279 km (3,280 mi) of waterways are there and all of them are based on the river. There are 3 principal water systems in the country. 2,815 km (1,749 mi) of the navigable waterway on the Euphrates River, 1,899 km (1,180 mi) of the waterway on Tigris River, and 565 km (351 mi) of the waterway is present on the Third River.
The major river ports are Al Basrah, Umm Qasr, and Khawr az Zubayr. Iraq has 80 merchant marine vessels.
What International Organizations is Iraq part of?
UN, IMF, ILO, ABEDA, AFESD, AMF, CAEU, CICA, FAO, G-77, IAEA, IBRD, ICAO, ICRM, IDA, IDB, IFAD, IFC, IFRCS, IMO, IMSO, Interpol, IOC, IPU, ISO, ITSO, ITU, LAS, MIGA, NAM, OAPEC, OIC, OPCW, OPEC, PCA, UNCTAD, UNESCO, UNIDO, UNWTO, UPU, WCO, WHO, WIPO, WMO, WTO (observer), EITI (compliant country), WFTU (NGOs)
Related Links:

Related Maps: