How Deep is Lake Michigan?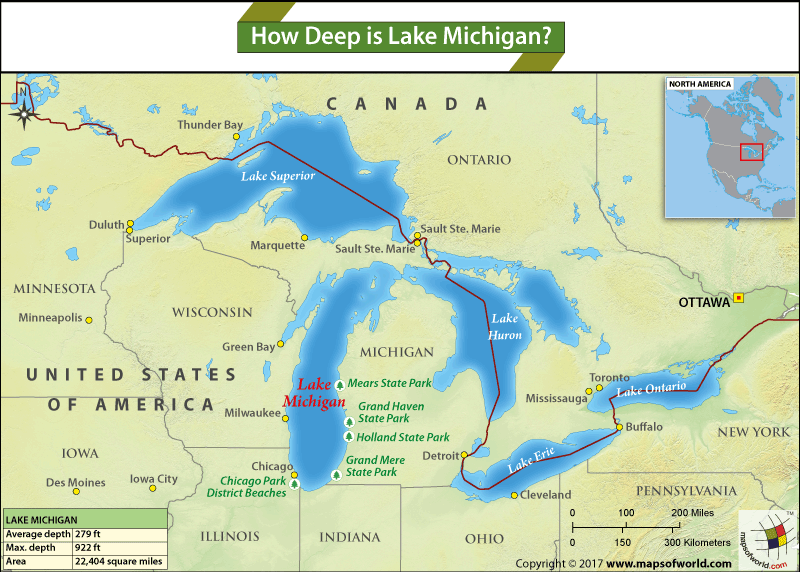 The average depth of Lake Michigan is 279 feet (85 meters) and the maximum depth is 922 feet (281 meters).
The name Lake Michigan is believed to have been derived from the Ojibwe word Michi-game, meaning great water. Lake Michigan, which is one of the five great lakes of North America, is the only lake that lies entirely within the United States. The other four lakes are shared by both the United States and Canada.
Lake Michigan has a maximum length of 307 miles and a surface area of 22,404 square miles. The maximum width is 118 miles, and the minimum width is 91 miles. Among the five great lakes, Lake Michigan is the third largest by surface area. In terms of volume, it is the second largest.
The lake touches four states; Indiana, Wisconsin, Illinois, and Michigan. The main ports that lie along the shores of Lake Michigan are Green Bay and Milwaukee in Wisconsin, Muskegon in Michigan, Gary in Indiana, and Chicago in Illinois.
It has been estimated that its shores are home to around 12 million people. Most of the people reside in the Milwaukee and Chicago metropolitan areas. Often called the Third Coast of the country, Lake Michigan also comprises numerous beaches.
Some of the state and local parks that are situated on the shores are Grand Haven State Park, Grand Mere State Park, Chicago Park District Beaches, Holland State Park, and Mears State Park, to name a few.
Related Links:
Related Maps: