Which Countries have Mandatory Military Service?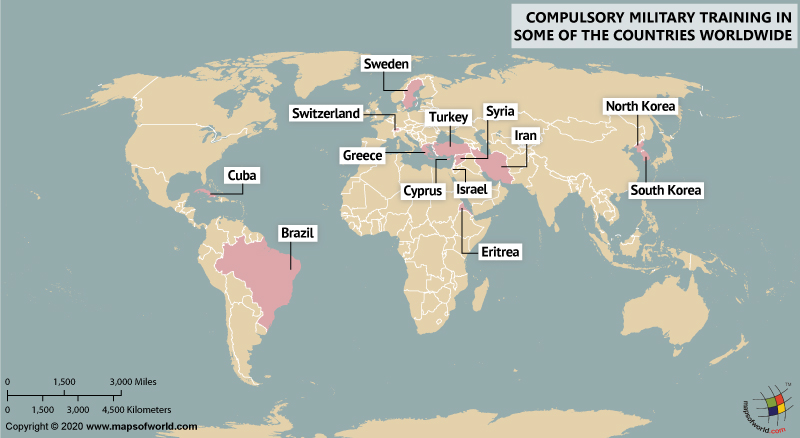 Every nation has its military for its external and internal safety. Citizens are chosen for military services around the world as per the respective country's law. But there are some countries where military service is mandatory for the citizens of the country.
Here are some interesting facts about military service:
Different kinds of military services worldwide
In several nations, military service is voluntary, while in many countries, it is mandatory to serve in the country's military for a limited period. But in somecountries, there is a provision of the conscription system in which young people over the age of 18 registers for military service. Still, they don't have to serve in any military wing unless they are called for duty.
Will India also consider mandatory military service?
Countries like India are now mulling to absorb young citizens of the country on a short service. The Indian Army is preparing a proposal to enlist young citizens for three-year or 'Tour of Duty' on a trial basis. After the selection process, the successful candidates will get an opportunity to serve the nation as officers or soldiers. It will not be a military conscription system that is necessary for several countries.
Those who want to make the military job as their full-time profession have to go through a tough training period. Therefore, officers and soldiers initially will have to complete a year training period, and then they have to go for a rigorous three years of Tour of Duty (ToD) training. A Tour of Duty officer will get a handsome salary of around Rs 80,000 to 90,000 per month besides other perks.
Compulsory training in some of the countries worldwide:
South Korea
It has a nasty relationship with its neighbor North Korea. South Korea has a strict rule for its citizens. All male members will have to complete 21 months of service in the Army, like this 23 months in the Navy or 24 months in the Air force.
North Korea
The males of the country must serve in the Army for 11 years and females seven years.
Eritrea
In this African country, young men and unmarried girls have to go for military service for 18 months, which may be extended. According to human rights organizations, many people from Eritrea flee and seek asylum in the UK due to rigorous military or national service.
Switzerland
Military service is compulsory in Switzerland for men between the age of 18 and 34. The basic service is for a brief period of 21 weeks.
Brazil
In this country, military service is compulsory for youngsters of the age of 18. They have to serve for 10 to 12 months. Unhealthy people are exempted from this service.
Israel
The situation in Israel is not different. Both men and women have to serve in the Israeli Defense Force (IDF). Men have to serve for three years and the period of women is for two years.
Syria
In Syria, military service has been made mandatory. But in March 2011, President Bashar al-Assad decided to decrease the military service from 21 to 18 months.
Sweden
Conscription was reintroduced in Sweden in 2017.
Turkey
Conscription for all men over the age of 20. They have to serve between six to 15 months.
Greece
Here, military service of nine months is mandatory for men from the age of 19.
Cyprus
All males of the age of 18 have to complete military service.
Iran
Military service is compulsory for males over the age of 18. They have to serve for 24 months.
Cuba
In Cuba, male members aged between 17 to 28 years have to serve two years in the military.
Related Links:
Related Map: