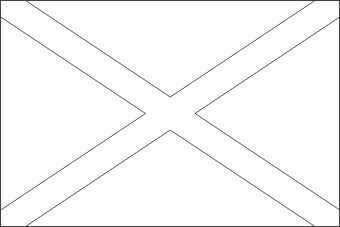 Download Blank Alabama Flag For Kids to Color
According to the Act 383 of the Legislature, the Alabama flag had to be a crimson red cross of St. Andrew on a pristine white field. The bars of the red cross had to be at least 6 inches in breadth and placed diagonally across the flag of Alabama, from one side to another. However the the Acts of Alabama, did not assign the shape of the flag, i.e, whether it would be rectangular or square. At present the Alabama flag seen atop the important buildings of the state adhere to these rules. The Alabama flag was modeled after the Confederate Battle Flag.
Display
There is a protocol that decides the accurate method of displaying the Alabama state flag. Thus any building, affiliated to the State or supported by it, has to conspicuously display the flag on a proper flag pole as per the State protocol.
History of Alabama Flag
On January 11, 1861, at the Secession Convention, the citizens of Alabama resolved to break away from the Union of the US and adopt a separate flag for themselves. This first official Alabama flag, known as the Secession Convention Flag, was patterned by some Montgomery women. Another popular name of this flag was the Republic of Alabama flag. The life of this flag was short-termed and it was flown only for a month, after which it got tattered in a rough storm. For some years Alabama also used a flag of the Confederate States of America. The United States Flag rose above the Alabama state till 1891, when Alabama planned to opt for a unique and new flag for itself.
It is said that the present red cross Alabama state flag, authorized by the State mightily flew over Alabama for 112 long years.
For flags of other states of the USA, check the Flags of the 50 States.