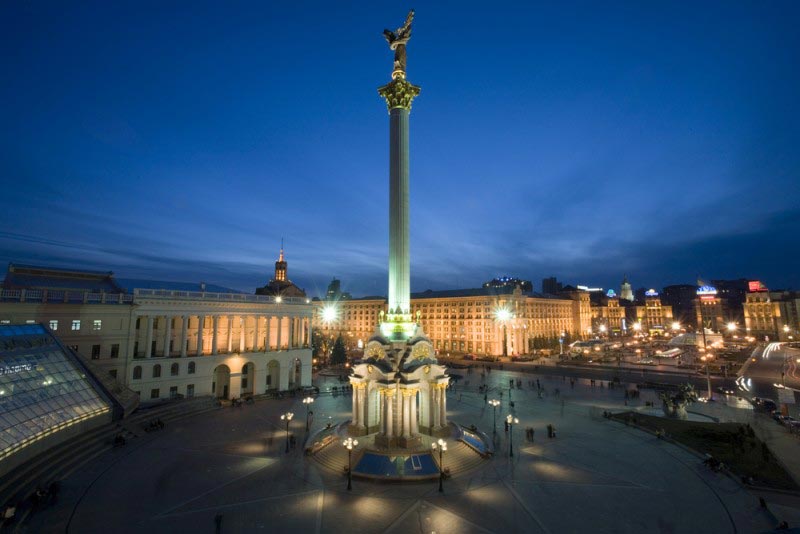 Maidan Nezalezhnosti : Ukraine Independence square
Ukraine is located in the eastern region of Europe. The country shares its borders with Russia, Poland, Hungary, Belarus, Slovakia, Romania, and Moldova. The Black Sea and the Azov Sea also border Ukraine. The capital city of Ukraine is Kiev.
The country is divided into one autonomous republic and 24 provinces (or oblasts). Ukraine declared its independence from the Soviet Union on 24th August, 1991. The official language of Ukraine is Ukrainian. Polish, Hungarian, and Romanian are also spoken in Ukraine. But, English is not very popular there.
The best time to travel to Ukraine is between April and June, during the spring season. Easter is a major event in Ukraine and the country is worth visiting during this time. The winter months are very cold and don't forget to pack some great winter clothes if you are planning for your Ukraine holiday during that time of the year.
Ukraine Travel Map
Getting In and Around
Getting to Ukraine is very convenient, as there are various ways to reach this country by air, by rail, by road, by car, by bus, and even by foot (from the neighboring countries).
By Air
The most affordable mode of traveling to the Ukraine is by air. The Boryspil International Airport in Kiev is the major airport in Ukraine and this is where most of the planes are likely to land. This airport is connected to Frankfurt, Milan, Munich, Prague, London, Rome, Vienna, and Warsaw. The airlines operating here are Austrian AUA, CSA Czech Airlines, LOT, Lufthansa, Alitalia, Air France, British Airways, KLM, MALEV, Ukraine International, and AeroSvit. A low-cost carrier called Air Baltic connects Ukraine to Riga, Latvia or Vilnius, and Lithuania. You also have the option of direct flights to cities like Dnipropetrovsk (Lufthansa), Donetsk (Lufthansa, Austrian), Odessa (MALEV, LOT, Austrian, CSA Czech Airlines), Kharkiv and Lviv (LOT, Austrian Airlines), but be prepared to pay more for these flights.
By Train
Ukraine can be reached by train from any bordering country. If you are coming from Europe, then it helps if you spend some time adapting to the different rail distance standard. In Ukraine, railway travel is more economical than traveling by plane. An interesting fact is that even if you want to tour the whole country, it will take at the most one day. The large cities and regional capital are linked via the railway network. In fact, the railway station is the connecting hub of every Ukrainian city. Traveling by train within Ukraine would be highly convenient for the tourists. Train travel is also cheap in Ukraine. You can also travel by bus or car in Ukraine.
The only deterrent is that there is a heavy rush and you need to buy the tickets well in advance. Expect long queues when buying tickets for the trains not leaving the same day. You will require a passport for buying tickets. It is safe to travel in "SV" and "kupe" though they are bit expensive and "platzkart" (compartments without doors) should only by tried if you have secured your valuables. It is better to opt for a first-class cabin which has beds for two persons and you can lock the door as well.
By Car
The road route which you can follow to Ukraine from the West is via Poland and on your journey the only 24-hour customs post, you will find is in Lvivska Oblast at a place called Truskavets. The route is quite straight and you need to follow the route # 4 or E40. You need EU-passports if you are traveling in an EU registered car. Then, you need to go to Ukrainian passport control and Ukrainian customs. It takes hardly an hour to make the crossing from Poland. The main route follows main towns on this route are Lviv, Rivne, and Zhytomyr. You can also visit the various places in Ukraine by car, but you need to be careful about certain aspects. Firstly, all the signs are in Ukrainian language. Then, you need a good road map. You are required to respect the signs, particularly, the speed limits. In fact, in Ukraine, you will find a prohibition sign only once, unlike the Western countries, so you need to be double careful not to miss that solitary sign. Conditions of the main roads are more or less okay, but secondary roads may have potholes.
By Foot
Yes, you can reach Ukraine by walking over 200-meter-long bridge from Sighetul Marmatiei, Romania to Slatina, Ukraine.
By Bus
You can opt for affordable direct bus services to Lviv and Ivano-Frankivsk from Poland. Transportation is very much convenient due to the presence 'marshrutka' or the minibuses in the large cities. You can either flag them down or ask them to stop at places other than the particular bus-stops. The fare is fixed. Here, you will find two main bus companies, Avtolux and Gunsel, plying buses from all of the major cities to and from Kiev. What is convenient for the travelers is that these buses leaves from Boryspil and stops in Kiev. You will find here standard coach buses, serving refreshments as well as showing movies. They have good frequency as well.
By Boat
Reaching Ukraine is also possible by ferries from Istanbul, Georgia, Varna (Bulgaria) to Odessa or to Crimea.
Leisure
There is an ample of scope for entertainment in Ukraine. TEnjoy water sports on the beach. Spend the evenings in the different night clubs and discos. During the summers, Crimea celebrates various festivals, contests, and sports competitions.
You will love to watch the international festival "Genoese Helmet" re-living the bygone era and here you will find people dressed as knights and monks, gorgeous ladies and pages, legionaries, and merchants. If you want to view a dazzling display of fireworks, then head to Yalta to spectate the festival of fireworks. You can also enjoy sailing regattas in Crimea held in Yalta and Feodossia.
Sevastopol celebrates Navy Day at the end of July or beginning of August. You can also visit the Yalta Aqua ParkSimeiz, the Blue Bay. Here, you will find many swimming pools and geysers, fountains, and water cascades. Dance to the trendy music played at the Aquadance disco after 8:00 p.m. The Sunshine Entertainment Complex Yevpatoria, Beach "Sunshine" nestled between the towns of Saky and Yevpatoria is a hub of parties and festivals.
Places to see
Some of the tourist attractions in Ukraine:
ArtEast
Art gallery
Art Gallery Impress
Lviv Theatre Of Opera And Ballet
"Triptych" art gallery
Sophia Cathedral, Kiev
Lavra – Caves Monastery, Kiev
Memorial, Luhansk
Film Studio, Odessa
Lviv History Museum, Lviv
Taras Shevchenko monument, Donetsk
Tips
Always accompany a guide for hiking trails in Ukraine as due to lack of English maps, it is difficult to travel in Ukraine.
Take time to travel the country. As the people here are friendly, if you rush, you may miss on something exciting.
Avoid eating berries as they absorb radiations.
Due to the tensions prevailing in Ukraine, check the advisory before planning your tour to Ukraine.