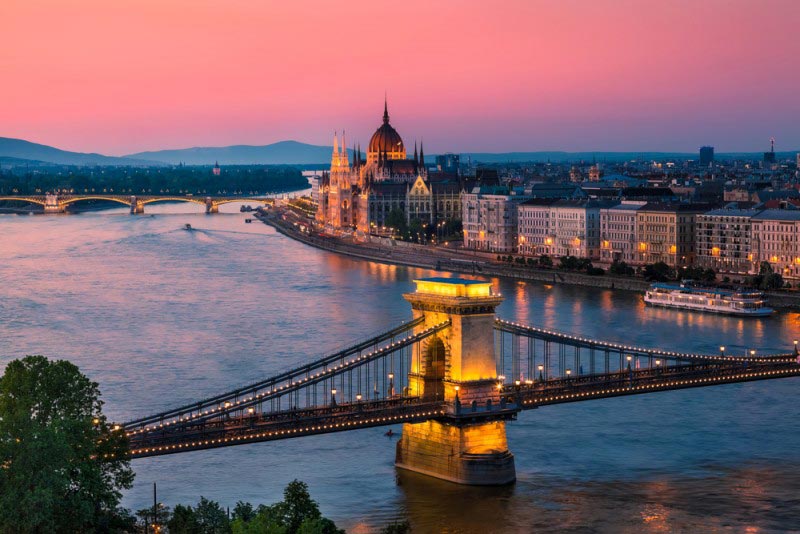 Chain Bridge and the Parliament in Budapest, Hungary
Hungary is ensconced between seven countries: Austria, Slovakia, Ukraine, Romania, Croatia, Slovenia, Serbia, and Montenegro in Central Europe. Hungary is a cherished tourist destination which attracts visitors from all over the world for its finest of wines (red, white, and rosé) and Baroque towns.
The country is a bit larger in size than Ireland. Here the relief features consist of plains in the east, low hills in the west, and small mountains nestled in the north. In fact the highest mountain Kékes Mountain (the blue mountain), has an altitude of only 1014m. You will find here rivers like the Danube and the Tisza. Hungary has been incorporated in the European Union (EU) since 1 May, 2004.
Here you will find Budapest – a metropolis, which is known as the Paris of Eastern Europe with a vibrant nightlife. The railway station here called the 'Western Station' (Nyugati Palyaudvar) was designed by Gustave Eiffel who has the honor of designing Eiffel Tower.
You will also find broad avenues and beautiful parks an ideal place to stroll. There is the Castle District and the Royal Palace as well as the Óbuda area which has some Roman relics and also the Kiscelli Museum here is worth visiting. Don't forget to take an enchanting cruise along the Danube when you are in Budapest. Lake Balaton is nestled at a distance of 100 km from Budapest. There are many high-rise hotels and beaches along its shore. You can also visit the city of Pécs between the Danube and the Dráva rivers. This city has the unusual monument called the Mosque Church, built by the Turks.
The best time to visit Hungary is during spring and autumn, though summer is the peak season here. The top destinations to visit on your Hungary tours are:
Budapest
Szentendre
Szeged
Pecs
Lake balaton
Debrecen
Gyor
Esztergom
Sopron
Zalakaros
Eger
Visegrad
Getting In
Tourists are advised to do some pre -travel planning before arriving in Hungary. Knowing the large area of the country and places of attractions scattered in various parts of the country, it will be prudent to check your mode of transport and the destination. It is quite effortless to travel to Hungary from its neighboring countries of Austria, Slovakia, Ukraine, Romania, Serbia, Croatia, and Slovenia. Located centrally in the European Continent, it becomes easy for almost all the European countries to get an easy access to this country. People can avail flight, train, car, bus, and ship facilities to get into Hungary.
Hungary has an effective network of International airports like Budapest Ferihegy Airport in Budapest, Airport Debrecen in Debrecen and FlyBalaton Airport in Sármellék. With loads of Airlines like Austrian Airlines (Austria), Germanwings, Lufthansa (Germany), KLM (Netherlands), Norwegian Air (Norway), Swiss International (Switzerland), Finnair (Finland), Brussels Airlines (Belgium), British Airways (UK), and Air France coming to this country it becomes a hassle-free traveling.
There are direct connections of trains from the neighboring countries of Austria, Croatia, Romania, Serbia, Slovakia, Slovenia, and the Ukraine. Countries like Hungary, Bosnia and Herzegovina, Bulgaria, the Czech Republic, Germany, Greece, Italy, Poland, Russia, Switzerland and even Turkey, which are bit farther from Hungary can get there through an advanced railway facility. Volánbusz, the national bus company of Hungary is responsible for providing bus service to their neighbors. The bus service is very efficient and more cheaper as compared to the flight fares. You may avail international shipping lines on the Danube (Duna) or Tisza rivers. The service is scheduled to operate to and from Vienna and Bratislava on a regular basis between early April and early November.
Transport
With so much diversity in landscapes and scattered location of some attractive places it becomes crucial to have a good connectivity all around the country. Owing to its central location in the continent, Hungary is easy to be reached by train or bus. It is to be noted that Hungary has no provision of domestic flights to fly within the country. Other transport facilities like train, bus, boat, car, and taxi are available in good number. The tourists can avail any of these modes of transport, which are all efficient in their own way.
There is an extensive network of railways in Hungary. Hungary's MÁV and GYSEV train company is owned by the government. Covering an area of 7,606 km, Hungary has its major railway stations countrywide, including Tiszai Railway Station in Miskolc and the stations of Pécs, Szeged, Györ, and Székesfehérvár. Intercity (IC) trains are the fastest train service. The train service is well maintained. They connect to the major cities with Budapest. Budapest also boasts of having the only underground metro railway in the country. Having a total area of 188,490 km, the highways are quite smooth and simply a joy to travel.
Trams and Light rail are another option for traveling in Hungary. The tram lines connect the cities of Budapest, Miskolc, Szeged, and Debrecen. This mode of transport is quite popular in Budapest. Buses are more preferred by the tourists. Several bus companies operate within the country which gives a quick service and that too at a very cheap rate. They are clean and quite efficient in transporting passengers. The visitors can rent a car if they wish to have a comfortable journey. Boats although are an option available for travel in Hungary, but it is advised not to count much on it. The good hydrofoil boat connecting between Vienna and Budapest operates from the month of April to October.
Leisure
Hungary is heart filling and cherishing for the tourists. This historically old country located in central Europe is always a treat to visit. Accompanied by both hilly terrain and plains, the country gifts you some fairy tale landscapes and intricate creation of nature. Having a continental climate, it has extreme summers and winters. Surprisingly, both the extremities have their own charm, which is difficult to resist. Be it towns, cities, or natural sights, everything is appealing in their own style.
Hungary has majority of its cities known either for their artistic talent or the natural blessings. Among some of the important cities, some of them are Nyíregyháza – a small city blessed with a water resort, museum village and Kecskemét – a town renowned for its vivacious music scene, plum brandy, added to it is some glorious architecture. Some smaller towns of Hungary are also worth visiting. The visitors will find the small town Eger – known for its wines.
Hungary will not deprive you of the ecstatic beauty of nature. The visitors must visit the Aggtelek, which is the home to some beautiful caves with dripstones and stalagmites. Hungary is proud to have Lake Balaton, which is considered as the biggest lake in Central Europe. If you are a wine lover, then come to Tokaj, a famous town producing high quality white wines.
Hungary has a great taste for entertainment and people here are often prone to be lavish. They often celebrate major native festivals before the advent of any season. The tourists can dance to the melody of Hungarian music, and watch some great acrobatic performances done generally during the winter. Thus, visitors can look forward to a lovely stay.
Related : Hungary Airport | Hotels in Hungary