India, known to the world for many famous rulers dynasties and its significant history, has also seen its food habits form over many centuries. The cuisine here is a combination of influences from traditional to modern times. From the Mughal rule to the British Colonization, from the Portuguese to the modern day businessmen, many changes have been made in eating habits of the Indians and new dishes have marked their entry into Indian cuisine. A variety of herbs and spices are used to make dishes across India. However, there are large regional variations in the use from east to west, and north to south. Some of the common dishes include Sarson Ka Saag in Punjab, Sondesh in West Bengal, Daal-Baati in Rajasthan, Appam in Kerala and so on and on. A lot can be said on individual dishes, but let's look at something specific for today. Last time when we talked about Indian cuisine, we saw how easily we can make naan at home. For this recipe let's pick up Chicken Tikka Masala.
Chicken Tikka Masala's origins have been debated a lot. It is also one the most famous dishes in Britain and other parts of the world. There are many small variations though, in the preparations in India and the west. We will not get into much debate on the origin here, rather we will see how this wonderful dish can be made at home. This dish is made with chicken marinated in yogurt and other spices and cooked in an onion and tomato gravy. The buttery taste of this orangish yellow gravy goes well with most kind of Indian breads and is good for any of the main meals. Once you have made this dish and eaten it too, you would just fall in love with its yummy taste and would want to make it again and again. Just bookmark this simple Chicken Tikka Masala Recipe and enjoy it any day you like.
Ingredients (serves 4)
Boneless Chicken Cubes - 600 gms
For Marination
Hung Yogurt - 3 tbsp
Ginger garlic paste - 2 tsp
Lemon juice - 2 tbsp
Red chili powder - 2 tsp
Turmeric powder - 1/2 tsp
Salt to taste
Garam masala powder - 1/2 tsp
Oil - 1 tbsp
For Gravy
Oil - 4 tbsp
Cloves - 3 to 4
Black cardamom - 2
Black peppercorn - 5 to 6
Cinnamon stick - 1 inch piece
Onion - 1 cup (chopped)
Ginger garlic paste - 2 tsp
Tomato - 1 cup (chopped)
Green capsicum - 1/2 cup (cut in squares)
Coriander powder - 2 tsp
Red chili powder - 1 tsp
Turmeric powder - 1/2 tsp
Garam masala powder - 1/2 tsp
Salt to taste
Fresh cream - 2 tbsp
How to Make Chicken Tikka Masala
Mix all marination ingredients to prepare a smooth paste.
Add chicken and mix well to coat it all over.
Cover and refrigerate for 4 to 6 hours.
Pre heat the oven to 220

°

C
Arrange the marinate chicken in a tray and grill for about an hour until done.
Heat oil in a pan, add cloves, black cardamom, black peppercorn and cinnamon stick and fry for a minute.
Add onion and fry till golden brown.
Add tomato and capsicum and fry for about 2 to 3 minutes.
Add all dry masala and fry for about 2 min.
Add the chicken to the gravy and cook for about 5 minutes.
Add fresh cream and mix well.
Serve hot.
Summary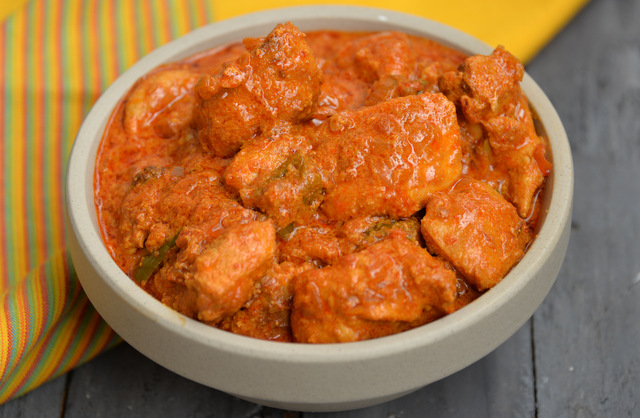 Recipe Name
Chicken Tikka Masala Recipe
Published On
Preparation Time
Cook Time
Total Time
Average Rating
Based on 7 Review(s)
Published On:
Monday, September 15th, 2014