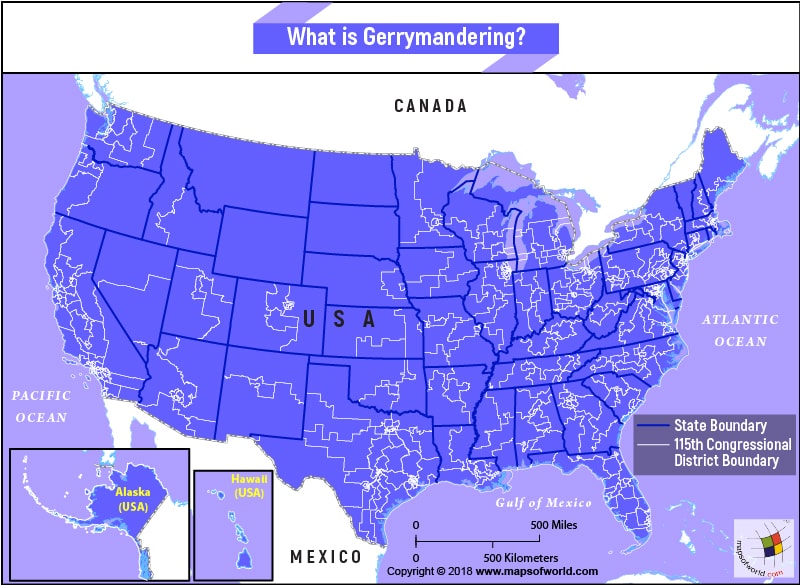 The practice of gerrymandering refers to the redrawing of an area to get a political advantage by one political group over the other. It has been used by Congressional districts, as well as others, to keep or gain influence.
The practice can result in a political party sending a larger number of individuals to the House of Representatives even if that party has received a smaller number of votes than the opposing party.
The legality and fairness of gerrymandering has been taken up by the Supreme Court, but it has failed to pronounce the practice as unconstitutional. Members of the House of Representatives are elected every two years from their respective congressional districts. The district boundaries can be redrawn every ten years based on the latest population census.
The practice of gerrymandering is seen across several states including South Carolina's 12th District, Florida's 5th District, Maryland's 3rd District and Texas' 35th District, all of which have resulted in offering a disproportionate advantage to a political party.
Origin of the term 'gerrymandering'
The term 'gerrymandering' is named after former Massachusetts Governor Elbridge Gerry (1744-1814). On February 11, 1812, Gerry faced a strong challenge from the Federalist Party that threatened the chances of his party, the Republican, winning the forthcoming elections.
To ensure the Republican Party remained in power, he redrew the districts in a manner that resulted in voters supporting the Federalist Party being clustered together in fewer districts, while those supporting the Republican Party remained spread across a wider area, giving greater representation in more districts to the Republican Party. The plan resulted in the Republican Party winning 29 seats against 11 by the Federalists.
Since Gerry's district, Essex, resulted in an odd shape of a Salamander, the Editor of the then Boston Gazette called the shape Gerry-mander, and since then, the action is referred as gerrymandering. The Republican Party has benefited more than from this practice than the Democratic Party.
Attempts at removing Gerrymandering
States like California and Arizona have been early movers towards putting in place a bipartisan mechanism to end political gerrymandering which ensures fair representation of voters based on the bipartisan demarcation of district boundaries.
Visit the following to learn more about the USA:
Related Maps: