Where are the best Places in Nebraska to view the Total Solar Eclipse 2017?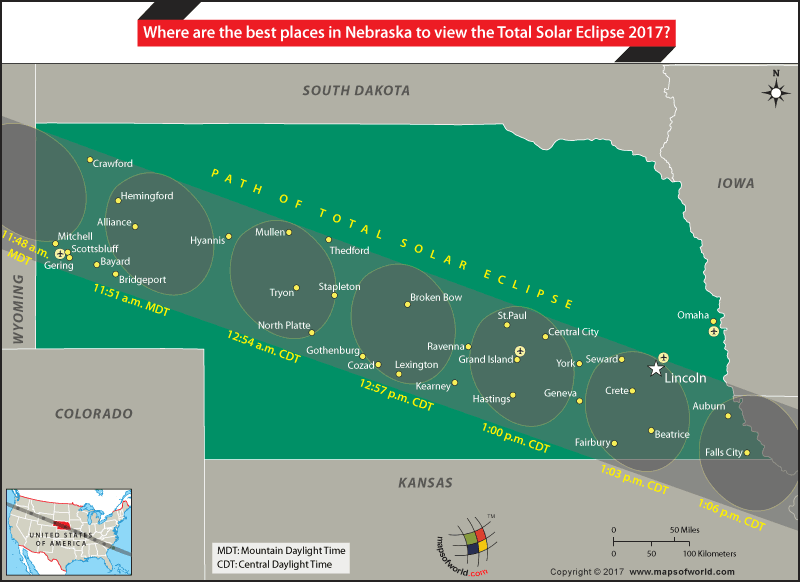 The state of Nebraska falls squarely in the path of totality traced by the Great American Eclipse. This total solar eclipse, one of the most awaited celestial events of this year, is a rare one. Not only is it the only total eclipse to be visible from the contiguous US since 1979, but it is also the only solar eclipse to be visible from the Pacific to the Atlantic coast in approximately a hundred years.
After casting a shadow over Oregon, Idaho, and Wyoming, the eclipse enters the Cornhusker State, Nebraska, on August 21st, 2017 at 11:48 am MDT (12:48 pm CDT). The eclipse will travel across the state from northwest to south east and exit the state at approximately 1:06 pm CDT. The duration of the total eclipse in Nebraska is between 1 minute and 2 minutes 39 seconds, depending on the place of viewing.
Best Places in Nebraska to view the Total Solar Eclipse 2017:
Alliance
Beatrice
Gering
Grand Island
Hastings
Kearney
Lincoln
North Platte
Omaha
Scottsbluff
There are a number of other communities and towns in the state that are also located in the path of totality. These include:
Auburn
Bayard
Beatrice
Bridgeport
Broken Bow
Central City
Cozad
Crawford
Crete
Fairbury
Falls City
Geneva
Gothenburg
Grand Island
Hastings
Hebron
Hemingford
Hyannis
Kearney
Lexington
Lincoln (capital city of Nebraska)
Mitchell
Mullen
North Platte
Ravenna
Scottsbluff
Seward
St. Paul
Stapleton
Thedford
Tryon
York
The western regions of the state are expected to have clear skies making for a great view. While in general the eastern counties are expected to be cloudier, it is best to check the local weather conditions to be able to get an uninterrupted view of the total solar eclipse.
While it is expected that the partial solar eclipse will be visible from all parts of the state, if you live in the northeastern or southwestern counties you may want to move to the path of totality to be able to view this rare phenomenon. These cities and towns do not fall in the path of totality:
Minden
Nebraska City
Norfolk
Ogallala
Omaha
Ord
Oshkosh
Sidney
Taylor
Valentine
The communities along the path of totality are served by several important airports including:
Lincoln Airport (Lincoln)
Millard Airport (Omaha)
Western Nebraska Regional Airport (Scottsbluff)
Central Nebraska Regional Airport (Grand Island)
Nebraska is likely to be one of the most coveted destinations for eclipse watchers across the globe. Other attractions that you may want to visit in Nebraska include –
Nebraska State Capitol (Lincoln)
Sunken Gardens (Lincoln)
Strategic Air Command & Aerospace Museum (Ashland)
Henry Doorly Zoo and Aquarium (Omaha)
Heartland of America Park (Omaha)
Chimney Rock National Historic Site (Morrill County)
Related Maps: