Gaza Strip is part of which Country?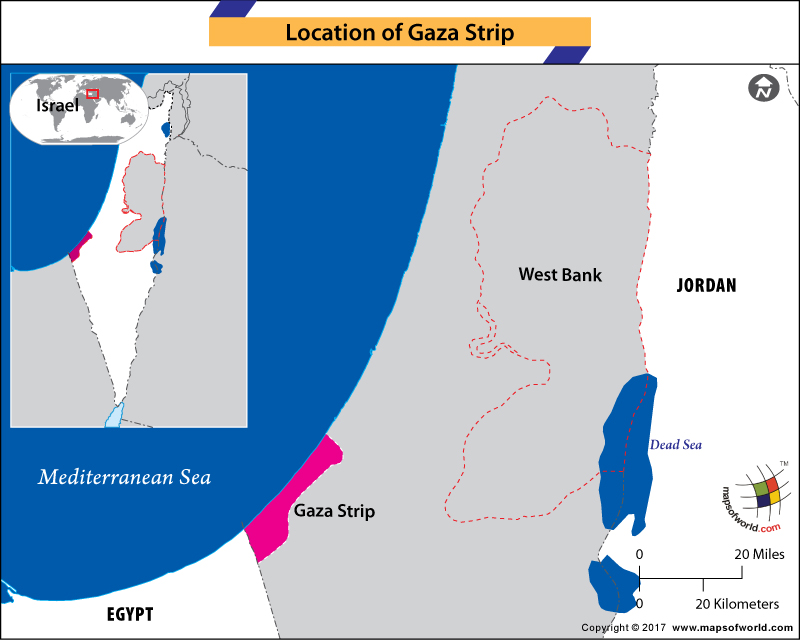 Gaza Strip is a self-governed part of Palestine territory but Palestine is not recognized as a full independent state by UN.
Gaza Strip is a 141 sq mile territory, between Egypt and Israel and lies northeast of the Sinai Peninsula, along the Mediterranean Sea. It has a 24.8 mile long coastline and shares a 9.3 mile long land border with Egypt towards the South and a 36.6 mile long border with Israel. The population in Gaza is approx. 1.8 million comprising mostly of Palestinian Arabs and ranks 3rd in global city population density.
Gaza Strip is under Palestinian Authority and is administered by Hamas since 2007 which took control over the area after winning the 2006 election. The territory has restricted movement of people, goods and services – with air, sea and road access tightly controlled by the State of Israel.
Main cities in Gaza Strip are Gaza City, Rafah, Dayr al-Balab, Jabaliya and Al-Naziah. Most people are poor and live in squalid conditions.
History of Gaza since 1948
On May 15 1948, British Mandate ended over Gaza and the same day the Arab-Israeli conflict began. Egyptian Armed forces entered Gaza and the resulting fight left a narrow strip of land under Arab control. The Egypt-Israel armistice agreement signed on 24 February 1949 saw borders demarcated and the territory has since been referred as the Gaza Strip.
Egyptian Army has controlled Gaza Strip from 1949 to 1956 and from 1957 to 1967. The Six-day war in June 1967 saw Egypt lose control of Gaza to Israel and it remained under Israeli control till 2000.
With growing violent protests by local Palestinians, Israel reached an agreement with Yasser Arafat-led Palestinian Liberation Organization (PLO) to transfer control of Gaza to the Palestinian Authority in a phased manner.
The year 2000 witnessed violent clashes between local Palestinians and Israeli Armed forces in what came to be termed as the second Intifada. By 2005, Israel had withdrawn its forces and civilian settlers from Gaza, handing over complete control to the Palestinian Authority.
The elections in 2006 saw Hamas, defeat the PLO-backed Fatah Group and since 2007, Hamas has been controlling the Gaza Strip. The airspace and borders remain under Israeli control, while the southern border facing Egypt is administered by the Egyptian authorities.
Frequent clashes have occurred between armed factions within Gaza and Israeli forces that have resulted in a severe economic and humanitarian crisis within Gaza area. The situation continues to remain tenuous.
Related Maps: