Top Ten Countries with the Highest Performing Graduates
Next Story
Get a glimpse into some of the world's best Christmas markets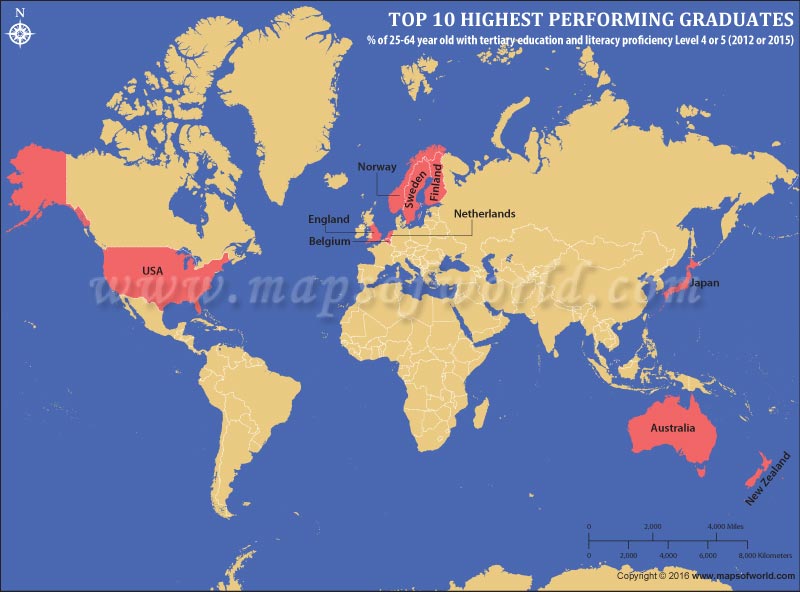 If you have a theme, we have a map.
Contact us for your custom mapping requirements
The United States (U.S.) and the United Kingdom (U.K) are any student's dream destinations. These nations comprise some of the best universities in the world which are known for their faculty, research facilities, students who come from every part of the world, sizeable budgets, and considerable freedom and autonomy. Despite this, many of the top universities are lagging behind when it comes to the advanced literary skills.
According to the Organisation for Economic Co-operation and Development (OECD) list, of the top ten countries England and the United States stand at the eight and ninth position respectively in the list of top ten highest performing graduates. However, the list is heavily dominated by the European nations who occupy six out of the ten spots. Standing right at the top is Japan. The Asian nation which is known for its technological advancements has also the highest performing graduates. Following Japan is the European nation of Finland and the Netherlands. Though these three nations may have some of the highest performing graduates, but their universities are not sought after by international students.
Nevertheless, Australia, which also attracts students from around the world, stands at the fourth spot in terms of the highest performing graduates. The European nations of Norway and Belgium occupy the fifth and sixth spots respectively. Australia's neighbor, New Zealand, too, has made it to the list and occupies the seventh spot among the list of the highest performing graduates. The only nation placed behind England and the U.S. on the list is the Czech Republic, which occupies the ninth spot.
Data sourced from OECD
Recent Posts