What are the world's best cities for artists?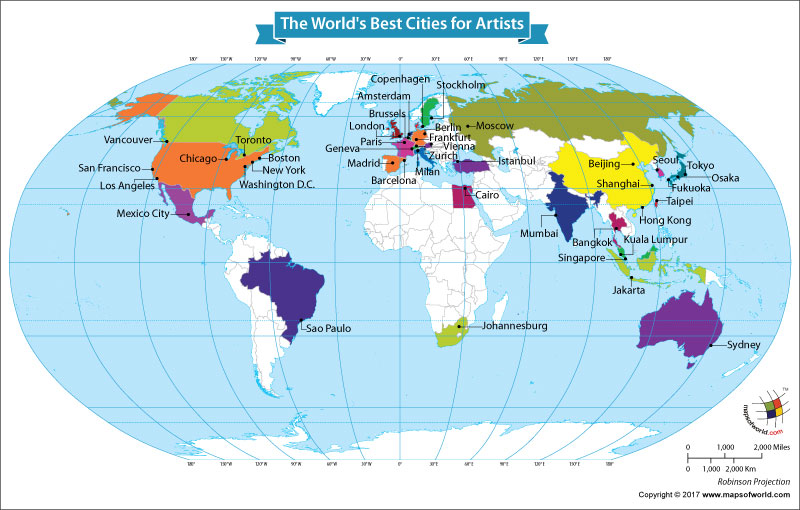 The Institute for Urban Strategies at The Mori Memorial Foundation in Tokyo released the 2016 Global Power City Index, which is a ranking of the top 42 cities selected from around the world. The cities are judged on the basis of their comprehensive power. The rankings comprise six overall objective factors, which are – Livability, Accessibility, Cultural Interaction, Research and Development, Economy, and Environment. All these factors have 70 indicators among them. The index also looks at the cities from the perspective of five different actors, which are manager, researcher, artist, visitor and resident.
Paris has ranked first in the artist specific rankings, which comprises five indicators – cultural stimulation, accumulation of artists, accumulation of arts markets, environment for creative activities and daily life environment. Paris, which had a score of 52, has excellent rating for Cultural Stimulation and Daily Life Environment and is believed to be most attractive to artists. New York occupied the second spot with a score of 49.7. Despite doing well in Accumulation of Art Markets and Accumulation of Artists, New York fell short of Paris in terms of attractiveness to artists.
The other cities that were placed in the top ten were Vienna, Berlin, London, Barcelona, Tokyo, Amsterdam, Los Angeles and Toronto. Barcelona, which was placed at the number 10 spot in 2015 surged to number 6 in 2016 because of its robust score for accumulation of arts markets and environment for creative activities.
Some other cities that made it to the list are Madrid, Stockholm, Osaka, Mumbai, Bangkok, Copenhagen, Cairo, San Francisco, Jakarta, Sydney, Shanghai, Seoul and many other nations. In the two cities of Singapore and Hong Kong, which were placed at the 40th  and 42nd  rank respectively, the average house rent is very expensive. The house rent is a crucial factor for artists as it is a key factor in the indicator, Environment for Creative Activities. Meanwhile Taipei, which had a score of 22.4 was placed at the 41st  rank.
(Data sourced from The Institute for Urban Strategies at The Mori Memorial Foundation in Tokyo)
Know more:
Related maps: