What cities have the highest transport accessibility?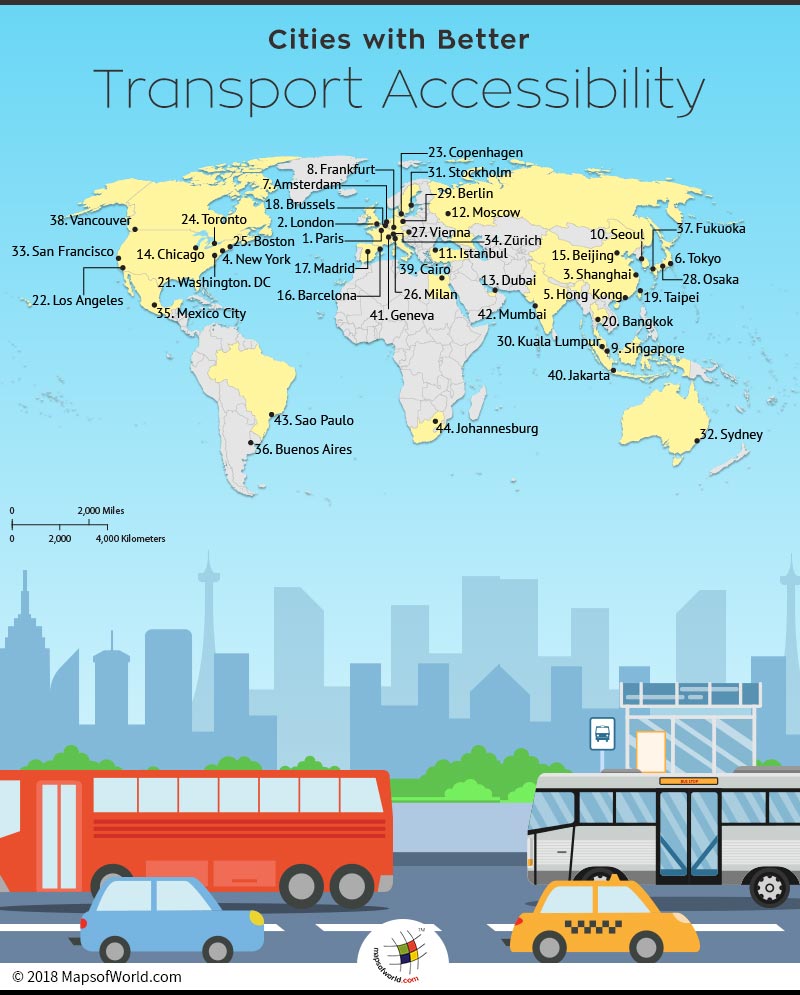 The lack of coordination in network planning often leads to the blurring of responsibilities, impeding investments and the failure in delivery of projects. The integration of transport network faces challenges in the establishment of a coherent and effective institutional framework for local and international coordination of transport services.
A region's population as well as the economic activity largely affects the transportation network. A transport network is a structure that allows vehicular movement or flow of goods and services. These could be distinguished between Land, Air and Sea. With a bursting world population, better services are required for the easy transition and accessibility to the travelers. These users seek comfort, reliability, safety and above all convenience in determining the demands for transport services. The integrated planning and management within the various modes helps in rendering better services.
With the growing international trade and traffic, the transport accessibility cannot restrict to a city's or country's borders.
The top three cities ranked in accessibility are-
Paris– The City of Light has the highest accessibility, and earns an overwhelmingly high score for 'cultural stimulation' as reported by GPCI. It was the first in livability and accessibility to both visitors and residents owing to a large concentration of cultural, historical and traditional sites with a compact center.
London– The second ranked city in terms of accessibility, is rich with human resources and tourist attractions. It is considered easy for mobility in terms of time taken to travel and fares to destination.
Shanghai– With a high international transportation network and transportation infrastructure, Shanghai has improved its score on GPCI. The Chinese government planned to invest over 5 trillion RMB in the transportation infrastructure, most of which was invested in Shanghai.
In terms of accessibility, London and Paris have continued to battle for top spot, with the latter prevailing this year. London's relinquishing title can be attributed to its overall score decline, which includes an increase in the number of Transportation Fatalities per Population.
The accessibility could only be improved by investing in transport infrastructure, which is a common tool for economic development. With the integration of a global economy, the mobility of people, goods and services, has become more apparent, reflecting a close link between the level of transport infrastructure and economic advancement. An inefficient transport infrastructure leads to increased economic costs with larger missed opportunities.
No single mode of transport is responsible for economic waves and shifts. It is the interlinking of these modes to their respective economic functions and the geography, that collectively leads to increase in accessibility, further increasing economic growth.
Below lying table depicts the top cities with the highest transport accessibility:
| | |
| --- | --- |
| Cities | Accessibility |
| Paris | 245.3 |
| London | 244.0 |
| Shanghai | 224.0 |
| New York | 221.1 |
| Hong Kong | 206.7 |
| Tokyo | 206.1 |
| Amsterdam | 201.6 |
| Frankfurt | 201.2 |
| Singapore | 197.5 |
| Seoul | 192.8 |
| Istanbul | 191.1 |
| Moscow | 181.5 |
| Dubai | 177.0 |
| Chicago | 168.0 |
| Beijing | 158.9 |
| Barcelona | 158.4 |
| Madrid | 156.8 |
| Brussels | 156.6 |
| Taipei | 150.8 |
| Bangkok | 148.5 |
| Washington, D.C. | 148.4 |
| Los Angeles | 146.5 |
| Copenhagen | 145.3 |
| Toronto | 144.2 |
| Boston | 143.6 |
| Milan | 142.3 |
| Vienna | 140.6 |
| Osaka | 136.1 |
| Berlin | 135.7 |
| Kuala Lumpur | 134.7 |
| Stockholm | 133.7 |
| Sydney | 131.6 |
| San Francisco | 127.3 |
| Zurich | 125.1 |
| Mexico City | 123.6 |
| Buenos Aires | 116.9 |
| Fukuoka | 114.0 |
| Vancouver | 112.6 |
| Cairo | 110.4 |
| Jakarta | 99.9 |
| Geneva | 99.3 |
| Mumbai | 94.4 |
| Sao Paulo | 91.8 |
| Johannesburg | 80.9 |
Know more:
Related maps: