How do nations rank in terms of freedom of press?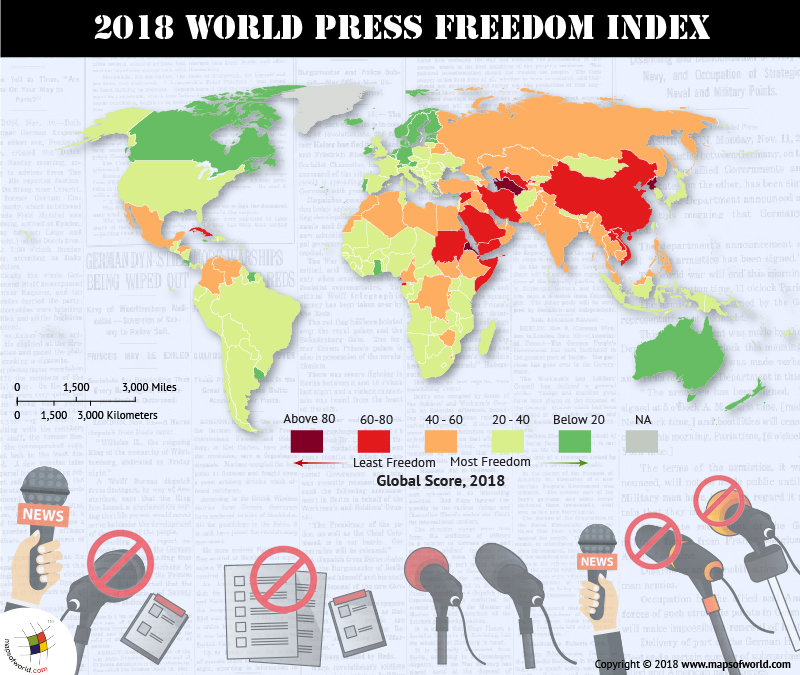 The lofty ideals in a 'Constitution' are not always in coordination to the bitter realities of nations and their governance. What is freedom, if there is no freedom of speech, media or journalism? A free press is one of the most significant pillars of democracy, as a democratic nation would not function properly, if the people are not informed well about the events happening around them or internationally. Information that is availed to people via media is crucial for them to form rational opinions.
Why is freedom of press important in a Democracy?
For decades, the media has played a pivotal role for many nations and it has kept the citizens of the country updated about the various social and economic issues that face their nations. Democracy always places emphasis on the importance of the freedom of the press, yet in totalitarian or dictatorial regimes, many times the press is often suppressed.
Reporters Without Borders publishes the World Press Freedom Index each year, to determine the press freedom records of every country. The report not only reflects the freedom of journalists and news organizations, but it also contributes information regarding the roles that are played by the governments in every country, in order to respect the freedom of media. Countries score between 0 to 100, which means that "0" is the best score, and "100" is the worst. The score is calculated as per the restrictions for press in each country.
According to the World Press Freedom Index 2018, Norway is the best country when it comes to the freedom of the press. The nation was placed at the top position, with a score of 7.63. Sweden ranked second with a score of 8.31, while Netherlands is at the third spot, scoring 10.01. Finland and Switzerland occupy fourth and fifth position. Since the top five countries are European nations, it suggests how journalism and media in the region enjoy good deal of freedom.  Some of the other prominent countries, where press relishes a better freedom, and scored less than 20 were New Zealand, Belgium, Iceland, Ireland, Germany, Australia, Canada and a few others.
Countries such as France, the United Kingdom, the United States, Romania, Italy, South Korea, Japan, Poland, Nigeria, Afghanistan, and many other nations scored between 20 and 40. Among the BRICS nations, press in South Africa enjoyed the best freedom, and has a score of 20.39. The lowest ranked country among BRICS nations was China with a score of 78.29. India, Russia and Brazil had a score of 43.24, 49.96 and 31.2.
The countries that are ranked worst in the World Freedom Press Index 2018 are Syria, Turkmenistan, Eritrea and North Korea, with North Korea having the worst score of 88.87.
For a better understanding of how each nation has scored on the World Freedom Press Index, refer to the table below.
| | | |
| --- | --- | --- |
| Rank | Country | Scores |
| 1 | Norway | 7.63 |
| 2 | Sweden | 8.31 |
| 3 | Netherlands | 10.01 |
| 4 | Finland | 10.26 |
| 5 | Switzerland | 11.27 |
| 6 | Jamaica | 11.33 |
| 7 | Belgium | 13.16 |
| 8 | New Zealand | 13.62 |
| 9 | Denmark | 13.99 |
| 10 | Costa Rica | 14.01 |
| 11 | Austria | 14.04 |
| 12 | Estonia | 14.08 |
| 13 | Iceland | 14.10 |
| 14 | Portugal | 14.17 |
| 15 | Germany | 14.39 |
| 16 | Ireland | 14.59 |
| 17 | Luxembourg | 14.72 |
| 18 | Canada | 15.28 |
| 19 | Australia | 15.46 |
| 20 | Uruguay | 15.56 |
| 21 | Surinam | 16.44 |
| 22 | Samoa | 16.69 |
| 23 | Ghana | 18.41 |
| 24 | Latvia | 19.63 |
| 25 | Cyprus | 19.85 |
| 26 | Namibia | 20.24 |
| 27 | Slovakia | 20.26 |
| 28 | South Africa | 20.39 |
| 29 | Cabo Verde | 20.39 |
| 30 | Liechtenstein | 20.49 |
| 31 | Spain | 20.51 |
| 32 | Slovenia | 21.69 |
| 33 | France | 21.87 |
| 34 | Czech Republic | 21.89 |
| 35 | Lithuania | 22.20 |
| 36 | Andorra | 22.21 |
| 37 | Chile | 22.69 |
| 38 | Trinidad and Tobago | 22.79 |
| 39 | United Kingdom | 23.25 |
| 40 | Burkina Faso | 23.33 |
| 41 | Taiwan | 23.36 |
| 42 | South Korea | 23.51 |
| 43 | Romania | 23.65 |
| 44 | United States | 23.73 |
| 45 | Italy | 24.12 |
| 46 | Belize | 24.55 |
| 47 | Botswana | 25.29 |
| 48 | Comoros | 25.30 |
| 49 | Senegal | 25.61 |
| 50 | Tonga | 25.68 |
| 51 | Argentina | 26.05 |
| 52 | Papua New Guinea | 26.19 |
| 53 | Madagascar | 26.2 |
| 54 | Guyana | 26.25 |
| 55 | Mauritius | 26.45 |
| 56 | Fiji | 26.55 |
| 57 | Poland | 26.59 |
| 58 | Dominican Republic | 26.79 |
| 59 | Haïti | 26.82 |
| 60 | Georgia | 27.34 |
| 61 | Bosnia-Herzegovina | 27.37 |
| 62 | Niger | 27.40 |
| 63 | Malawi | 27.43 |
| 64 | Malta | 27.44 |
| 65 | El Salvador | 27.78 |
| 66 | Japan | 28.64 |
| 67 | Lesotho | 28.78 |
| 68 | Croatia | 28.94 |
| 69 | Hong Kong | 29.04 |
| 70 | Mongolia | 29.05 |
| 71 | Mauritania | 29.09 |
| 72 | Hungary | 29.11 |
| 73 | Greece | 29.19 |
| 74 | Albania | 29.49 |
| 75 | Serbia | 29.58 |
| 76 | Northern Cyprus | 29.59 |
| 77 | Kosovo | 29.61 |
| 78 | Sierra Leone | 29.98 |
| 79 | Armenia | 29.99 |
| 80 | Moldova | 30.01 |
| 81 | Côte d'Ivoire | 30.08 |
| 82 | Guinea Bissau | 30.09 |
| 83 | Benin | 30.16 |
| 84 | Seychelles | 30.17 |
| 85 | Togo | 30.23 |
| 86 | Israel | 30.26 |
| 87 | Peru | 30.27 |
| 88 | Liberia | 30.33 |
| 89 | Nicaragua | 30.41 |
| 90 | Panama | 30.56 |
| 91 | Ecuador | 30.56 |
| 92 | Tanzania | 30.65 |
| 93 | Bhutan | 30.73 |
| 94 | East Timor | 30.81 |
| 95 | Kenya | 30.82 |
| 96 | Tunisia | 30.91 |
| 97 | Kyrgyzstan | 31.00 |
| 98 | Mozambique | 31.12 |
| 99 | Lebanon | 31.15 |
| 100 | Ukraine | 31.16 |
| 101 | Brazil | 31.2 |
| 102 | Montenegro | 31.21 |
| 103 | Guinea | 31.9 |
| 104 | Kuwait | 31.91 |
| 105 | Nepal | 32.05 |
| 106 | Paraguay | 32.32 |
| 107 | Gabon | 32.37 |
| 108 | Republic of North Macedonia | 32.43 |
| 109 | Bolivia | 32.45 |
| 110 | Bulgaria | 35.22 |
| 111 | Central African Republic | 35.25 |
| 112 | Zambia | 35.36 |
| 113 | Congo-Brazzaville | 35.42 |
| 114 | Mali | 36.15 |
| 115 | Guatemala | 36.17 |
| 116 | Uganda | 36.77 |
| 117 | Afghanistan | 37.28 |
| 118 | Nigeria | 37.41 |
| 119 | Maldives | 37.95 |
| 120 | Angola | 38.35 |
| 121 | Gambia | 38.36 |
| 122 | Chad | 38.45 |
| 123 | Indonesia | 39.68 |
| 124 | Qatar | 40.16 |
| 125 | Zimbabwe | 40.53 |
| 126 | Oman | 40.67 |
| 127 | United Arab Emirates | 40.86 |
| 128 | Cameroon | 40.92 |
| 129 | Colombia | 41.03 |
| 130 | Sri Lanka | 41.37 |
| 131 | Jordan | 41.71 |
| 132 | Philippines | 42.53 |
| 133 | Palestine | 42.96 |
| 134 | Morocco / Western Sahara | 43.13 |
| 135 | Algeria | 43.13 |
| 136 | Myanmar | 43.15 |
| 137 | India | 43.24 |
| 138 | Pakistan | 43.24 |
| 139 | Thailand | 44.31 |
| 140 | Honduras | 45.23 |
| 141 | Cambodia | 45.90 |
| 142 | Venezuela | 46.03 |
| 143 | South Sudan | 46.88 |
| 144 | Malaysia | 47.41 |
| 145 | Bangladesh | 48.62 |
| 146 | Mexico | 48.91 |
| 147 | Russia | 49.96 |
| 148 | Tajikistan | 50.06 |
| 149 | Ethiopia | 50.17 |
| 150 | Singapore | 50.95 |
| 151 | Swaziland | 51.46 |
| 152 | Brunei | 51.48 |
| 153 | Democratic Republic of Congo | 51.60 |
| 154 | Belarus | 52.59 |
| 155 | Rwanda | 52.90 |
| 156 | Turkey | 53.50 |
| 157 | Kazakhstan | 54.41 |
| 158 | Burundi | 55.26 |
| 159 | Iraq | 56.56 |
| 160 | Egypt | 56.72 |
| 161 | Libya | 56.79 |
| 162 | Azerbaijan | 59.73 |
| 163 | Iran | 60.71 |
| 164 | Uzbekistan | 60.84 |
| 165 | Bahrain | 60.85 |
| 166 | Yemen | 62.23 |
| 167 | Somalia | 63.04 |
| 168 | Saudi Arabia | 63.13 |
| 169 | Laos | 66.41 |
| 170 | Equatorial Guinea | 66.47 |
| 171 | Cuba | 68.90 |
| 172 | Djibouti | 70.77 |
| 173 | Sudan | 71.13 |
| 174 | Vietnam | 75.05 |
| 175 | China | 78.29 |
| 176 | Syria | 79.22 |
| 177 | Turkmenistan | 84.20 |
| 178 | Eritrea | 84.24 |
| 179 | North Korea | 88.87 |
Know more:
Related Maps: