What countries have the highest pasta consumption?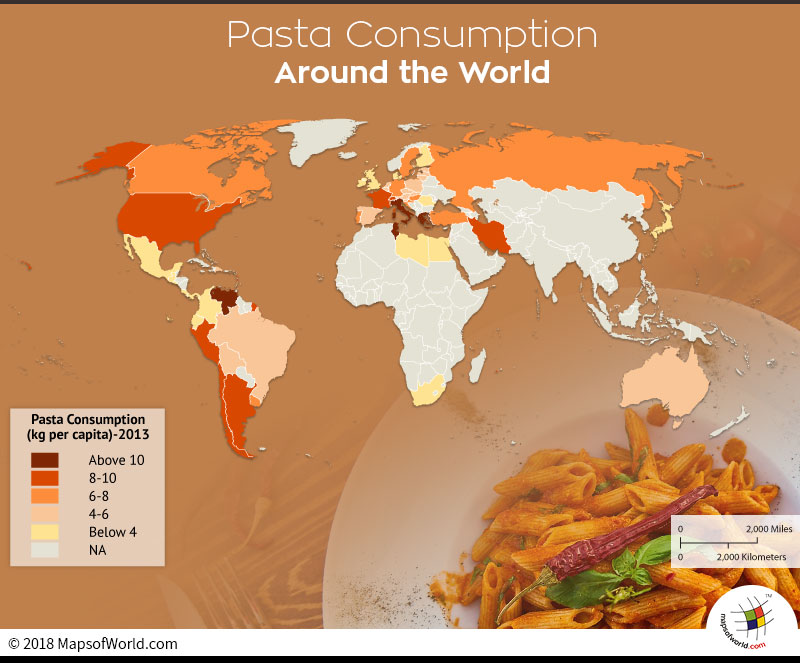 The traditional staple food of Italian cuisine : Pasta, dates its origin back to 1154, in Sicily. The pasta consumption has increased in numerous countries. Commonly used in a variety of dishes, it is made with dough which is not leavened by using rising agents or yeast. Available in mainly two forms- dried and fresh, pasta is made from durum wheat, which is the second most cultivated species of wheat after the common wheat. Representing only a mere 5%-8% of global wheat production, it was developed by the artificial selection of domesticated emmer wheat strains. This wheat is largely grown in the Middle-East.
The resistance of the durum grains to milling, implies that the dough from its flour would be soft and weak. This feature of durum wheat makes its most favourable for semolina and pasta. The wheat middlings of durum wheat are the most used for pasta production. This is called semolina, which results into dough, which is easy to shape and hence can be thinned into sheets or strands.
Both dried and fresh pasta comes in a variety of shapes and variants, with 310 specific forms known by over 1300 documented names. All of these can be used in three kinds of prepared dishes: as 'Pasta asciutta' meaning pasta cooked and served with a side sauce or condiment; 'pasta in brodo' meaning pasta is part of a soup-type dish and lastly, 'pasta al forno', in which pasta is incorporated in a baked dish.
In terms of nutrition, the cooked pasta is 31% carbohydrates( mainly starch), 6% protein, with moderate amounts of manganese. Whereas a fortified pasta has a high calorie content and a few micronutrients like niacin, riboflavin, folate, thiamine and ferrous iron.The art of pasta making has evolved since its first conceptualisation, with various forms and styles developed in order to meet the needs of people. This is also reflected by the production of a gluten-free pasta, that processes rice and maize in order to address these health issues.
The fresh type of pasta is usually locally made with fresh ingredients like a mixture of eggs and all- purpose wheat. Consideration is paid to the spoilage rates, in case of the produce being shipped. The striking feature of this type of pasta is the 'tenderness' as compared to the dried pasta and the time required to cook it. This is due to the addition of eggs as a major ingredient. On the other hand, the dried type of pasta also called factory made pasta is made in large amounts using machines with advanced capabilities to manufacture. This is the most suitable type for shipment over-the-seas. The primary contents of this type of pasta are semolina flour and water. They are required to be dried out at low temperature for several days in order for the moisture to evaporate, increasing its shelf life. The storage also relies on the extent of its processing and the degree of dryness. It could vary from a year to 5 refrigerator days, in case of dry and fresh pasta respectively.
Originally solely a part of Italian and European cuisine, pasta consumption has crossed international borders. This is due to the Italian migration trends into the American continents around the beginning of 20th century. With this international introduction of the cuisine, it has been adapted and incorporated into the local cuisines of many nations. Ranging from Chinese cooking pasta, in the forms of spaghetti and macaroni, Japanese as bolognese and napolitan, Greece considers hilopittes as the finest form of pasta, it is now one of the most common dishes. As part of the Southern cone and most of Brazil, locally adopted names like gnocchi, raviolis, tallarines are widespread.
The categorisation of pasta is also done on the basis of shapes and sizes. These are diversified into long and medium length pasta which are made by extrusion, rolling and cutting. Some of these are spaghetti, vermicelli, ziti, fedelini etc. The flat and ribbon cut pasta are often rolled flat and then cut either manually or mechanically. These include fettuccine, lasagna, linguine, mafalde, rombi, stringozzi etc. The short cut extruded pasta includes anelli, chifferi, fusilli, mezze penne, penne etc. The small types of pasta usually used in soups are Alfabeto, Corallini, egg barley, Farfalline, pastina, stelle etc. The  name ravioli is the common term collectively used as a generic description for pasta with filling. Some examples of this type of pasta are lumache, tortelli, ravioli, tufoli, caramelle, agnolotti.
Italy, produces approximately 1,432,990 tonnes of pasta each year and exports 1.7 million tonnes a year, making it the largest consumer of pasta in the world. United States, being amongst the top 10 consumers and producers of pasta, is also the founder of the oldest pasta trade associations in the world. The National Pasta Association, is a trade association of professionals in the United States, which focus on increasing the consumption of pasta by being the centre of knowledge and promoting sound public policy to the consumer, the industry and the regulatory bodies.
Below lying table mentions countries as where pasta consumption is higest:
| Country | Consumption 2013 (kg per capita) |
| --- | --- |
| Italy | 25.3 |
| Tunisia | 16.0 |
| Venezuela | 12.2 |
| Greece | 11.5 |
| Switzerland | 9.2 |
| United States | 8.8 |
| Iran | 8.5 |
| Chile | 8.4 |
| Argentina | 8.3 |
| Peru | 8.2 |
| France | 8.1 |
| Germany | 8.0 |
| Russia | 8.0 |
| Uruguay | 7.5 |
| Croatia | 7.5 |
| Sweden | 7.0 |
| Turkey | 6.8 |
| Portugal | 6.7 |
| Canada | 6.5 |
| Hungary | 6.4 |
| Iran | 6.2 |
| Brazil | 6.0 |
| Czech Republic | 6.0 |
| Austria | 5.6 |
| Belgium – Luxembourg | 5.4 |
| Estonia | 5.3 |
| Spain | 5.3 |
| Poland | 5.2 |
| Slovakia | 5.0 |
| Slovenia | 4.9 |
| Bolivia | 4.8 |
| Netherlands | 4.4 |
| Lithuania | 4.4 |
| Latvia | 4.1 |
| Dominican Republic | 4.0 |
| Australia | 4.0 |
| Israel | 4.0 |
| Ecuador | 3.9 |
| Panama | 3.8 |
| Costa Rica | 3.8 |
| Finland | 3.2 |
| Mexico | 3.2 |
| Guatemala | 3.0 |
| Colombia | 2.7 |
| Romania | 2.7 |
| United Kingdom | 2.5 |
| Denmark | 2.0 |
| Libya | 2.0 |
| South Africa | 1.9 |
| Japan | 1.7 |
| Egypt | 1.2 |
| Ireland | 1.0 |
| El Salvador | 1.0 |
Know more:
Related maps: