New York Cities Map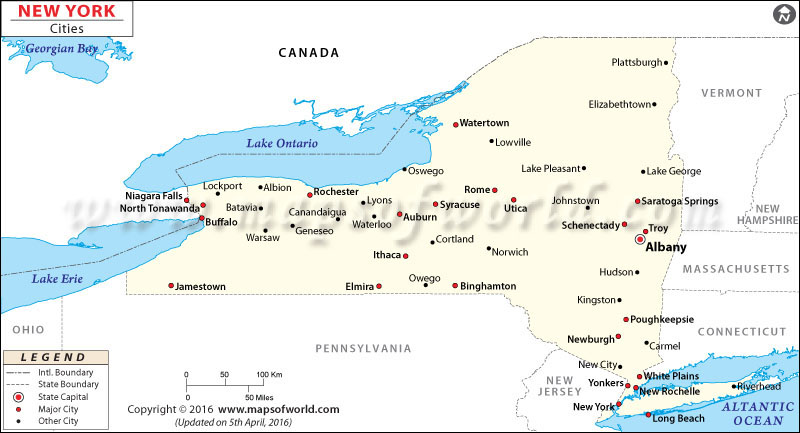 New York Map with Cities
Discover the different cities in New York with the New York Map with Cities. This map allows you to explore the various cities within the state, making it easier to locate them on the map.
Cities in New York
In New York, there are lots of different cities, and each one is special in its own way. Some cities are really busy with lots of things to do and cool places to see. Others are calm and found in pretty nature spots. No matter what you like, New York has a city that you'll enjoy! Whether you like peaceful places, outdoor adventures, or exploring the city, you'll find something you like.
How Many Cities are in New York
New York has a lot of cities. There are about 62 cities in total in New York. Each city is unique in its own way. Whether you like big busy cities or small comfortable towns, New York's cities have something you'll like. You can find where each city is on the Map of New York Cities.
Largest Cities in New York
The largest cities in New York are places where many people live and there's lots to do. Some big cities in New York include New York City, Buffalo, Rochester, Yonkers, and Syracuse. These cities have a bunch of things to see and do, and they're known for their activities and attractions.
Safest Cities in New York
Some cities in New York really care about keeping people safe and happy. These places work hard to make sure everyone feels protected. Towns like Saratoga Springs, Rye, New Castle, and Eastchester are known as some of the safest cities in New York. They work really well to keep crime low and make sure everyone feels safe. These cities are great choices for families and people who want to live in a secure and safe place.
Best Cities to Live in New York
New York has some really great cities where life is good. Think about places like New York City, Buffalo, Rochester, Albany, and Syracuse. These cities have jobs, schools, and things to do. Whether you like being outside, want to learn new things, or enjoy different cultures, these cities have something for you. They make sure you have a happy life with lots of things to enjoy.
Feel free to explore the New York Cities Map to discover and learn more about the location of each city in New York.
List of Cities in New York

City
County
Albany
Albany
Amsterdam
Montgomery
Auburn
Cayuga
Batavia
Genesee
Beacon
Dutchess
Binghamton
Broome
Buffalo
Erie
Canandaigua
Ontario
Cohoes
Albany
Corning
Steuben
Cortland
Cortland
Dunkirk
Chautauqua
Elmira
Chemung
Fulton
Oswego
Geneva
Ontario
Glen Cove
Nassau
Glens Falls
Warren
Gloversville
Fulton
Hornell
Steuben
Hudson
Columbia
Ithaca
Tompkins
Jamestown
Chautauqua
Johnstown
Fulton
Kingston
Ulster
Lackawanna
Erie
Little Falls
Herkimer
Lockport
Niagara
Long Beach
Nassau
Mechanicville
Saratoga
Middletown
Orange
Mount Vernon
Westchester
New Rochelle
Westchester
New York City

Bronx, Kings, New York, Queens, Richmond

Newburgh
Orange
Niagara Falls
Niagara
North Tonawanda
Niagara
Norwich
Chenango
Ogdensburg
St. Lawrence
Olean
Cattaraugus
Oneida
Madison
Oneonta
Otsego
Oswego
Oswego
Peekskill
Westchester
Plattsburgh
Clinton
Port Jervis
Orange
Poughkeepsie
Dutchess
Rensselaer
Rensselaer
Rochester
Monroe
Rome
Oneida
Rye
Westchester
Salamanca
Cattaraugus
Saratoga Springs
Saratoga
Schenectady
Schenectady
Sherrill
Oneida
Syracuse
Onondaga
Tonawanda
Erie
Troy
Rensselaer
Utica
Oneida
Watertown
Jefferson
Watervliet
Albany
White Plains
Westchester
Yonkers
Westchester