What countries can a US Citizen visit without a Visa?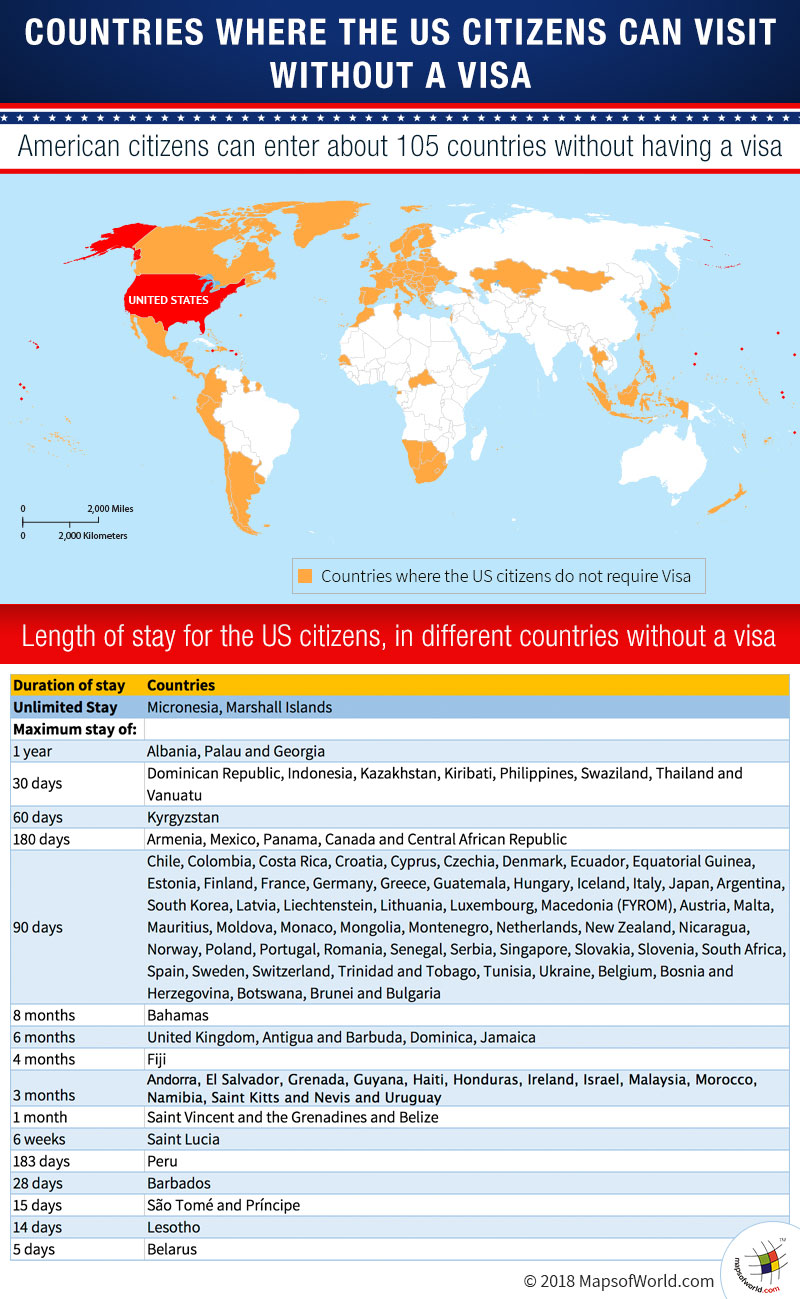 American citizens can enter approximately 105 countries without having a visa. All they need is a passport to enter these countries.
There are a number of countries where the period of staying without a visa differs. Below is the list of the countries classified on the basis of the period they can stay.
| | |
| --- | --- |
| Duration of stay | Countries |
| Unlimited Stay | Micronesia, Marshall Islands |
| Maximum stay of: | |
| 1 year | Albania, Palau, and Georgia |
| 30 days | Dominican Republic, Indonesia, Kazakhstan, Kiribati, Philippines, Swaziland, Thailand and Vanuatu |
| 60 days | Kyrgyzstan |
| 180 days | Armenia, Mexico,  Panama, Canada and the Central African Republic |
| 90 days | Chile, Colombia, Costa Rica, Croatia, Cyprus, Czech Republic, Denmark, Ecuador, Equatorial Guinea, Estonia, Finland, France, Germany, Greece, Guatemala, Hungary, Iceland, Italy Japan Argentina, South Korea, Latvia,, Liechtenstein, Lithuania, Luxembourg, Macedonia, Austria, Malta, Mauritius, Moldova, Monaco, Mongolia, Montenegro, Netherlands, New Zealand, Nicaragua, Norway, Poland, Portugal, Romania, Senegal, Serbia, Singapore, Slovakia, Slovenia, South Africa, Spain,Sweden, Switzerland, Trinidad and Tobago,Tunisia, Ukraine, Belgium, Bosnia and Herzegovina, Botswana, Brunei and Bulgaria |
| 8 months | Bahamas |
| 6 months | United Kingdom, Antigua and Barbuda, Dominica, Jamaica |
| 4 months | Fiji |
| 3 months | Andorra, El Salvador, Grenada, Guyana, Haiti, Honduras, Ireland, Israel, Malaysia, Morocco, Namibia, Saint Kitts and Nevis and Uruguay |
| 1 month | Saint Vincent and the Grenadines and Belize |
| 6 weeks | Saint Lucia |
| 183 days | Peru |
| 28 days | Barbados |
| 15 days | São Tomé and Príncipe |
| 14 days | Lesotho |
| 5 days | Belarus |
Visit the following to learn more about the USA:
Related Maps and Info: