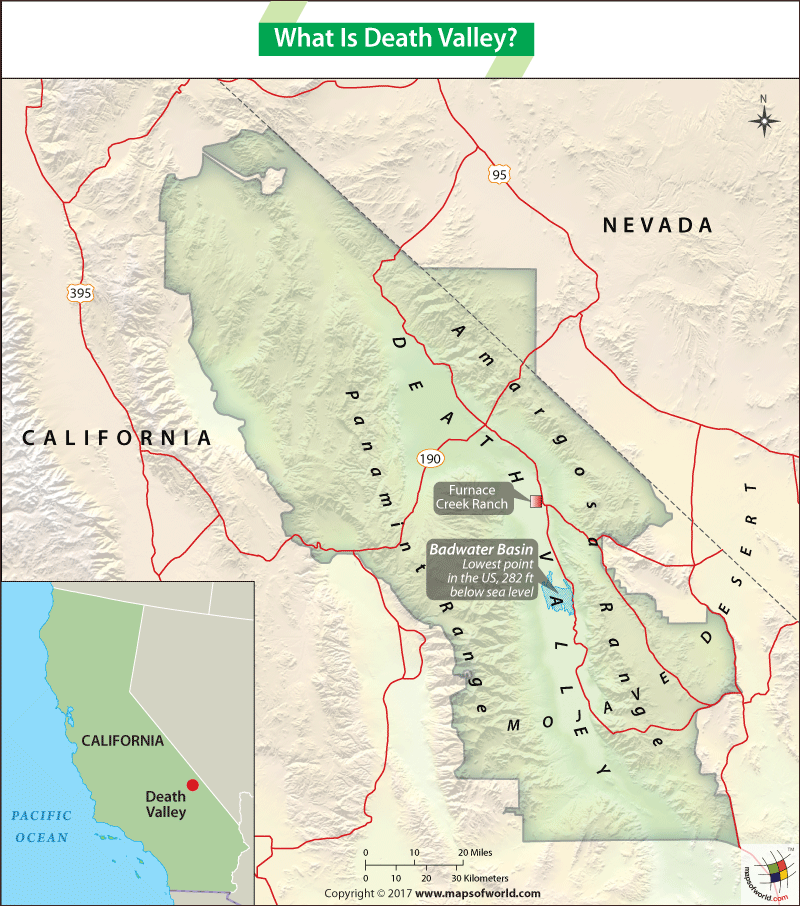 Death Valley in southeastern California is the lowest point in the North American continent, and National Park. It is also the hottest and driest part of the continent. Temperatures routinely soar over 120 degrees Fahrenheit in the summer, and the hottest temperature recorded in the entire continent was in July 1913, when the Furnace Creek Ranch in the valley recorded 134° F.  This was the highest recorded temperature in the world at the time. According to the National Weather Service, the average yearly rainfall in Death Valley is about 2.36 inches. Death Valley is a desert measuring 140 miles in length and 5 to 15 miles in width. The lowest point of the valley (Badwater Basin) is 282 feet below sea level.
Death Valley lies to the east of the Sierra Nevada Mountains, between the Panamint Range and the Amargosa Range. To the north is the Great Basin and to the south is the Mojave Desert. In 1933, Death Valley was designated a national monument, and later in 1994, it was declared a National Park. It is currently spread over an area of 3.4 million miles making it the largest national park in the contiguous US. Despite its name, the biodiversity in Death Valley is considerable. Over 80 species of birds and a number of animals and reptiles live in the desert. It is known for the beautiful wildflowers that grow in these arid conditions.
Death Valley received its name during the Gold Rush of 1849. A group of miners tried to make it to California in search of gold, attempted to take a shortcut, and cross the desert through this valley. The harsh weather conditions led to acute dehydration. Some of the miners died, and others had to be rescued. The valley was named Death Valley by these '49ers. There were a number of towns and at least 6,000 mines in the valley, but almost all of these have now been abandoned.
Death Valley is now a famous visitor destination and records over a million visitors each year, based on 2014 statistics.
Related Links:
Related Maps: