Why is Australia Called Down Under?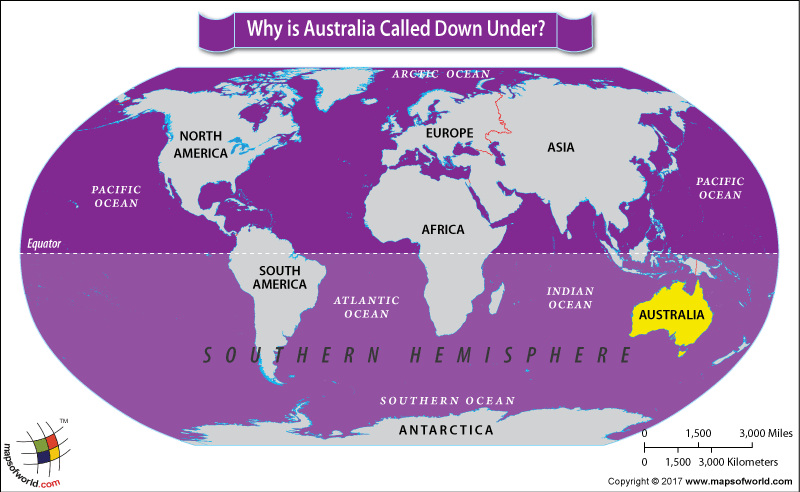 Why is Australia Called the Land Down Under?
Australia is both a country and the smallest continent in the world. The unique flora and fauna varied geographical features, and the beauty of the landscapes make Australia one of the most coveted tourist destinations in the world. This laid-back and idyllic country is often called the land Down Under. This nickname is more commonly used in cases of sporting events. In fact, Down Under is a popular reference to Australia, especially in cricket. It is most likely a nickname given to the country due to its position of this country in the southern hemisphere.
The indigenous people of Australia, the Aboriginal Australians, have lived in this country/continent for over 40,000 years. Their civilization and traditions are among the oldest in the world. The Dutch were the earliest Europeans to land in Australia (1606). The British arrived soon after, and by 1788 the British had set up a penal colony here. It is possible that the location of the country to the extreme south of the southern hemisphere lent it the name "the land Down Under". In fact, the song Down Under by the rock band Men at Work is one of the best-loved patriotic songs in Australia.
Apart from this, Australia has other names too. The Land of Oz is one of the popular nicknames. Oz is a phonetic derivative of the word Aussie – an informal reference to an Australian. The greenery and the abundance though may trick you into thinking it is the magic land from the Wizard of Oz. Another name that is used to refer to Australia is the Land of Plenty. This naturally reflects the bounty and abundance and also the easy-going, laid-back attitude of the people. One name that the Australians themselves never use and consider quite derisive is Terra Australis Incognita. It was one of the earliest references to the country made quite possibly by navigators who had sighted the land but didn't wish to explore it. This name literally translates into the 'Unknown Land Down South'.
There are other names such as the 'Lucky Country' which was probably an ironic reference to the country from the time it was a penal colony. The Land of The Southern Cross refers to the constellations of stars visible from the Southern Hemisphere.
Related Links:
Related Maps and Info: