What are the popular places to visit in Cancun, Mexico?

Situated on the southeast coast of Mexico, in the state of Quintana Roo, the city of Cancun is a strong contender for the top spot for an ideal Caribbean vacation. In hindsight, it is impossible to believe that a city bestowed with so many tourist attractions could not find private investors when it first started its makeover in 1974…but times were different then. It then was more like a small village occupied only by fishermen and had miles of uninhabited beaches. Now with hotels on the Caribbean shore, the majority of which are five stars, occupying the seventeen-mile stretch called 'hotel zone,',tell an altogether different story today.
Ancient Mayan ruins, water activities, the luxury of grand hotels, and the aroma of savory fajitas served at Mexican eateries by local owners; all these sights and experiences, come together to form the memory of a trip to Cancun.
The specialty of the city is that it offers everything from adventure activities, to eating out and entertainment – all in a well-planned and executed setting that does complete justice to its natural gifts. As a result, even popular activities like golfing, zip lining, or a massage at a nice spa carry the distinct stamp of Cancun. Shoppers need not despair as it has a great number of options for them too. From the La Isla Shopping Village that houses chic urban designer wear to departmental stores in Plaza Las Americas and the famous market called Market 28 (Mercado 28 among locals), Cancun can satisfy anyone's shop lust. If you are in the mood for true relaxation, then after a playful bout in the Caribbean waters, a de-stressing spa is just what you need – a large number of spa resorts await you here in Cancun. It is also very popular as a wedding destination.
Interesting Facts about Cancun
Based on the Mayan translation of Cancun (Kaan kun), the name means 'nest of snakes'.
In 1970, before development activities began, Cancun had only three residents who were caretakers of a coconut plantation.
The first nine hotels in the city were financed by the Mexican government since private investors did not see any scope of returns from an investment here.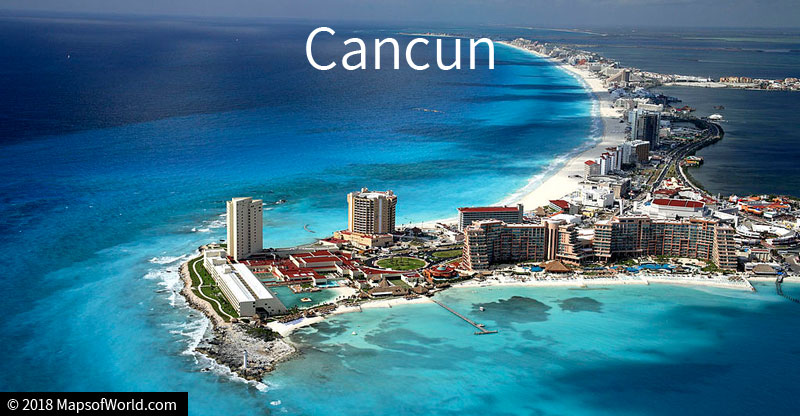 Places to Visit in Cancun
Xcaret Eco Theme Park: Situated 47 miles south of the city, the Xcaret Eco Theme Park presents a buffet of colorful Mexican culture and the natural attractions of Cancun- all tastefully garnished and served inside one big theme park for someone who would like to taste all of Cancun in one go. The theme park affords the happy possibility of swimming with jolly dolphins or swimming in an underground river. Another place where you can spend an entire day is the biggest natural aquarium in the world, Xel Ha Park. At Garrafon Natural Reef Park you can snorkel and admire the coral reefs.
Xplor Park: The Xplor Park is a wonderful journey not only into the wonder-world of underground caves but also into the earth's past. Xplor is located at a stone's throw from the Xcaret Park. At Xplor, you can truly explore fun activities in the most fascinating natural surroundings- zip line across lush green tropical vegetation, swim inside caves under the beautiful stalactites, and take your roaring jeep through underground lanes. The aquariums in the city, though diametrically opposite in concept, are fun too. Here you can have closely monitored encounters with sharks, or your baby can kiss a dolphin calf. Environment-friendly eco-tours are plenty in Cancun. To book an authentic tour operator check out the travel site of the city and find the best deals. Some famous tour operators are Alltournative, We Go Mexico, and Elite Cyclery bike rentals. Each of them has its own specialty. One provides biking tours while others bring you into close contact with real Mayan culture and local people.
Cancun Underwater Museum: Gape at more than 450 amazing sculptures places under the water in this one-of-a-kind museum. Most of the sculptures are made by a British sculptor Jason deCaires Taylor, and the others by Mexican sculptors.
El Rey Archaeological Zone: This ancient Mayan structure provides a dream opportunity for you to climb the ruins. In 1200 C.E., it served as a maritime trade center. Located in the Hotel Zone, it's just a 10-minute ride from most of the city resorts and thus should totally make on your itinerary.
Interactive Aquarium: This amazing aquarium is loaded with interactive experiences with a large number of aquatic species. Swim with adorable creatures like dolphin and others and have one in a lifetime experience of feeding them. There are also educational programs for kids to know more about the marine life.
El Meco Ruins: This is one place where you won't find hordes of tourists (mainly because it is not very big), so you get to admire the structure in peace. However, it is an important Mayan ruin and has a pyramid. There are also many iguanas which inhabit this area. So, do keep your camera ready when you spot one.
Chichen Itza: This is one of the most visited archaeological sites in Mexico. It is one of the seven wonders of the world and also a UNESCO World Heritage Site. What will really impress you is the wonderful display of Maya people's advanced civilization.
Wet'n Wild Cancun: The water park truly lives up to its name and can bring out the 'wild and wet' side of even the shyest. The food, drinks and the oh-so-amazing slides will entertain you for a complete day.
Mercado 23: When you stop to think what you should take back home as a souvenir from Cancun, then this market is a one-stop destination. The place has food joints and several shops, where you can buy crafts, clothes and other items.
Luxury Avenue: This posh shopping mall has the best of the best when it comes to fashion brands. From fancy handbags and jewelry to beautiful prom dresses, you can find everything here.
Islands in Cancun
Cancun is also the base location for visiting famous nearby islands like Holbox, Isla Contoy, and Isla Mujeres. A fishermen's village, Holbox is the perfect tranquil escape for anyone who rates unspoiled natural beaches over touristy adventure spots. You can enjoy the sun go down here while dolphins and turtles quietly swim ashore, pelicans fly homeward and flamingos perch on the ground admiring the dramatic effect of the sunset on their startling orange feathers. A bird lover would do well to visit Isla Contoy, which is home to more than a hundred migratory and resident birds. Isla Contoy is also famous for 'Tikinxik'- a traditional Mayan dish made with seared fish. Another tiny island whose size belies its beauty is the Isla Mujeres. Isla Mujeres deserves special mention as it is a complete vacation spot by itself. Hotels, restaurants, and beach clubs – catering to every pocket and taste – can be found here. A visit to the Mayan ruins in the day can be followed by an evening of dancing to the strums of a vihuela.
Cancun Night Life
Finally comes the eternal question that makes or breaks the deal for any destination vying for the top spot: Does Cancun have a nightlife? The answer is a resounding yes. The city is the largest and most happening entertainment center in all of Latin America, and it is right in the heart of the city. It boasts names like Fergie, Akon, American Eagle, MTV, Paris Hilton and many more. There are many more nightclubs like Senor Frog's, Mandala Cancun, Palazzo Cancun, Dady'O and Coco Bongo Cancun
Golf Courses in Cancun
Cancun is a dream vacation for golfers as well. Minds of world-class golfers and golf-course architects like Jack William Nicklaus, Robert Trent Jones, Jr, Robert Von Hagge, P.B. Dye and many more have come together to design these top-notch golf-courses. These fabulous courses present golfers with a field of vision encompassing lush tropical vegetation, gentle sloping knolls, aquamarine waters, and Mayan temples. A number of golf clubs in Cancun ensure that a golfer of any skill level has plenty of options.
Getting around Cancun
Buses are the most affordable and convenient way to get around Cancun. A small charge of a few pesos will take you from the Hotel Zone to anywhere else in the city. R1, R2, R15, and R27 are the buses that take you from the hotel zone to different important parts of the town like the Walmart store, Market 28 in Downtown Cancun, Puerto Juarez and Plaza Las Americas.
Best Time to Visit Cancun
It has a tropical climate. According to the Koppen Aw system of classification, Cancun has a wet and dry climate. The annual mean temperature is around 28ºC or 82º F. Owing to the sea-breezes temperatures hardly soar above 35ºC or 95ºF. It rains about 115 days a year.
November to February are the best months to visit when the cool sea breezes blow. Temperatures start to increase around March but are still bearable.
May to September are the hottest and wettest months (wet due to the hurricane season).
How to reach Cancun?
Reach by Air: The best way an international traveler can reach Cancun is by taking a flight to the Cancun International Airport. The Cancun International Airport lies about 10 miles southwest of Cancun City and is the most modern airport in Mexico in terms of facilities. You can take the Carretera Tulum- Cancun/ Mexico 307 highway to get to Cancun City.
Reach by Water:  Cancun is well-serviced by its waterways. You can easily reach Cancun by a cruise ship or a regular passenger ship from the USA or South America. You can also arrive at Cancun by ferries from other Mexican towns like Acapulco, Cabo San Lucas, Cozumel, Manzanillo, Mazatia´n, Puerto Vallarta, Tampico, and Zihutanejo. However, if you would like a more comfortable traveling option, take Bus One – it is a fully air-conditioned bus traveling in the Hotel Zone.
Reach By Road: There is a bus station on Avenida Tulum from where buses will get you out of Cancun to any other Mexican town. Similarly, if you have to enter Cancun by road, opt for a bus that drops you off at the bus station in Avenida Tulum.
Know more:
Related Maps: