Where are the most Terrestrial and Marine Protected Areas?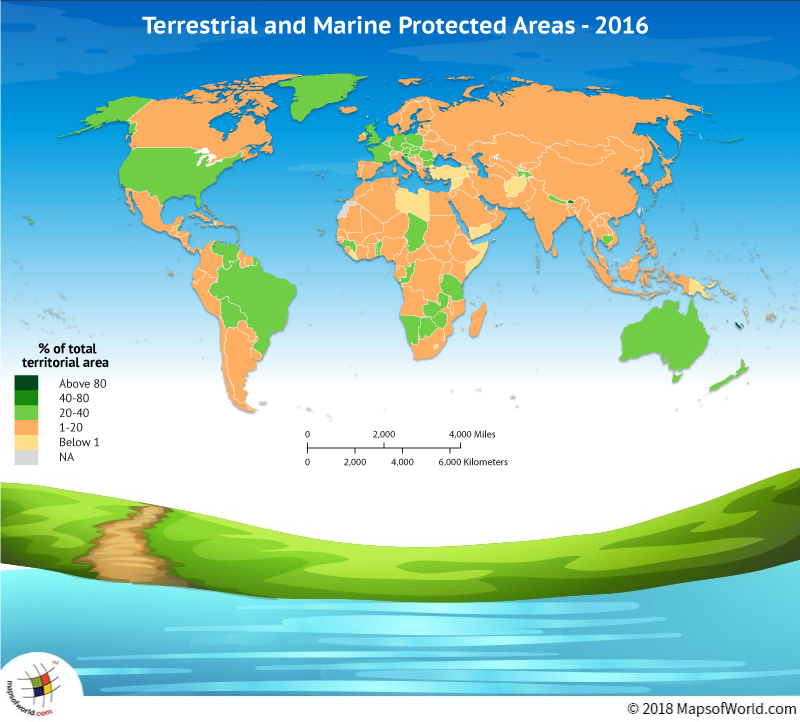 The majority of the countries have terrestrial and marine (land and sea) protected areas. Some of the terrestrial protected areas can cover 1,000's of hectares and have been labeled as 'scientific reserves' by national authorities, and thus, public access is limited. Meanwhile, marine protected areas often have intertidal or subtidal zones that are at the water's edge and are surrounded with flora and fauna. The cultural and historical features of the region come under reservation by the law and other protective organizations.
These are the areas that have been reserved by law, with an aim to protect either a part, or the whole of the enclosed environment. Protection is one of the ways to conserve biodiversity. These protected areas are the framework of protection strategies, which are supported by governments and numerous international institutions. The threatened species currently existing in the world are protected via these strategies. These regions are increasingly being recognized as essential providers of ecosystem services and biological resources. While some locations come under the strict control of governments, many of the terrestrial and marine protected areas are maintained by private individuals, companies, communities and faith groups.
According to the World Bank data, as of 2016, about 12.8 percent of the total land surface is covered by terrestrial and marine protected areas. Compared to other countries or territories, Monaco has the largest expanse of terrestrial and marine protected areas, and that is 99.7%. Next is the French territory of New Caledonia, with 91% of the total land sustaining marine and terrestrial protected area.
Apart from these two and St. Martin, Palau and Slovenia, every region has less than 30% of protected reserves. In fact, countries Qatar, Liberia, Syria and Papua New Guinea don't even partake 1% of land covered by the same.
Get to know the percentage of terrestrial and marine protected areas in each country by referring to the table below.
| | |
| --- | --- |
| Country | 2016 (%age of total marine and terrestrial area) |
| Monaco | 99.7 |
| New Caledonia | 95.8 |
| St. Martin | 92.4 |
| Palau | 82.9 |
| Slovenia | 55.1 |
| Bhutan | 48 |
| Liechtenstein | 42.5 |
| Hong Kong | 41.9 |
| Germany | 38.7 |
| Zambia | 38 |
| Poland | 38 |
| Slovakia | 37.3 |
| Venezuela | 36.9 |
| Congo Republic | 36.7 |
| Northern Mariana Islands | 33.2 |
| Luxembourg | 32.3 |
| Bolivia | 30.9 |
| Tanzania | 30.8 |
| New Zealand | 30.5 |
| Botswana | 29.1 |
| Benin | 28.9 |
| Australia | 28.6 |
| Austria | 28.4 |
| Bulgaria | 28.3 |
| Zimbabwe | 27.2 |
| United States of America | 26.3 |
| France | 26.1 |
| Belgium | 24.6 |
| Nepal | 23.6 |
| Croatia | 23.5 |
| Namibia | 23.2 |
| Armenia | 23.1 |
| Romania | 22.6 |
| Hungary | 22.6 |
| Greenland | 22.4 |
| United Kingdom | 22.3 |
| Tajikistan | 22.3 |
| Togo | 21.8 |
| Czech Republic | 21.7 |
| Guinea | 21.4 |
| Andorra | 21.2 |
| Brazil | 20.7 |
| Cambodia | 20.6 |
| Belize | 20.6 |
| Chad | 20.4 |
| Estonia | 19.5 |
| Morocco | 18.5 |
| Ethiopia | 18.5 |
| Central African Republic | 18.1 |
| Netherlands | 17.9 |
| Denmark | 17.8 |
| Latvia | 17.5 |
| Mongolia | 17.4 |
| Niger | 17.3 |
| Lithuania | 17.3 |
| Malawi | 16.9 |
| Laos | 16.7 |
| North America | 16.3 |
| Uganda | 16.1 |
| China | 15.9 |
| Guatemala | 15.7 |
| South Sudan | 15.5 |
| Nicaragua | 15.5 |
| Spain | 15.2 |
| Burkina Faso | 15.1 |
| Cote d'Ivoire | 14.9 |
| Senegal | 14.5 |
| Ecuador | 14.4 |
| Finland | 14.2 |
| Chile | 13.6 |
| Mozambique | 13.4 |
| World | 13.4 |
| Italy | 13.3 |
| Peru | 13.1 |
| Gibraltar | 13.1 |
| Albania | 13.1 |
| South Africa | 13 |
| Sweden | 12.9 |
| Democratic Republic of the Congo | 12.6 |
| Thailand | 12.5 |
| Honduras | 12.4 |
| Gabon | 12.1 |
| Kiribati | 11.8 |
| Nigeria | 11.6 |
| Guinea-Bissau | 11.6 |
| Egypt | 11.6 |
| Dominican Republic | 11.2 |
| Kuwait | 11 |
| Kenya | 10.5 |
| Cameroon | 10.4 |
| Pakistan | 9.8 |
| Switzerland | 9.7 |
| Macedonia | 9.7 |
| Belarus | 9.5 |
| Colombia | 9.4 |
| United Arab Emirates | 9.2 |
| Rwanda | 9.1 |
| Portugal | 9.1 |
| Brunei Darussalam | 9 |
| Malaysia | 8.9 |
| American Samoa | 8.7 |
| Israel | 8.6 |
| Greece | 8.6 |
| Suriname | 8.5 |
| Mali | 8.2 |
| Ghana | 7.8 |
| Iran | 7.7 |
| Russia | 7.6 |
| Burundi | 7.6 |
| Argentina | 7.5 |
| Cuba | 7.2 |
| Algeria | 7.1 |
| Mexico | 6.8 |
| Paraguay | 6.5 |
| Kyrgyzstan | 6.5 |
| Canada | 6.5 |
| Malta | 6.4 |
| Georgia | 6.4 |
| Serbia | 6.1 |
| Azerbaijan | 5.5 |
| Guyana | 5.3 |
| Tunisia | 5.2 |
| Panama | 5.2 |
| Sint Maarten | 5.1 |
| Indonesia | 5.1 |
| Norway | 5 |
| Angola | 5 |
| South Asia | 5 |
| Eritrea | 4.9 |
| Bangladesh | 4.9 |
| Timor-Leste | 4.4 |
| Isle of Man | 4.3 |
| Moldova | 4.2 |
| Swaziland | 4.1 |
| Myanmar | 4.1 |
| Saudi Arabia | 4 |
| Ireland | 4 |
| Ukraine | 3.9 |
| South Korea | 3.9 |
| India | 3.5 |
| Uzbekistan | 3.4 |
| Sri Lanka | 3.4 |
| Sierra Leone | 3.3 |
| Turkmenistan | 3.2 |
| Kazakhstan | 3.2 |
| Philippines | 3.1 |
| Costa Rica | 3 |
| Vietnam | 2.9 |
| Sudan | 2.8 |
| Montenegro | 2.6 |
| Cabo Verde | 2.6 |
| Singapore | 2.5 |
| Iceland | 2.4 |
| Uruguay | 2.3 |
| El Salvador | 2.2 |
| Japan | 2.1 |
| Trinidad and Tobago | 2 |
| Puerto Rico | 2 |
| Madagascar | 2 |
| Jordan | 1.8 |
| Equatorial Guinea | 1.8 |
| Cyprus | 1.7 |
| Bahrain | 1.7 |
| Tonga | 1.5 |
| Iraq | 1.5 |
| Bosnia and Herzegovina | 1.5 |
| Jamaica | 1.4 |
| Gambia | 1.4 |
| North Korea | 1.3 |
| Djibouti | 1.3 |
| Bahamas | 1.2 |
| Mauritania | 1.1 |
| United States Virgin Islands | 1 |
| Oman | 1 |
| Lebanon | 1 |
| Fiji | 1 |
| St. Lucia | 0.9 |
| Somalia | 0.8 |
| Qatar | 0.8 |
| Liberia | 0.8 |
| Syria | 0.7 |
| Papua New Guinea | 0.7 |
| Yemen | 0.6 |
| Dominica | 0.6 |
| St. Vincent and the Grenadines | 0.5 |
| Aruba | 0.5 |
| Turks and Caicos Islands | 0.4 |
| Marshall Islands | 0.3 |
| Libya | 0.3 |
| Lesotho | 0.3 |
| Haiti | 0.3 |
| Curacao | 0.3 |
| Antigua and Barbuda | 0.3 |
| Turkey | 0.2 |
| St. Kitts and Nevis | 0.2 |
| Solomon Islands | 0.2 |
| Sao Tome and Principe | 0.2 |
| Samoa | 0.2 |
| Grenada | 0.2 |
| Vanuatu | 0.1 |
| Seychelles | 0.1 |
| Guam | 0.1 |
| Comoros | 0.1 |
| Cayman Islands | 0.1 |
| British Virgin Islands | 0.1 |
| Afghanistan | 0.1 |
| Tuvalu | 0 |
| Federated States of Micronesia | 0 |
| Mauritius | 0 |
| Maldives | 0 |
| French Polynesia | 0 |
| Faroe Islands | 0 |
| Bermuda | 0 |
| Barbados | 0 |
Know more:
Related maps: