Is Cancer a curse in the USA?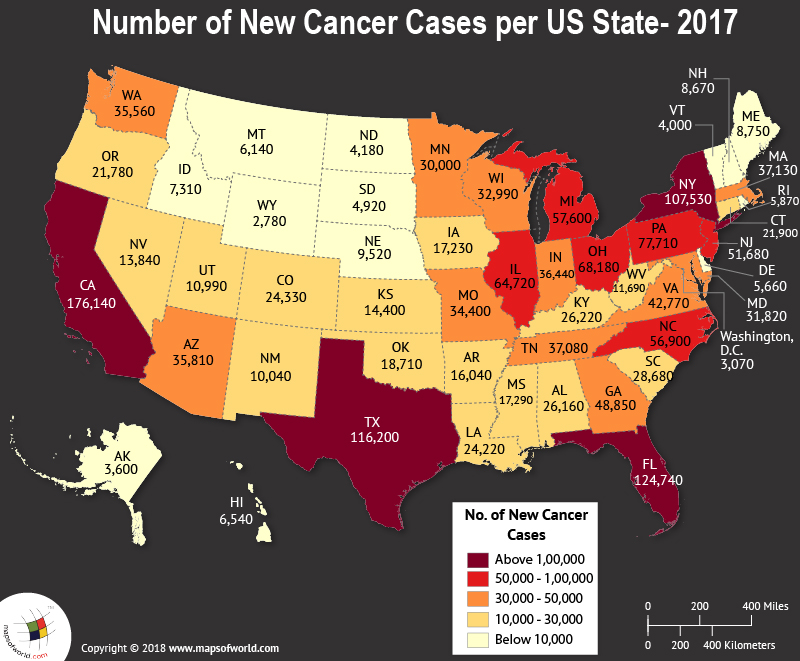 Cancer is the second leading cause of death in the United States of America, as per US Cancer Statistics. Inflicting over 1.5 million US citizens annually, cancer is proving to be a modern curse on the American society.
In 2017, the national cost for cancer care in the USA was around USD $147.3 billion. According to a data released by American Cancer Society, 41 out of 100 men, and 38 out of 100 women are bound to develop cancer.
Prevent cancer
86% of all the cancer patients in the USA are over the age of 50. But a healthy change in lifestyle can help you maintain a distance from the Big C – Cancer.
Excess body weight, lack of physical activity, heavy alcohol consumption, and poor nutrition are basic reasons behind 20% of all cancers diagnosed in the USA. This advocates that if a person is focused on their physical well-being, they tend to avoid falling a victim to cancer. Exposure to high carcinogens, is known to be one of the prominent causes behind this terminal ailment. This is why cigarette smoking is considered deadly. If people overcome the fatal habit, cancer cases will decline significantly.
These days, artificial chemicals are being added to preservatives and food, to enrich the color and flavor, and thus improve the sales. One might think their fruit intake is doing them wonders, but there is a high chance that the artificial agents present are doing more harm than good. Thus, when you are purchasing groceries, be careful about what you pick from the stalls.
The data also reflects that five million cases of skin cancer are recorded on an annual basis. Many of these can be prevented if a person avoids excessive sun exposure. When large doses of ultraviolet rays contract the bare areas of skin, for example face, neck and back of the hands, it could be a start to the development of cancer.
Human papillomavirus (HPV), hepatitis B and C virus drain the life out of a person. Studies suggest that behavioral changes, protective vaccinations and antibiotic treatments have the power to prevent form of cancers which are prompted by these conditions.
Is there any hope?
A regular screening is the first defense when it comes to evading cancer. It offers you an opportunity to detect any ailment at an early stage. The treatment then carried is less extensive and proves to be more successful. 15.5 million Americans have been able to survive cancer as of early 2016.

The number of cases of cancer vary from state to state. The underlying table gives the estimation of new cases, of the year 2017.
| | |
| --- | --- |
| US State | Number of new cases |
| California | 176,140 |
| Florida | 124,740 |
| Texas | 116,200 |
| New York | 107,530 |
| Pennsylvania | 77,710 |
| Ohio | 68,180 |
| Illinois | 64,720 |
| Michigan | 57,600 |
| North Carolina | 56,900 |
| New Jersey | 51,680 |
| Georgia | 48,850 |
| Virginia | 42,770 |
| Massachusetts | 37,130 |
| Tennessee | 37,080 |
| Indiana | 36,440 |
| Arizona | 35,810 |
| Washington | 35,560 |
| Missouri | 34,400 |
| Wisconsin | 32,990 |
| Maryland | 31,820 |
| Minnesota | 30,000 |
| South Carolina | 28,680 |
| Kentucky | 26,220 |
| Alabama | 26,160 |
| Colorado | 24,330 |
| Louisiana | 24,220 |
| Connecticut | 21,900 |
| Oregon | 21,780 |
| Oklahoma | 18,710 |
| Mississippi | 17,290 |
| Iowa | 17,230 |
| Arkansas | 16,040 |
| Kansas | 14,400 |
| Nevada | 13,840 |
| West Virginia | 11,690 |
| Utah | 10,990 |
| New Mexico | 10,040 |
| Nebraska | 9,520 |
| Maine | 8,750 |
| New Hampshire | 8,670 |
| Idaho | 7,310 |
| Hawaii | 6,540 |
| Montana | 6,140 |
| Rhode Island | 5,870 |
| Delaware | 5,660 |
| South Dakota | 4,920 |
| North Dakota | 4,180 |
| Vermont | 4,000 |
| Alaska | 3,600 |
| Columbia | 3,070 |
| Wyoming | 2,780 |
Know more:
Related maps: