What country dominates the Gaming Market?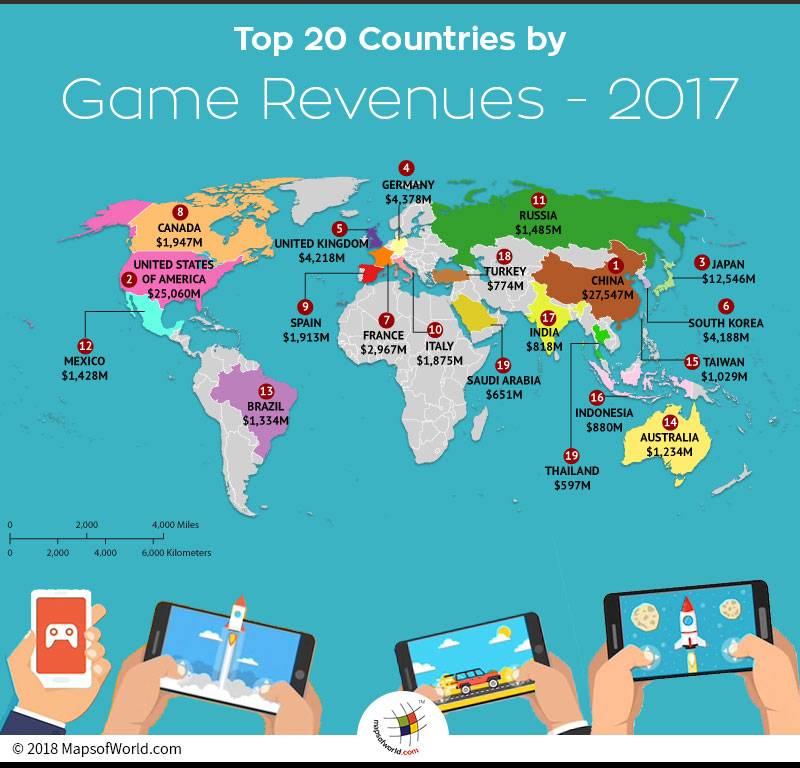 Games market hit a landmark in the year 2017, as per the report released by Newzoo. It seems the millennial generation is adapting to the craze of digital games more than ever. The global revenue reached a whopping $109 billion mark, and is estimated to cross $128 billion by 2020.
The innovative designs ensure that the consumer finds the games engaging enough, that it becomes their favorite pastime. The digital age is packed with variety of entertainment and there is no turning back. The more the competition in gaming market, the more publishers are willing to think out of the box, and release a fresh and interactive model.
Their report highlights that 42% of the total market is taken over by mobile gaming, owing to the spread of invigorating applications suited for smartphones and tablets. Earning a total of $35.3 billion, smart-phone gaming generated the most revenue in the year 2017. The second segment is covered by console, as it collected $33.5 billion. Even though PC games (boxed or downloaded) collected $24.8 billion, they seem to have smaller prospects for the future market, as their revenue declined in comparison to previous estimates.
As per their data released, China dominates the global games market. Chinese games have kept more than 1billion people seized on their mobiles, and a significant population of 802 million engages online. Revenue generated by the country in 2017 was $27,547 M. Chinese game giants are trying to launch their games in the Western market to increase their popularity and consumers. In fact, even in terms of regions, Asia-Pacific region stands at the top. The United States of America isn't far behind. It stands second and has generated $25,060 M revenue in the same year.
The table below mentions the ranking and revenue of top 20 countries in global gaming market:
| | | |
| --- | --- | --- |
| S.NO. | COUNTRY | TOTAL REVENUES ($M) |
| 1 | CHINA | 27,547 |
| 2 | UNITED STATES OF AMERICA | 25,060 |
| 3 | JAPAN | 12,546 |
| 4 | GERMANY | 4,378 |
| 5 | UNITED KINGDOM | 4,218 |
| 6 | REPUBLIC OF KOREA | 4,188 |
| 7 | FRANCE | 2,967 |
| 8 | CANADA | 1,947 |
| 9 | SPAIN | 1,913 |
| 10 | ITALY | 1,875 |
| 11 | RUSSIA | 1,485 |
| 12 | MEXICO | 1,428 |
| 13 | BRAZIL | 1,334 |
| 14 | AUSTRALIA | 1,234 |
| 15 | TAIWAN | 1,029 |
| 16 | INDONESIA | 880 |
| 17 | INDIA | 818 |
| 18 | TURKEY | 774 |
| 19 | SAUDI ARABIA | 651 |
| 20 | THAILAND | 597 |
Know more:
Related maps: