Venezuela States - Amazonas, Anzoategui, Apure, Aragua, Barinas, Bolivar, Distrito Capital, Carabobo, Cojedes, Delta Amacuro, Dependencias Federales, Monagas, Falcon, Guarico, Lara, Merida, Miranda, Nueva Esparta, Portuguesa, Sucre, Tachira, Trujillo, Vargas, Yaracuy, Zulia
Neighboring Countries - Brazil, Guyana, Trinidad And Tobago, Colombia
Continent And Regions - South America, Americas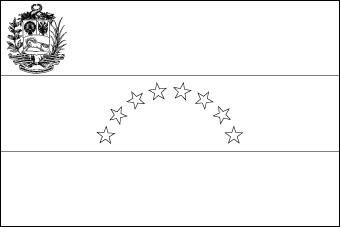 Download Picture of Venezuela Flag Outline for kids to color
Flag of Venezuela Description
The flag of Venezuela features three horizontal stripes equal in size and representing the three main colors of the flag of Gran Colombia, yellow, blue and red from top to bottom. Gran Colombia was a republic in the South America which broke in 1830.
It also features a coat of arm in the upper-left corner at the hoist side and an arc of eight stars at the center representing the provinces of Venezuela. The original flag had seven stars and the eighth star was added in 2006 to represent the province of Guayana.
The colors yellow, blue and red stand for the land's richness, courage and blood shed for the independence respectively.
| | |
| --- | --- |
| National symbol(s): | troupial (bird) |
| National colors: | yellow, blue, red |
| National anthem: | |
| Name: | "Gloria al bravo pueblo" (Glory to the Brave People) |
| Lyrics/Music: | Vicente SALIAS/Juan Jose LANDAETA |
| | | |
| --- | --- | --- |
| | Fact about Venezuela flag | |
| Country | Venezuela |
| --- | --- |
| Designed by | NA |
| Adopted | 12. March 2006 |
| Revision | NA |
| Design and Colors | A horizontal tricolor of yellow, blue and red with an arc of eight white five-pointed stars centered in the blue band. |
| Size Ratio | 2:3 |