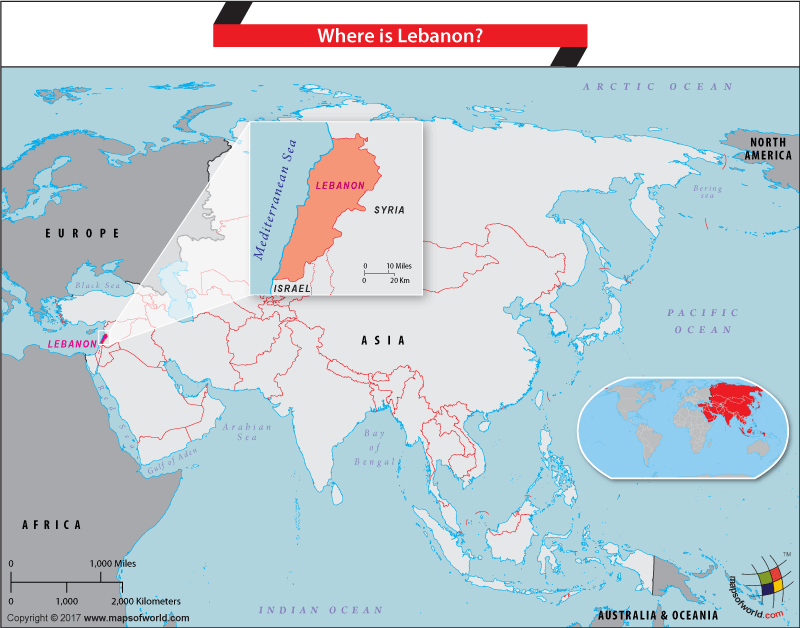 Lebanon is located in Asia.
Lebanon is a sovereign country located in the western part of Asia. Lebanon is the 162nd largest country in the world, covering an area of just 4,036 square miles. It is also the smallest nation in mainland Asia. Israel is located to the south of Lebanon, and Syria to its north. Cyprus is located to the west of Lebanon across the Mediterranean Sea. As of 2016, Lebanon comprised a population of 6,006,668 inhabitants.
Lebanon has a diverse population: Muslims form approximately 54 percent of the population and Christians approximately 40 percent. Other groups include; Druze, Jews, Baha'is, Buddhists, Hindus, and Mormons. Arabic is the official language of the country. Lebanon is a parliamentary democracy, which includes confessionalism.
The history of Lebanon spans many millennia. Home to the Canaanites/Phoenicians between 1550 and 539 BC, Lebanon became a part of the Roman Empire in 64 BC. During the Roman Empire, Lebanon became an important center for Christianity. The Ottomans established their sway over Lebanon in 1516, and their rule lasted until 1918. With the end of the World War 1, the Ottoman Empire collapsed and the five provinces comprising the present day Lebanon came under French rule, and thus becoming the French Mandate of Lebanon. In 1943, Lebanon gained independence from the French and became a sovereign nation.
Following independence, Lebanon witnessed a period of peace and prosperity and in the 1960s' was know as the 'Switzerland of the East,' and its capital Beirut was known as the Paris of the Middle East. However, from 1975 to 1990 the country experienced turmoil with the Lebanese Civil War. With the end of the civil war in 1990, efforts have to made to bring the economy back on track and usher in a period of prosperity.
Today, Lebanon wields considerable influence in the Arab world and has a well-developed culture. Today, Lebanon has the highest GDP per capita and Human Development Index among the Arab countries.
Related Maps and Articles: