How Deep is the Atlantic Ocean?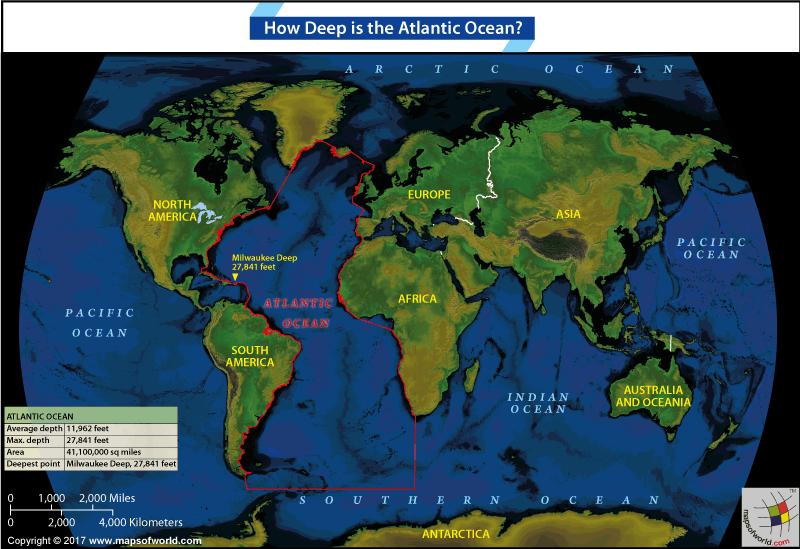 The average depth of the Atlantic Ocean is 11,962 feet (3,646 meters) and the maximum depth is 27,841 feet (8,486 meters).
Milwaukee Deep is the deepest part of the Atlantic Ocean. Also known as the Milwaukee Depth, it forms a part of the Puerto Rico Trench and it is here that the ocean is at its maximum depth of 27,841 feet.
The Atlantic Ocean is the second largest ocean in the world. The total area of the ocean is approximately 41,100,000 square miles. The vastness of the ocean can be gauged from the fact that it covers around 20 percent of the surface of the earth.
On the west of the Atlantic Ocean are located the continents of North and South America, while on the East lie Europe and Africa. The Atlantic Ocean is connected with the Indian Ocean in the southeast, the Arctic Ocean in the north, the Southern Ocean in the south, and the Pacific Ocean in the southwest. The Atlantic Ocean is home to many islands: Some of the prominent among these are the Azores, an autonomous region of Portugal; Greenland, an autonomous Danish, and the Canary Islands, an autonomous community of Spain; the Bahamas; and the Cape Verde Islands.
From February to August, icebergs can be found on the Atlantic Ocean. These can be spotted in Davis Strait, Denmark Strait, and the northwestern Atlantic. These can see seen as far as Bermuda and Madeira. The fog, which is witnessed from May to September and devastating hurricanes, from May to December, create problems for ships.
The Atlantic Ocean is home to a diverse range of wildlife. Here can be found hundreds of species of fish, seals, and dolphins. Other forms of wildlife in the ocean are whales, sharks, lobsters, crabs, shrimps etc. birds such as albatross, seagulls, and others can be found on the Atlantic coasts, the freezing waters of the southern Atlantic Ocean are home to the penguins.
The Atlantic Ocean derives its name from the Greek god, Atlas.
Related Maps and Info: