What is Global Innovation Index?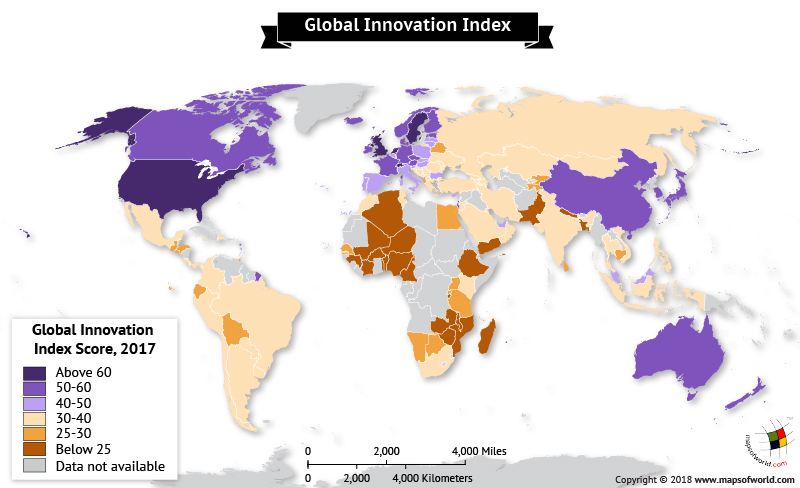 Innovation triggers change- a change that enhances the quality of goods and services produced in an economy. As the quality of goods and services improves, the standard of living of the people also improves. Innovation, as understood by common man, is the better or different ways of seeing and doing things which is sophisticatedly known as 'out of the box thinking.'
Innovation ensures a better utilization of the available resources. It is the backbone of a good economy. Given the right infrastructure and expert knowledge, innovative ideas can be well implemented. It opens up the gates of the global market for local manufacturers. In the race to match the global standards, they work in an efficient and effective manner.
Global Innovation Index (GII) is the annual ranking of the countries by their success and capacity in innovation. It is released under the collaboration of various organizations like the World Intellectual Property Organization, World Bank, INSEAD, World Economic Forum, along with a few more.
The 2016 statistics gives us the idea of how well innovation was implemented in the economies around the world.
| | | |
| --- | --- | --- |
| Rank | Economy | Score |
| 1 | Switzerland | 67.7 |
| 2 | Sweden | 63.8 |
| 3 | Netherlands | 63.4 |
| 4 | United States of America | 61.4 |
| 5 | The United Kingdom | 60.9 |
| 6 | Denmark | 58.7 |
| 7 | Singapore | 58.7 |
| 8 | Finland | 58.5 |
| 9 | Germany | 58.4 |
| 10 | Ireland | 58.1 |
| 11 | Korea, Republic of | 57.7 |
| 12 | Luxembourg | 56.4 |
| 13 | Iceland | 55.8 |
| 14 | Japan | 54.7 |
| 15 | France | 54.2 |
| 16 | Hong Kong (China) | 53.9 |
| 17 | Israel | 53.9 |
| 18 | Canada | 53.7 |
| 19 | Norway | 53.1 |
| 20 | Austria | 53.1 |
| 21 | New Zealand | 52.9 |
| 22 | China | 52.5 |
| 23 | Australia | 51.8 |
| 24 | Czech Republic | 51 |
| 25 | Estonia | 50.9 |
| 26 | Malta | 50.6 |
| 27 | Belgium | 49.9 |
| 28 | Spain | 48.8 |
| 29 | Italy | 47 |
| 30 | Cyprus | 46.8 |
| 31 | Portugal | 46.1 |
| 32 | Slovenia | 45.8 |
| 33 | Latvia | 44.6 |
| 34 | Slovakia | 43.4 |
| 35 | United Arab Emirates | 43.2 |
| 36 | Bulgaria | 42.8 |
| 37 | Malaysia | 42.7 |
| 38 | Poland | 42 |
| 39 | Hungary | 41.7 |
| 40 | Lithuania | 41.2 |
| 41 | Croatia | 39.8 |
| 42 | Romania | 39.2 |
| 43 | Turkey | 38.9 |
| 44 | Greece | 38.8 |
| 45 | Russia | 38.8 |
| 46 | Chile | 38.7 |
| 47 | Viet Nam | 38.3 |
| 48 | Montenegro | 38.1 |
| 49 | Qatar | 37.9 |
| 50 | Ukraine | 37.6 |
| 51 | Thailand | 37.6 |
| 52 | Mongolia | 37.1 |
| 53 | Costa Rica | 37.1 |
| 54 | Moldova, Republic of | 36.8 |
| 55 | Saudi Arabia | 36.2 |
| 56 | Kuwait | 36.1 |
| 57 | South Africa | 35.8 |
| 58 | Mexico | 35.8 |
| 59 | Armenia | 35.7 |
| 60 | India | 35.5 |
| 61 |  Macedonia | 35.4 |
| 62 | Serbia | 35.3 |
| 63 | Panama | 35 |
| 64 | Mauritius | 34.8 |
| 65 | Colombia | 34.8 |
| 66 | Bahrain | 34.7 |
| 67 | Uruguay | 34.5 |
| 68 | Georgia | 34.4 |
| 69 | Brazil | 33.1 |
| 70 | Peru | 32.9 |
| 71 | Brunei | 32.9 |
| 72 | Morocco | 32.7 |
| 73 | Philippines | 32.5 |
| 74 | Tunisia | 32.3 |
| 75 | Iran | 32.1 |
| 76 | Argentina | 32 |
| 77 | Oman | 31.8 |
| 78 | Kazakhstan | 31.5 |
| 79 | Dominican Republic | 31.2 |
| 80 | Kenya | 31 |
| 81 | Lebanon | 30.6 |
| 82 | Azerbaijan | 30.6 |
| 83 | Jordan | 30.5 |
| 84 | Jamaica | 30.4 |
| 85 | Paraguay | 30.3 |
| 86 | Bosnia and Herzegovina | 30.2 |
| 87 | Indonesia | 30.1 |
| 88 | Belarus | 30 |
| 89 | Botswana | 30 |
| 90 | Sri Lanka | 29.9 |
| 91 | Trinidad and Tobago | 29.7 |
| 92 | Ecuador | 29.1 |
| 93 | Albania | 28.9 |
| 94 | Tajikistan | 28.2 |
| 95 | Kyrgyzstan | 28 |
| 96 | Tanzania | 28 |
| 97 | Namibia | 27.9 |
| 98 | Guatemala | 27.9 |
| 99 | Rwanda | 27.4 |
| 100 | Senegal | 27.1 |
| 101 | Cambodia | 27 |
| 102 | Uganda | 27 |
| 103 | El Salvador | 26.7 |
| 104 | Honduras | 26.4 |
| 105 | Egypt | 26 |
| 106 | Bolivia | 25.6 |
| 107 | Mozambique | 24.5 |
| 108 | Algeria | 24.3 |
| 109 | Nepal | 24.2 |
| 110 | Ethiopia | 24.2 |
| 111 | Madagascar | 24.2 |
| 112 | Cote dIvoire | 24 |
| 113 | Pakistan | 23.8 |
| 114 | Bangladesh | 23.7 |
| 115 | Malawi | 23.5 |
| 116 | Benin | 23 |
| 117 | Cameroon | 22.6 |
| 118 | Mali | 22.5 |
| 119 | Nigeria | 21.9 |
| 120 | Burkina Faso | 21.9 |
| 121 | Zimbabwe | 21.8 |
| 122 | Burundi | 21.3 |
| 123 | Niger | 21.2 |
| 124 | Zambia | 20.8 |
| 125 | Togo | 18.4 |
| 126 | Guinea | 17.4 |
| 127 | Yemen | 15.6 |
Know more about the world:
Related Maps: