Where Was John F. Kennedy Assassinated?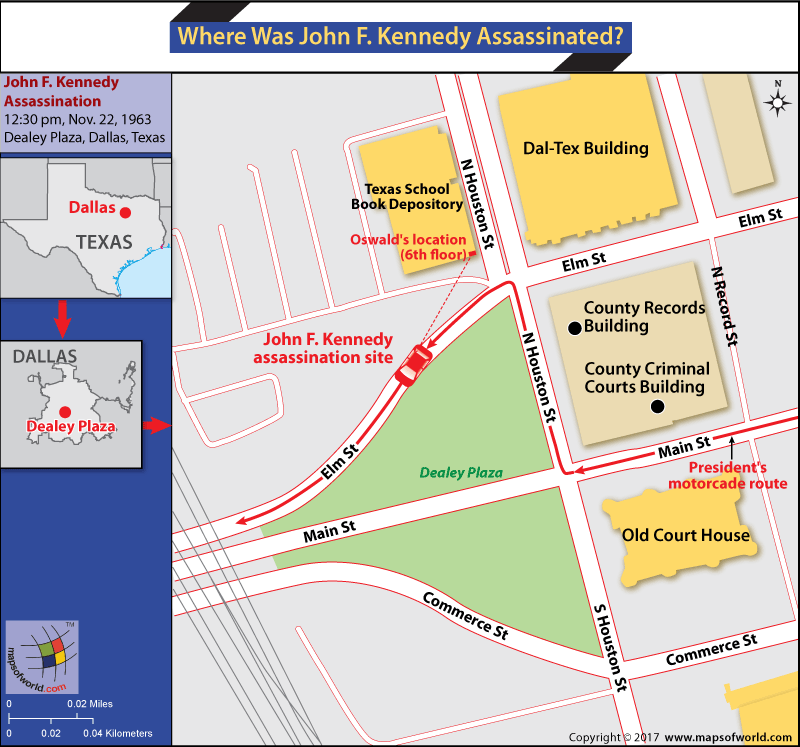 John F. Kennedy, the 35th president of the United States, was assassinated on November 22, 1963, while riding an open convertible in a motorcade through Dallas, Texas. President Kennedy was shot by Lee Harvey Oswald, a former US Marine, as the presidential motorcade was making its way through Dealey Plaza at about 12:30 pm. The incident sent shock waves across the United States and the entire world. Later, in 1993, Dealey Plaza was designated a National Historic Landmark.
John Fitzgerald Kennedy had been elected the president of the United States (POTUS) in 1960 – the youngest person to have held the office at the time. He was the quintessential American hero – an elite, erudite young man, a war hero with a progressive agenda who stepped forth to inspire a post-World War II America. By the fall of 1963, JFK, as he was known, was getting ready to run for a second term. He was one of the best-loved politicians of the United States.
The President's trip to Dallas in Texas was announced by the White House in early September 1963 and his route was planned a few days before the assassination. It was one of the rare political trips where he was accompanied by First Lady Jacqueline Kennedy. Accompanying the president in his car were Texas Governor John Connally and the governor's wife, Nellie Connally. Vice President Lyndon B. Johnson was also part of the motorcade and followed the president in a different car.
The Lincoln Continental convertible entered Dealey Plaza and entered Elm Street and three shots were fired at about 12:30 pm CST. The president was shot in the neck and in the head. Governor Connally was also hit. President JFK was taken to Parkland Memorial Hospital and where he was pronounced dead. His body was taken on board Air Force One in Love Field and in the presence of about thirty witnesses including a blood-soaked Jacqueline Kennedy, US District Court Judge Sarah Hughes administered the Presidential oath of office to Lyndon B. Johnson who took over as the 36th POTUS. JFK's assassin had not yet been apprehended.
Meanwhile, the police received a tip that the assassin had shot the president from the Texas School Book Depository. After receiving a report with the description of the suspect, police officer J.D. Tippit confronted Lee Harvey Oswald. Oswald shot and killed Officer Tippit but was eventually taken in and charged with both murders.
Oswald, however, never stood trial. Two days after his arrest, Oswald was shot by Jack Ruby, a nightclub owner in Dallas. An FBI investigation and the Warren Commission Report both declared that Oswald and Ruby had both acted independently. Many conspiracy theories regarding President JFK's assassination, however, persist.
Related Maps: