Where are the Best Places in South Carolina to view the Total Solar Eclipse 2017?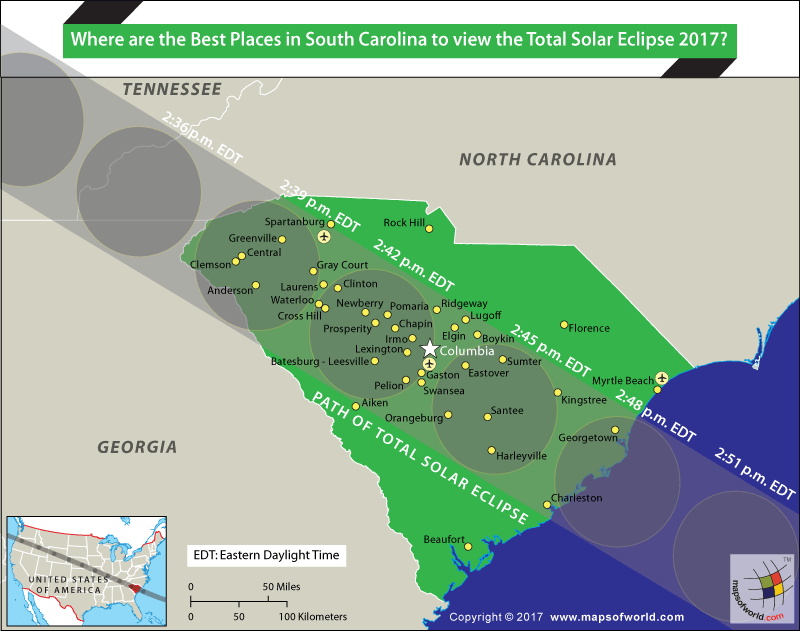 The Great American Eclipse, one of the most awaited celestial events in years, is likely to bring thousands of eclipse chasers from across the world to the United States. It is a total solar eclipse that will move from the Pacific to Atlantic Coasts, tracing a path across a number of states. The last total solar eclipse visible across the breadth of contiguous US occurred almost a century ago.
After having made its way through Oregon, Idaho, Wyoming, Nebraska, Kansas, Missouri, Illinois, Kentucky, Tennessee, Georgia, and North Carolina, the final state that the total shadow of the moon will be visible from is South Carolina.
The total eclipse of the sun makes its way from northwest to southeast South Carolina, exiting into the Atlantic Ocean. The eclipse enters the state at 2:36 pm EDT and leaves the state at 2:49 pm EDT.
 Best Places to View the 2017 Solar Eclipse in South Carolina
A number of primary cities, towns, and communities lie in the path of total eclipse, these include:
Anderson
Batesburg – Leesville
Boykin
Cayce
Central
Chapin
Charleston
Clemson
Clinton
Columbia (capital of South Carolina)
Cross Hill
Eastover
Elgin
Forest Acres
Gaston
Georgetown
Gilbert
Gray Court
Greenville
Harleyville
Hopkins
Horrel Hill
Irmo
Kingstree
Laurens
Lexington
Little Mountain
Lugoff
Newberry
Orangeburg
Pelion
Pomaria
Prosperity
Red Bank
Ridgeway
Santee
Sumter
Swansea
Waterloo
A few of the cities that fall outside the path of totality include:
Aiken
Beaufort
Florence
Myrtle Beach
Rock Hill
Spartanburg
Important airports that serve the state include:
Columbia Metropolitan Airport
Myrtle Beach International Airport
Greenville-Spartanburg International Airport
Greenville-Spartanburg International Airport
Though Spartanburg and Myrtle Beach do not fall in the path of totality, their airports serve the wider region that is closer to the region witnessing the total eclipse.
If you visit the capital of South Carolina, Columbia, do not miss the following attractions:
Columbia Museum of Art
Riverfront Park
South Carolina Military Museum
Riverbanks Zoo & Garden
Governor's Mansion
Ed Venture Children's Museum
South Carolina Military Museum
Hampton-Preston Mansion and Gardens
Related Maps: