Where are the best Places in Missouri to view the Total Solar Eclipse 2017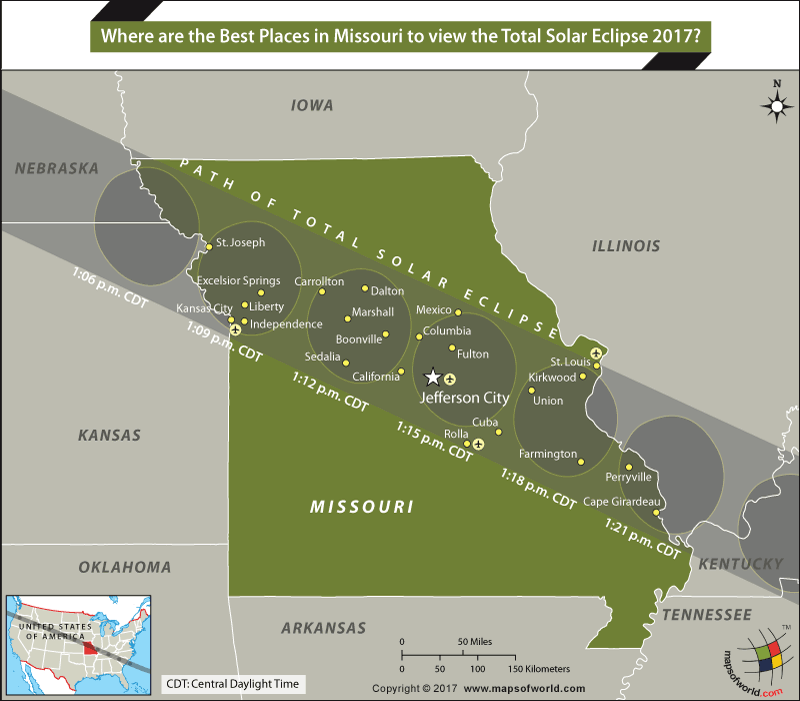 The Great American Eclipse is one of the most anticipated celestial events of the year. It is expected to bring eclipse watchers from many parts of the world to the US. The last total eclipse in 1991 was visible only from parts of Hawaii and the last total eclipse visible from continental US was in 1979. This eclipse is also a rare event because it is almost after a century that a total eclipse shall trace a path of totality from the Pacific to the Atlantic Coast. In this journey, the eclipse passes through the following states: Oregon, Idaho, Wyoming, Nebraska, Kansas, Missouri, Illinois, Kentucky, Tennessee, Georgia, North Carolina, and South Carolina.
Going from the north-western counties to the south east, the eclipse traverses the 'Show Me State,' of Missouri, to put on a grand show. The eclipse will be visible for 1 minute to 2 minutes 41 seconds depending on where you are planning to be. It crosses over into Missouri at 1:09 pm CDT and leaves at about 1:21 pm CDT.
Best Places in Missouri to view the Total Solar Eclipse 2017
Boonville
California
Cape Girardeau
Carrollton
Columbia
Cuba
Dalton
Excelsior Springs
Farmington
Fulton
Independence
Jefferson City (Missouri state capital)
Kansas City
Kirkwood
Liberty
Marshall
Mexico
Perryville
Sedalia
St. Joseph
St. Louis
Union
Communities that are close to the path of total eclipse such as St. Charles, Alton, St. Peters, Warrensburg, and Rolla may witness a partial eclipse but if you are in places such as Kirksville, Springfield, Poplar Bluff, Joplin etc. it would be best to move within the path of totality to witness the total shadow of the moon.
Kansas City International Airport (Kansas City), Rolla National Airport (Rolla), Jefferson City Memorial Airport (Jefferson City), and St. Louis Lambert International Airport (St. Louis) are important airports that serve the counties along the path of total eclipse.
If you are in Jefferson City to watch the eclipse, you may also want to look up these historic places and other attractions:
Missouri State Capitol
Jefferson Landing State Historic Site
Cole County Historical Society
Lewis and Clark Monument
Fountain of the Centaurs
McClung Park
Museum of Missouri Military History
Related Maps: