What is the name of the Sea between Japan and Korea?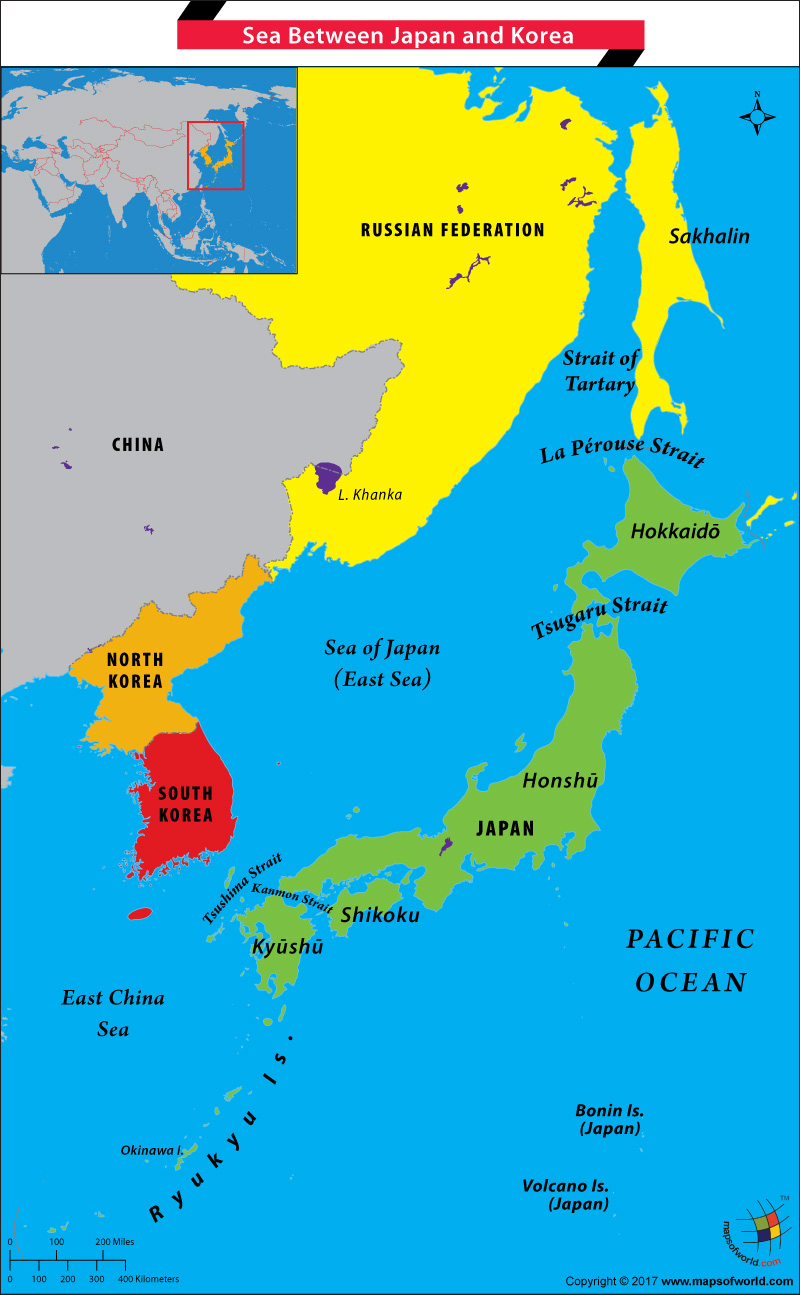 Sea of Japan on World Map
The Sea of Japan on Map
The sea of Japan on the World Map shows the sea that is bound by Japan and Sakhalin (Sakhalin Oblast, Russia) to the east and by mainland Russia, North Korea, and South Korea to the west is popularly referred to as the Sea of Japan. The nomenclature of this sea is, however, a matter of dispute between Japan, North Korea, and South Korea.
The dispute in the name of the sea dates back to 1992. In the Sixth United Nations Conference on the Standardization of Geographical Names held in New York between August 25 and September 3, 1992, both North and South Korea objected to naming this sea, the Sea of Japan. North Korea was particularly vehement claiming that the sea was known as the East Sea of Korea while South Korea wanted the name East Sea to be mentioned along with Sea of Japan. Japan and the two Korean nations contend their respective names to be the original names dating back to antiquity. South Korea, however, claims that the name Sea of Japan only became popular after Japanese occupation of Korea.
In 2004, the United Nations decreed that since Sea of Japan was the widely known name, it would use the name till Japan, North and South Korea reached an amicable solution about the name of the sea that borders all these countries. The debate was again taken up at the International Hydrographic Organization, an organization that governs the naming of most seas, oceans, and water bodies. The IHO decided to continue using Sea of Japan, the popular name to refer to this sea.
The Sea of Japan on Map is a marginal sea meaning that it is a sea formed from an ocean that is bound by archipelagoes and peninsulas or a similar coastal land. The Sea of Japan is connected with the Pacific Ocean by the Strait of Tartary, Le Perouse Strait, Tsugaru Strait, Kanmon Strait, and the Tsushima Strait. The sea is known for its high concentration of oxygen (dissolved in the seawater) which makes it home to a variety of marine life. This also means that the sea offers ample opportunity for fishers in the region to undertake fishing activities.
Related Maps: