Is Balochistan Part of Pakistan?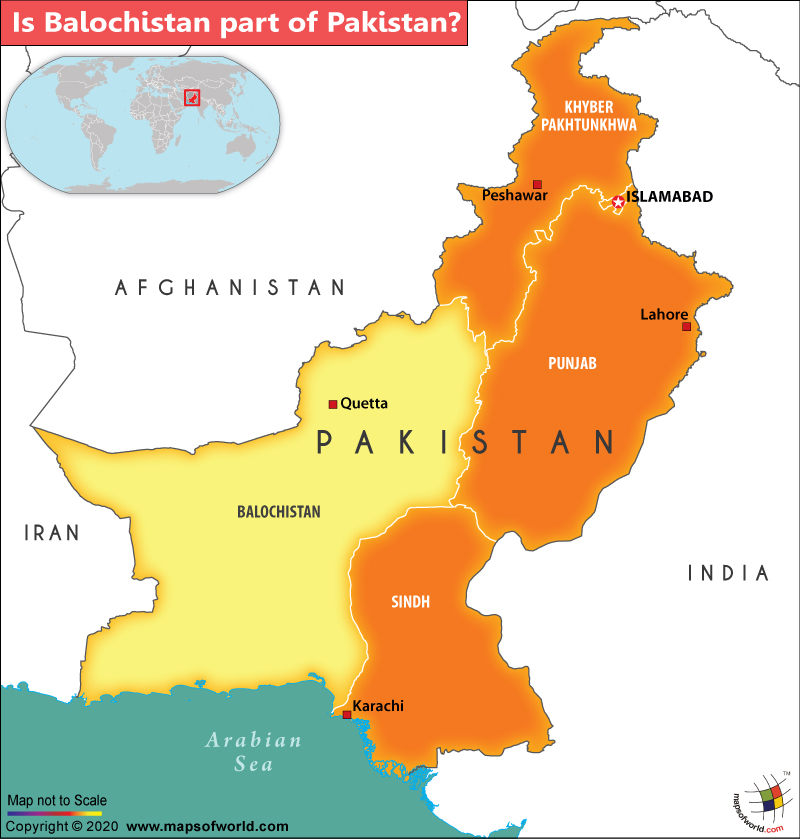 Balochistan is indeed part of Pakistan. It is the largest province of the Republic of Pakistan, located in the southwest of the country, and constitutes about 44 percent of the country's area. Balochistan is bordered by the provinces (of Pakistan) of Punjab and Khyber Pakhtunkhwa to the northeast and Sindh to the east. To the north and north-west, it shares international boundaries with Afghanistan and with Iran to the west. To the south of Balochistan is the Arabian Sea. Quetta is the capital of Balochistan.
Despite being the largest province, Balochistan is home to only seven percent of Pakistan's population, or 13 million people (approximately). The region has been the seat of much internal strife and political turmoil.
Under the British colonial rule…
Under the British colonial rule of India, Balochistan consisted of four distinct princely states – Kalat, Lasbela, Kharan, and Makran. The king or Khan of Kalat wielded control over the other states and the four together remained fairly autonomous through the British Raj. When India and Pakistan gained independence in 1947, Kalat remained independent for a few months. Muhammad Ali Jinnah, Pakistan's first Governor-General issued a communiqué (August 1947) acknowledging Kalat's sovereign status.
Forced accession
By October 1947, however, domestic political pressure forced Jinnah to change his stance and he demanded that Kalat join the newly formed Pakistan. The Khan of Kalat refused and this prompted the Pakistan Army to invade, occupy, and annex Kalat (April 1st, 1948). It has been nearly 70 years since, but the wounds of the forced accession refuse to heal.
The stirring reality of Balochistan
The region has not ceased in its demand for independence. Separatist groups such as the Balochistan Liberation Army have been designated terrorist organizations by Pakistan's administration. The guerilla war between the separatists and Pakistani security establishments is a subtle but ongoing issue.
Balochistan is a land rich in mineral deposits and natural resources with an abundance of gold, copper, oil, and natural gas. It still remains one of the poorest and least developed regions of Pakistan; Baloch separatists accuse the central administration of keeping the region in shambles for fear that economic prosperity will strengthen separatist tendencies.
Over the years Pakistan's security forces have been accused of committing atrocities and gross human rights violations in Balochistan. Illegal detention, rape, and murder are rampant, reports claim. Baloch students, political dissenters, and leaders are routinely killed, according to locals. Pakistan has accused India of supporting and aiding insurgency in the province.
Related Maps: