What is the difference between Nordic and Scandinavian countries?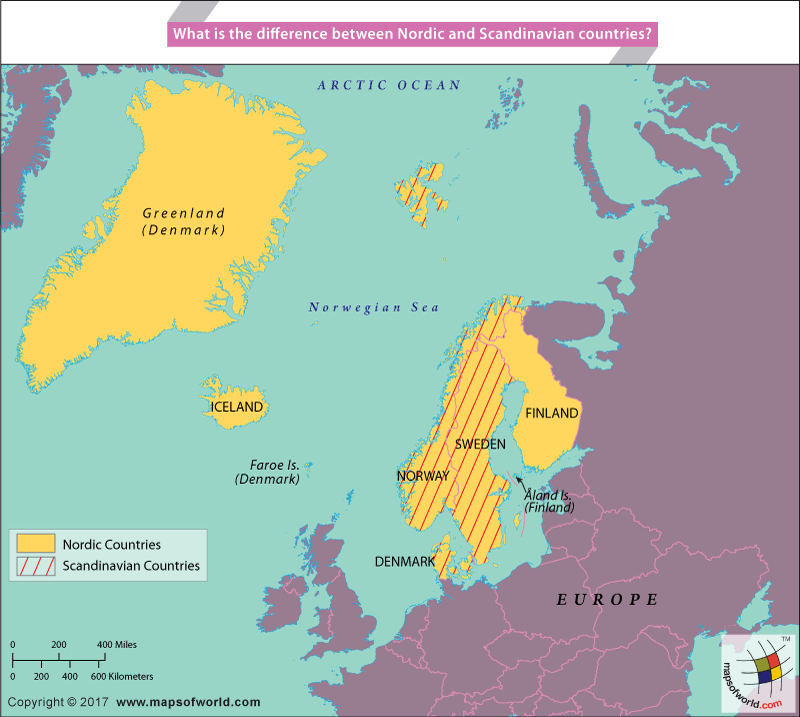 The terms 'Nordic' and 'Scandinavian' are often mistakenly used interchangeably. The term 'Scandinavian countries,' is usually used to refer to three European countries; Norway, Sweden, and Denmark. The reference to 'Scandinavian,' is more of a conventional reference to the North European region (beyond these three countries) which shares a North Germanic heritage in terms of the languages spoken and cultures followed. This is more of a convention based reference, and many people include Iceland and Finland as well, but strictly speaking, these are not part of Scandinavia. Greenland, an overseas territory of Denmark, is not part of Scandinavia given the vast difference in cultures. Jan Mayen (North Atlantic Ocean) and Svalbard Islands (Arctic Ocean), though parts of the Kingdom of Norway are also not considered to be Scandinavian.
The term 'Nordic Countries' is a more formal term used to refer to the countries that are members of the Nordic Council. The Nordic Council is an inter-parliamentary council for co-operation formed in 1952. It has its headquarters in Copenhagen. Denmark, Norway, Sweden, Finland, Iceland, and autonomous provinces such as Greenland, Faroe Islands, and Åland Islands are all referred to as Nordic countries. Scandinavia is thus a subset of the Nordic region.
Here's a look at the countries and territories that make up the Nordic region –
Country
Capital
NATO Member
EU Member
Scandinavian Countries
Denmark
Copenhagen
Yes
Yes
Norway
Oslo
Yes
No
Sweden
Stockholm
No
Yes
Other Nordic Countries
Finland
Helsinki
No
Yes
Iceland
Reykjavík
Yes
No
Autonomous Regions
Greenland
Nuuk
As park of Denmark
No
Faroe Islands
Tórshavn
As park of Denmark
No
Åland Islands
Mariehamn
No
Yes
It is worth mentioning here that Nordic countries – Norway, Denmark, Iceland, Finland, and Sweden – have routinely ranked high in the 'World Happiness Index.' In fact, in the 2017 World Happiness Report, Norway, Denmark, and Iceland were rated the top three happiest countries in the world. Finland ranked at number 5 and Sweden at number 10. Highly evolved healthcare and social security systems, freedom to make life choices, free education and high HDI (Human Development Index) rankings are all reasons why the Nordic countries are among the happiest in the world.
Related Maps: