What are the Key Facts of Libya?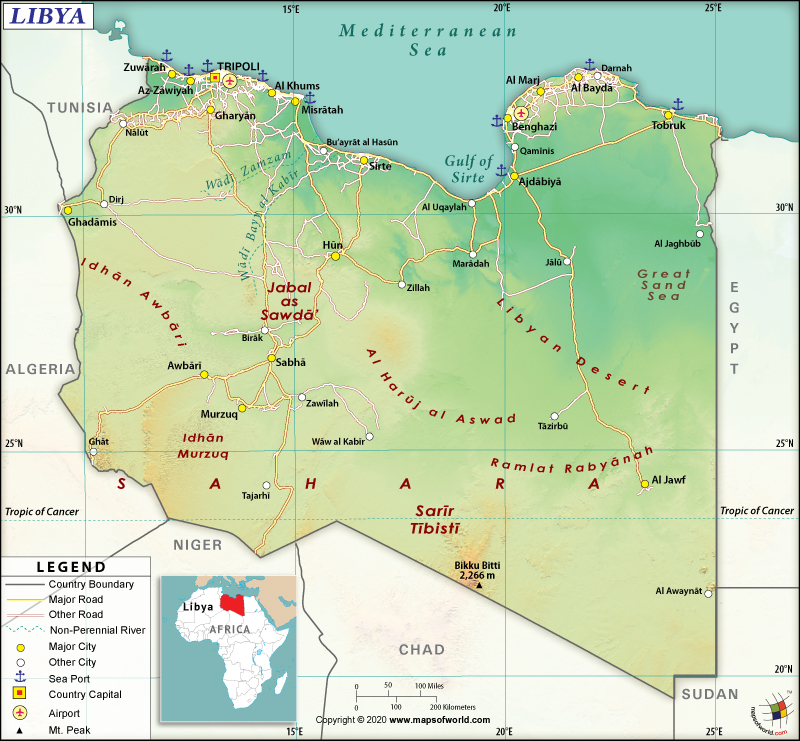 Official Name

State of Libya

Continent

Africa

Capital

Tripoli

Largest City

Tripoli

Coordinates

25.000000, 17.000000

Area

679,362 sq. mi (1,759,540 sq. km)

Land Boundaries

2,696 mi (4,339 km)

Coastline

1,099 mi (1,770 km)

Currency

Libyan dinar (LYD)

Neighboring Countries

Algeria, Chad, Egypt, Niger, Sudan, Tunisia.
Maritime neighbors: Greece, Italy, Malta.

Population

6,777,000 (World Bank, 2019)

Official Languages

Arabic

Major Religion

Islam

National Day

23 October (Liberation Day)

National Anthem

"Libya, Libya, Libya"

Form of Government

Unitary provisional government (in transition)

President (PC)

Fayez al-Sarraj

Prime Minister

Fayez al-Sarraj

GDP per capita (PPP)

$ 15,803.1 (World Bank, 2019)

GDP per capita (nominal)

$ 7,683.8 (World Bank, 2019)

HDI

0.708 (2019), Rank: 110

Literacy Rate (%)

NA

Space Agency

NA

Military Expenditure Ranking

NA (SIPRI, 2019)

No. of Olympic Medals

0 (as of 2018)

Driving Side

right

Calling Code

218

Time Zone

UTC+2 (EET)

Internet TLD

.ly
Where is Libya?
Libya (whose official name is the State of Libya) is a North African country located in the Maghreb region. It is located between Algeria, Tunisia, and Egypt, bordering the Mediterranean Sea.
What is the Geography of Libya?
Libya spreads across a total area of 679,362 sq. mi (1,759,540 sq. km). Out of the total area, 679,362 sq. mi (1,759,540 sq. km) is land area and 0 sq. mi (0 sq. km ) is the water area.
The State of Libya's total land boundary is 2696.1 mi (4,339 km) long. It shares its border with Egypt (692.8 mi or 1115 km ) to the east, Chad (652.4 mi or 1050 km) to the south, Algeria (614.5 mi or 989 km) to the west, Tunisia (286.5 mi or 461 km) to the northwest, Sudan (237.4 mi or 382 km) to the southeast, Niger (212.5 mi or 342 km) to the southwest, and the Mediterranean Sea to the north. Libya has a 1099.8 mi (1,770 km) long coastline.
The mean elevation of Libya is 1387.8 ft (423 m). While the highest point is Bikku Bitti at 7437.7 ft (2,267 m), the lowest point is the Sabkhat Ghuzayyil at -154.2 ft (-47 m).
The terrain of Libya is mostly barren, featuring flat to undulating plains, plateaus, and depressions. Many highlands are present in the country. Except for the Tibesti Massif (located along the Chad border), there are no actual mountain ranges.
Sparse grassland along the narrow coastal strip in the south gives way to the Sahara Desert. The two most prominent features of Libya include the Mediterranean coast and the Sahara Desert. There are many unspoiled beaches along the longest Mediterranean coastline.
The highest mountains in Libya are Bīkkū Bīttī, Jabal al' Uwaynāt, Jabal Arkanū (Al Kufrah), Ra's Zaghwān (Jabal al Gharbi), Ra's al Wādī (Jabal al Gharbi), etc.
Libya has the largest irrigation project in the world. It is known as the Great Man-Made River (prepared during the Gaddafi administration), which mines drinking and irrigation water from the Nubian Sandstone Aquifer System fossil aquifer and supplies freshwater across Libya.
Some major water bodies in the country are Ubari lakes, 23rd July Lake or Benghazi Lake, Gaberoun lake, Ouau en Namu lakes, and many other ancient stream courses.
What is the Climate of Libya?
The climatic condition of Libya is dominated by hot and arid Sahara desert. However, the Mediterranean Sea moderates the climate along the coastal littoral.
During the summer season, the influence of the Sahara desert increases. Westerly winds during October-March bring cyclonic storms and rains throughout northern Libya.
A narrow band of semiarid steppe extends from the Mediterranean climate of the Al-Jifārah Plain, the Nafūsah Plateau, and the Akhḍar Mountains to inlands. Sahara's desert climate reaches the coast, located along the Gulf of Sidra's fringes (where Al-Ḥamrāyah (Sirte) Desert borders the sea). In the steppe and desert areas, periodic droughts often last for many years.
The coastal regions have the Mediterranean climate. This climatic condition is characterized by a hot, dry summer and a cool, rainy winter.
July and August are the warmest months in Libya. While the temperature hovers within 70 °F and 80 °F in Benghazi, it hovers within 60 °F and 80 °F in Tripoli.
January and February are the coldest months. While the temperature hovers within 50 °F and 60 °F in Benghazi, it hovers within 40 °F and 60 °F in Tripoli.
The average yearly precipitation in Benghazi and Tripoli are around 10 inches (250 mm) and about 15 inches (380 mm) as you move from coastal areas towards inland areas, yearly precipitation decreases, and its variability increases.
Most rainfall takes place during November-January. While the steppes get less than 4 inches (100 mm) of yearly rain, Saharan zones receive less than 1 inch (25 mm) rainfall. The highest recorded rainless days in the Saharan zones are 200 consecutive days.
The highest degree of aridity in the world has been recorded at Sabhā, where the average yearly precipitation is just 0.4 inches (10 mm). At Sabhā, the average temperature varies from 80 °F in July to 50 °F in January. The temperature within a day varies enormously at Sabhā.
A hot arid wind called ghibli blows from the south and to entire Libya several times a year, making the climate drier. Ghibli carries large quantities of sand dust, turning the sky red and reducing visibility to less than 60 feet (less than 18 meters). A rapid drop of relative humidity (which can drop dramatically within hours) increases the wind's heat.
What is the Economy of Libya?
The economy of Libya is almost entirely dependent on the exports of oil and gas. It accounts for 86% of the country's revenue. However, drastic fall in global oil prices, ongoing political and security instability within the country, and disruptions in oil production has made the Libyan economy struggle.
Peace and economic stability seem elusive in Libya because of the onset of political and security instability of the country since 2014. Especially after the fall of the Gaddafi regime in 2011 and the consequent tearing up of the land among numerous rival, armed militias affiliated with distinct regions, cities and tribes (each supported by foreign countries having conflicting agendas), the economic recovery is delayed.
Since 2014, the currency (Libyan dinar) has lost much of its value. It has resulted in the growth of a shadow economy and inflation, thanks to the resulting gap between official and black market exchange rates.
A shortage of fuel for power generation has led to widespread power outages across the country. Since 2011, the living condition (including safe housing, medical services, and access to clean drinking water) has deteriorated drastically.
Though oil production reached a 5-year high in 2017 with a rise in average daily production to 879,000 barrels per day, leading to a growth in GDP, it remains far below the highs of 1.6 million barrels per day Gaddafi era. In 2019, the nominal GDP grew at a rate of 2.536% to US$52.076 billion.
Reports say that very few people lived in poverty in Libya (fewer than that of the Netherlands) during the Ghaddafi era. However, after the assassination of President Muammar Ghaddafi, poverty has shot up dramatically.
Though there are no exact statistics regarding poverty in Libya, some estimates say that around 33% of the Libyan population now lives in abject poverty. Many of them don't have the means to meet their basic needs, including access to clean drinking water, proper sewer systems, and more.
What is the Transportation System of Libya?
Libya has 146 airports. While 168 have paved runways, 78 have unpaved runways. Two heliports are also there in the country.
The major airports of Libya are Tripoli International Airport (Tripoli), Benina International Airport (Benghazi), Al Abraq International Airport (Bayda), etc. There is 22990.7 mi (37,000 km) long roadways available, out of which 21126.6 mi (34,000 km) are paved, and 1864.1 mi (3,000 km) are unpaved.
Marsa al Burayqah (Marsa el Brega) and Tripoli are the major seaports in the country. While Az Zawiyah and Ra's Lanuf are the major oil terminals, Marsa el Brega is the major LNG terminal for export.
What International Organizations is Libya part of?
IMF, UN, WHO, UNESCO, ILO, FAO, ABEDA, AfDB, AFESD, AMF, AMU, AU, BDEAC, CAEU, COMESA, G-77, IAEA, IBRD, ICAO, ICRM, IDA, IDB, IFAD, IFC, IFRCS, IMO, IMSO, Interpol, IOC, IOM, IPU, ISO, ITSO, ITU, LAS, MIGA, NAM, OAPEC, OIC, OPCW, OPEC, PCA, UNCTAD, UNIDO, UNWTO, UPU, WCO, WIPO, WMO, WTO (observer), WFTU (NGOs), ICC (NGOs)
Related Maps: