What are the Key Facts of Burkina Faso?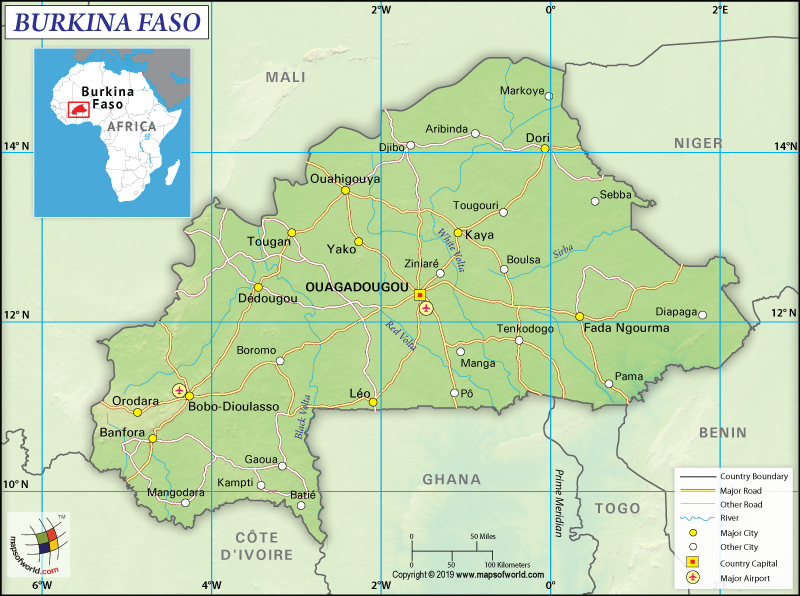 | | |
| --- | --- |
| Official Name | Burkina Faso |
| Continent | Africa |
| Capital | Ouagadougou |
| Largest City | Ouagadougou |
| Coordinates | 13.000000, -2.000000 |
| Area | 105,900 sq. mi ( 274,200 sq. km) |
| Land Boundaries | 2,244 mi ( 3,611 km) |
| Coastline | 0 mi ( 0 km) landlocked |
| Currency | West African CFA franc (XOF) |
| Neighboring Countries | Mali, Niger, Benin, Togo, Ghana, Côte d'Ivoire |
| Population | 20,107,509 (2017 est. ) |
| Official Languages | French (official), Mòoré, Fula, Dioula |
| Major Religion | Islam |
| National Day | 5 August (Independence Day) |
| National Anthem | "Le Ditanye" |
| Form of Government | Unitary semi-presidential republic |
| President | Roch Marc Christian Kaboré |
| Prime Minister | Christophe Joseph Marie Dabiré |
| GDP per capita (PPP) | $ 1,975.0 (World Bank, 2018) |
| GDP per capita (nominal) | $ 731.2 (World Bank, 2018) |
| HDI | 0.423 (2017), Rank: 183 |
| Literacy Rate (%) | NA |
| Space Agency | NA |
| Military Expenditure Ranking | 102 (SIPRI, 2017) |
| No. of Olympic Medals | 0 (as of 2018) |
| Driving Side | right |
| Calling Code | +226 |
| Time Zone | UTC+0 (GMT) |
| Internet TLD | .bf |
Where is Burkina Faso?
Burkina Faso is a west African country. It shares 3,611 km (2,244 mi) long land boundary with six neighboring countries: Mali (1,325 km or 823 mi) to the north, Niger (622 km or 386 mi) to the east, Ghana (602 km or 374 mi) to the south, Cote d'Ivoire (545 km or 339 mi) to the south, Benin (386 km or 240 mi) to the south, and Togo (131 km or 81 mi) to the south.
What is the Geography of Burkina Faso?
To begin with, the total land area of Burkina Faso is 274,200 sq. km (105,900 sq. mi), out of which 273,800 sq. km (105,715 sq mi) is land area and only 400 sq. km (154 sq. mi) is water. Burkina Faso is a landlocked country and there is no coastline. While Tena Kourou is the highest elevation point of the country at 749 m (2,457 ft), Mouhoun (Black Volta) River is the lowest elevation point at 200 m (656 ft). Burkina Faso is a relatively flat country. Other major mountains of the country are Tanlallé, Kantolo, Tonvo, Kanso, Koèl, and many more.
In addition, the country's larger part is covered by a gently undulating landscape called peneplain. In some parts of this low-relief plain, remnants of a Precambrian massif can be found in the form of a few isolated hills. In the southwest part of Burkina Faso, a sandstone massif can be found. The highest elevation point of the country (Tena Kourou) can be found in this area. Sheer cliffs (having a height up to 150 m or 492 ft) border this sandstone massif.
Three rivers cross this country: Mouhoun (Black Volta), Nakambé (White Volta), and Nazinon (Red Volta). That's the reason why Burkina Faso was formerly known as the Republic of Upper Volta. The only two rivers that flow throughout the year are Mouhoun (Black Volta) and Komoé.
The Niger River basin drains around 27% of Burkina Faso's surface. While the major lakes of the country are Dem, Bam, and Tingrela, some of the major ponds are Markoye, Yomboli, Béli, and Oursi.
The country predominantly has a tropical climate, having two distinct seasons: rainy and dry. The total amount of rainfall that takes place during the rainy season is 60-90 cm (23.6-35.4 in). It lasts for around 4-to-5 months (starts in May/June and continues till September). The rainy season gets shorter as you move towards the northern parts of the country. During the dry season, a hot dry wind known as 'harmattan' blows from the Sahara.
Further, there are 3 climatic zones in Burkina Faso and they are the Sahel, the Sudan-Sahel, and the Sudan-Guinea. The Sahel climatic zone is located in the northern parts of Burkina Faso. It receives less than 60 cm (23.6 in) of rainfall every year. The temperature in the Sahel hovers within 5-47 °C (41-117 °F) range.
The Sudan-Sahel climatic region is located between 11°3′ and 13°5′ north latitude. In terms of rainfall and temperature, it is a transitional zone. The Sudan-Guinea climatic zone is located to the south of Burkina Faso. The average temperature in this region is comparatively cooler and receives a total rainfall of over 90 cm (35.4 in) every year.
What is the Economy of Burkina Faso?
Generally, Burkina Faso is a low-income economy which is predominantly dependent upon its natural resources. Around 80% of the labor force is involved in agriculture. The two most important export items are cotton and gold.
In 2018, the economy of Burkina Faso grew at a steady rate of 6%. The nominal GDP in the same year was US$14.442 billion. Services sector (financial services, telecommunications, the organization of international events, etc.) is the main driving force of the economy. The bounce-back of the agricultural production, with the support of continuing dynamism in the mining sector, is fueling the relatively high economic growth of Burkina Faso.
The unemployment rate remains over 6% and more than 60% of the total population is considered poor. However, in the medium term, the economic outlook remains favorable.
What is the Transportation System of Burkina Faso?
The transportation infrastructure in Burkina Faso is relatively underdeveloped.
There are 15,304 km (9,509 mi) of roadways present in the country and most of them are unpaved (11,662 km or 7,246 mi). Only 3,642 km (2,263 mi) of roadways are paved.
Burkina Faso has 23 airports, out of which 2 have paved runways and the rest 21 have unpaved runways. The two international airports are located in Ouagadougou and Bobo-Dioulasso.
Only a limited railway network (622 km or 386 mi) is present in Burkina Faso, and all of it is narrow-gauge tracks. The towns served by the railway network include Bobo-Dioulasso, Banfora, Ouagadougou, Kaya, and Koudougou.
What International Organizations is Burkina Faso part of?
WTO, ACP, UNESCO, AfDB, AU, UN, CD, IMF, ECOWAS, Entente, Interpol, FAO, WHO, FZ, UNCTAD, G-77, UNIDO, IAEA, IBRD, ICAO, ILO, ICCt, ICRM, IDA, IDB, IFAD, IFC, IFRCS, IOC, IOM, IPU, ISO, ITSO, ITU, MIGA, MINUSMA, MONUSCO, NAM, OIC, OIF, OPCW, PCA, UNAMID, UNISFA, UNITAR, UNWTO, UPU, WAEMU, WCO, WIPO, WMO, EITI (compliant country), WFTU (NGOs), ITUC (NGOs), WADB (regional), ICC (NGOs)
Related Maps: