What are the Key Facts of Botswana?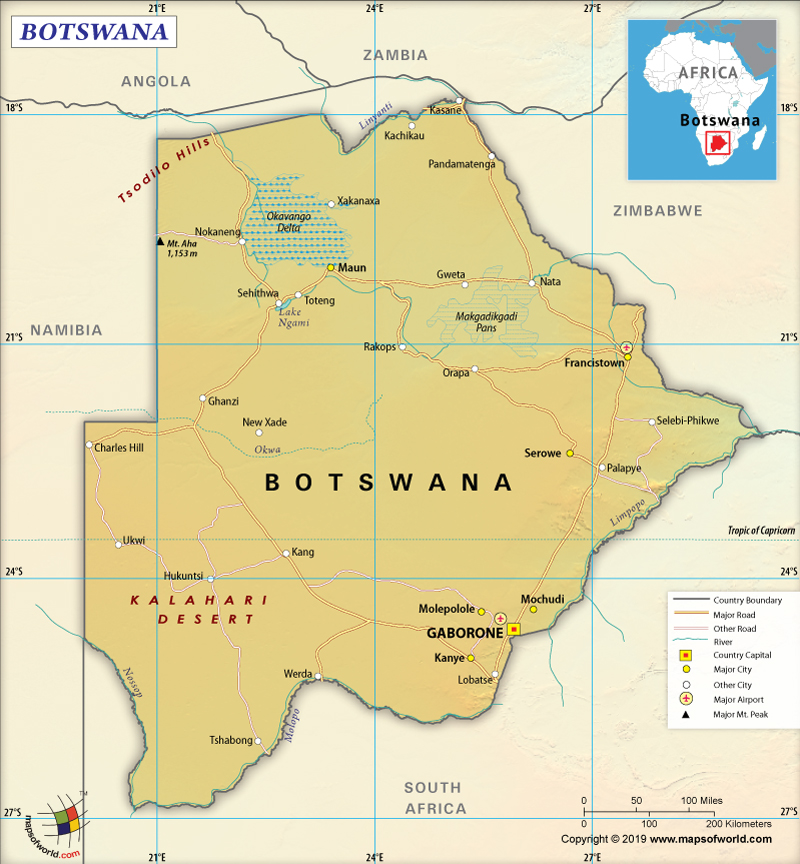 | | |
| --- | --- |
| Official Name | Republic of Botswana |
| Continent | Africa |
| Capital | Gaborone |
| Largest City | Gaborone |
| Coordinates | -22.000000, 24.000000 |
| Area | 224,610 sq. mi ( 581,730 sq. km) |
| Land Boundaries | 2,701 mi ( 4,347.15 km) |
| Coastline | 0 mi ( 0 km) landlocked |
| Currency | Botswana pula (BWP) |
| Neighboring Countries | Zambia, Zimbabwe, South Africa, Namibia |
| Population | 2,250,260 (2016 est.) |
| Official Languages | English, Setswana |
| Major Religion | Christianity |
| National Day | 30 September (Independence Day) |
| National Anthem | "Fatshe leno la rona" |
| Form of Government | Unitary parliamentary constitutional republic |
| President | Mokgweetsi Masisi |
| Vice President | Slumber Tsogwane |
| GDP per capita (PPP) | $ 18,583.0 (World Bank, 2018) |
| GDP per capita (nominal) | $ 8,258.6 (World Bank, 2018) |
| HDI | 0.717 (2017), Rank: 101 |
| Literacy Rate | NA |
| Space Agency | NA |
| Military Expenditure Ranking | 86 (SIPRI, 2017) |
| No. of Olympic Medals | 1 (as of 2018) |
| Driving Side | left |
| Calling Code | +267 |
| Time Zone | UTC+2 (Central Africa Time) |
| Internet TLD | .bw |
Where is Botswana?
Botswana is a southern African country that is located north of South Africa.
What is the Geography of Botswana?
Botswana has a total area of 581,730 sq. km (224,610 sq. mi), out of which 581,730 sq. km (218,816 sq. mi) is land area and only 15,000 sq. km (5,792 sq. mi) is the water area. It has a 4,347.15 km (2,701 mi) long land boundary, which is shared with four neighboring countries: South Africa (1,969 km or 1,223 mi), Namibia (1,544 km or 959 mi), Zimbabwe (834 km or 518 mi), and Zambia (0.15 km or 0.09 mi). This African country doesn't have any coastline as it is completely landlocked.
To begin with, the mean elevation of Botswana is 1,013 m (3,323 ft). While the highest elevation point is Tsodilo Hills at 1,489 m (4,885 ft), the lowest point is the junction of the Limpopo and Shashe Rivers at 513 m (1,683 ft). The major mountains/hills in Botswana are Kwahu Hill, Mamadungwa Hill, Leropo Hill, Kgorotlhwe Hill, Kgokgole Hill, etc. The rivers, tributaries, and water sources are located in the northern parts of the country and the most important ones are Chobe, Savute River, Linyanti River, Okavango, Khwai River, etc.
Moreover, a large part of Botswana consists of the flat southern African plateau having an average 1,006 m (3,300 ft) elevation. The southwest part of the country is mainly covered by the Kalahari Desert. Gently rolling tableland also forms a significant part of the landscape.
In addition, a thriving oasis is formed by the Okavango Delta in the north of the country. There are many salt lakes and pans in this area, that attracts a wide array of migrant waterfowls (including flamingos). The largest salt flats in the world, the Makgadikgadi Pan, are located in northeastern Botswana. Other landforms of this southern African nation include savanna grasslands in the eastern parts as well as a dry scrub (located along the western border with Namibia).
Another key point is that Botswana has a semiarid climate, which is characterized by hot summers and warm winters. The rainy season prevails throughout the summer. However, rainfall is highly regional, unpredictable, and regional. Usually, strong sunshine follows heavy showers.
The summer season lasts from November-to-March. This time of the year remains hot with the temperature rising to 38 °C (100.4 ˚F) and on some occasions also reaching blistering 44 °C (111.2 ˚F). Though rains can cool off the extreme heat, the effect remains for a short time span only.
The winter season lasts from May-to-August. The climate remains dry and almost no rainfall takes place. During winter, the place gets lots of sunlight and the sky remains clear. During the daytime, the air can remain seductively warm. The nights and early-morning hours remain cold. Frost is common during this time of the year.
However, the time period between these two seasons (April/early May and September/October) remains dry. However, the climate remains cooler than in the summer. The temperature in the nighttime remains warmer during winter.
Maximum rainfall takes place during January-February. The northern parts get maximum rainfall, amounting to an average of more than 650 mm (26 in). The extreme southwest part of Botswana gets the least rainfall across the year, which is less than 250 mm (10 in). The best time to visit this African country is from April-to-October.
What is the Economy of Botswana?
In the first place, Botswana has experienced a very high rate of growth since its independence in 1966. In the initial years, they experienced a double-figure growth rate which went on to touch 26.362% in 1972. They maintained a high growth trajectory until the world economy suffered a global recession in 2008. In 2009, the economy contracted (-7.652% growth rate).
In the last decade, the economy of Botswana grew at an average of 5% (despite high volatility). In 2018, the nominal GDP of the economy was US$18.616 billion, and it grew at 4.454%. This high trajectory of the economy has become possible mainly because of diamond mining and a heavy reliance on diamond exports. This sector contributes around 85% to the export earnings, 1/4th to the GDP, and 1/3rd to the total government revenues. The tourism sector is another main foreign exchange earner of the country.
Nonetheless, the Botswana economy had an average unemployment rate of 19.23% during 1991-2017. It was 18.10% in 2017. The poverty rate has come down to around 16%. However, about 30% of the population lives just above the poverty line. In case of any economic shock, this population remains vulnerable to going below the poverty line.
What is the Transportation System of Botswana?
Botswana's transport system is mainly dependent upon roadways. There are 31,747 km (19,727 mi) of roadways in the country, out of which 9,810 km (6,096 mi) is paved and 21,937 km (13,631 mi) is unpaved. To reach the country or for domestic travel, air transport is popular. That's why there are 74 airports in Botswana. While only 10 airports have paved runways, 64 airports have unpaved runways. Train facility is limited. There is just 888 km (552 mi) of railways in this African country and all of them are narrow-gauge tracks.
What International Organizations is Botswana part of?
WTO, UN, IMF, UNESCO, Interpol, ACP, AfDB, ILO, AU, C, CD, FAO, G-77, IAEA, IBRD, ICAO, ICCt, ICRM, IDA, IFAD, IFC, IFRCS, IOC, IOM, IPU, ISO, ITSO, ITU, MIGA, NAM, OPCW, SACU, SADC, UNCTAD, UNIDO, UNWTO, UPU, WCO, WHO, WIPO, WMO, WFTU (NGOs), ITUC (NGOs)
Related Maps: