What is the Capital of Poland?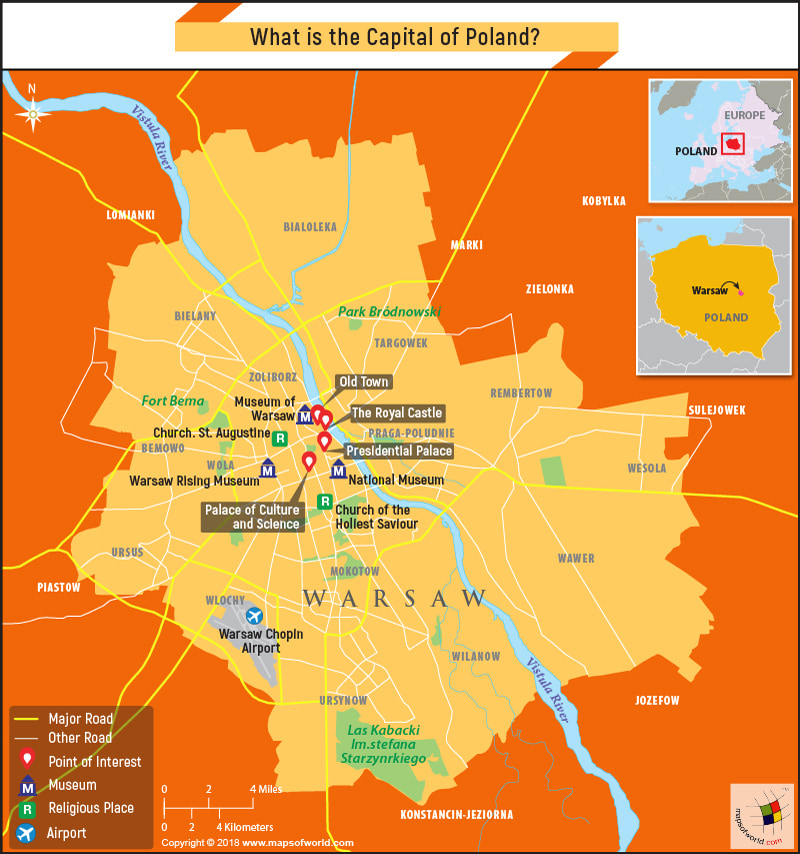 Warsaw is the capital of Poland.
Warsaw has a population of 1,758,143 inhabitants, which makes it the largest city in the country and the 9th largest in the European Union. The city covers an area of 199.71 square miles and is located in the east-central part of Poland.
A prominent city in Europe, Warsaw is a significant political, economic, and cultural hub. Warsaw has a nominal GDP of $233 billion (PPP), which makes it, along with Berlin, the richest capital city in the entire eastern and central Europe. Warsaw has received a number of accolades for its high-quality living standards and business-friendly environment. According to the Economist Intelligence Unit, Warsaw was the world's 32nd most livable city in 2012. It was ranked as the 4th most business-friendly city and came at the eighth spot in Human Capital and Life Style in 2017.
Warsaw was established in the 13th century and during the following centuries was ruled by a number of dynasties. It was also host to a number of important events such as the election of the Polish kings, meeting of the Polish parliament, and others. Warsaw witnessed large-scale destruction during the Second World War, as around 85 percent of the city's buildings were damaged. Warsaw made remarkable post-war recovery, and with its complete reconstruction, was given the title of 'Phoenix City.'
Warsaw is a famous tourist destination, attracting visitors from across the globe. Some popular places to visit in Warsaw are the Old Town, which is a UNESCO World Heritage Site, Palace of Culture and Science, Royal Castle, Museum of Warsaw, Warsaw Rising Museum, and many others.
Visit the following to learn more about Poland:
Related Maps: