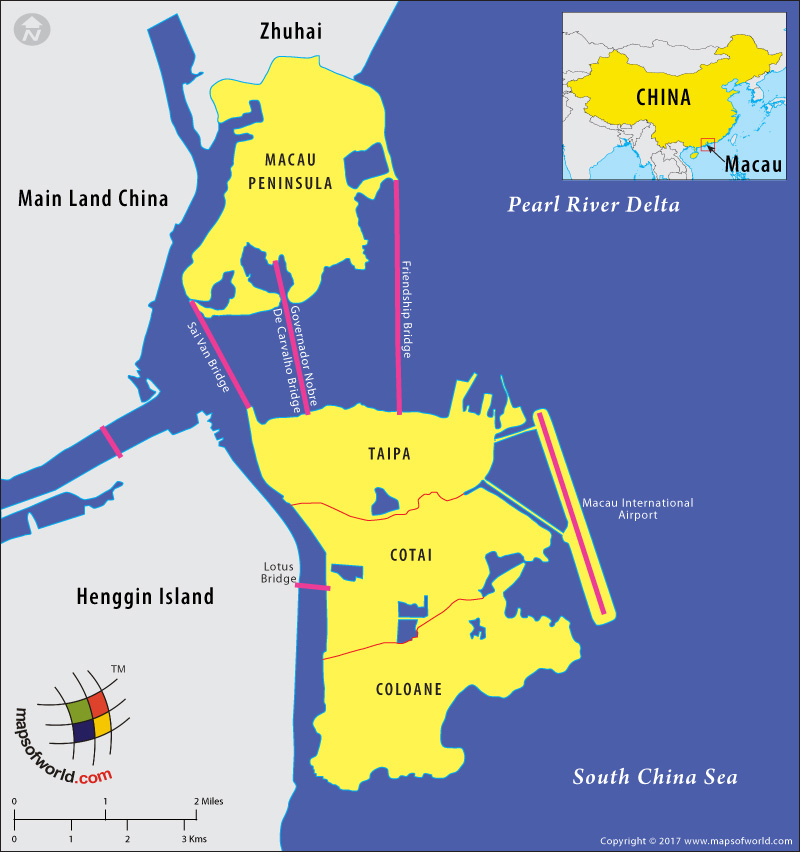 Macau is not a country. It is a part of the People's Republic of China and is administered as a Special Administrative Region (SAR).
Macau is a narrow peninsular region that juts out of the Guangdong province. It is located south western end of the Pearl River estuary, to the south of the PRC. Macau is one of the most densely populated regions of the world.
Before being taken over by China as a SAR, Macau was a Portuguese colony. The earliest Portuguese traders landed in Macau by 1513 and by the middle of the century, the Europeans had established trade ties with China through Macau. Soon the region became an important Portuguese establishment and entrepôt. While the Portuguese traders increased in number, the Chinese continued to dominate the region. Soon Christian missionaries also started to arrive in Macau and Roman Catholic Diocese of Macau was established in 1576. Portuguese authorities started to recognize Macau as their East Asian center and a Dutch invasion was successfully repealed by the Portuguese. The Chinese, however, still maintained sovereignty over Macau at this time.
Portugal appointed its first governor to Macau in the 17th century but it was much later in 1887 that the Portuguese and Chinese governments entered into the Treaty of Peking in which China recognized Portugal's right to occupation and governance of the Macau region. But by this time the British colony of Hong Kong had started to prosper and had started to become the preferred trading hub (with China) of the western world.
Its prestige as an important trading port was on the wane but Macau served as an important neutral territory during World War II and during China's war with Japan. In 1951, the Portuguese government declared Macau an overseas province of the country. Within a couple of decades, however, internal political trouble forced Portugal to grant Macau considerable autonomy. By 1976 Macau had its own constitution and legislature. Soon after, the issue of transfer of sovereignty (from Portugal to China) came up but it would be years before Portugal and China could come to an agreement. It is only on December 20, 1999, that Macau became a special administrative region of Chinese.
As a result of the terms negotiated by Portugal during the transfer, Macau enjoys considerable autonomy. All non-Portuguese residents in Macau (at the time of the transfer) were granted Chinese citizenship. China is also responsible for the defense and foreign affairs of Macau. Apart from this the people of Macau enjoy numerous special privileges and elect their own local leaders, use a different currency, have a different educational and socio-economic set up.
Related Maps and Info