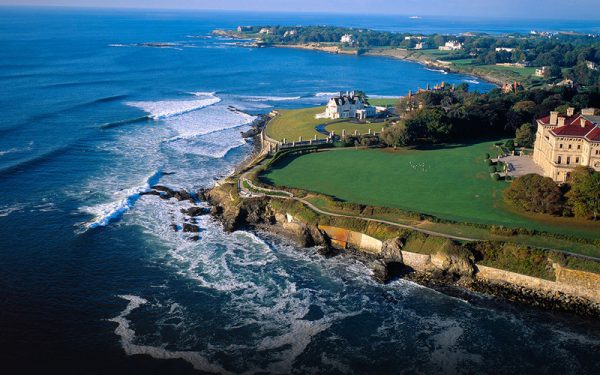 Rhode Island is a beautiful state boasting of some beautiful mountains, lakes and rivers. There are a number of state parks, beaches and museums that draw attention of number of tourists every year.
Where is Rhode Island ?
Rhode Island is located within the coordinates 41.70° N, 71.50° W. Rhode Island Location Map
Facts about Rhode Island
Rhode Island is notable for being the smallest state in the country, located in the New England region directly underneath Massachusetts.
Rhode Islands' official name is actually "Rhode Island and Providence Plantations," which is the reason why most of the state is actually not an island at all.
Places to visit in Rhode Island
Beavertail State Park: Located in Narragansett Bay, Rhode Island, Beavertail State Park is one of the most popular destinations in the state. The main attraction of the park is the Beavertail Lighthouse, located at the south end of Jamestown on the island. The lighthouse gives a panoramic views of the Narragansett Bay. The area is famous for sightseeing, saltwater fishing, and hiking.
Providence Children's Museum: Located in the capital city of Rhode Island, the Providence Children's Museum is a wonderful place for children. It is the first children's museum in the state. The museum was founded in 1976 as the "Rhode Island Children's Museum," and got its present title in 1997. The most notable exhibits include a time-traveling adventure through the history of the state.
The Breakers: Located in Newport, Rhode Island, United States, the Breakers is a national historic landmark. It is a Vanderbilt mansion administered by the Preservation Society of Newport County. The building is built in a unique style known as the Gout Rothschild; it was designed by Richard Morris Hunt, an influential architect of the United States.
Roger Williams Park Zoo: Located in Providence, Roger Williams Park Zoo is one of the oldest zoo in the United States; it was founded in 1872. The zoo houses a variety of unique animals and birds including monkeys, bears, hoofstock, dinosaurs, raccoons, guinea pigs, white mice, squirrels, rabbits, hawks, peacocks and anteaters. The zoo houses a children's farmyard , a carousel, and a playground making it a perfect family entertainment place.
Snake Den State Park: Established in 1969, the Snake Den State Park is a famous state park in Providence County, Rhode Island. The park provides ample recreational opportunities such as hiking, camping, and sight-seeing. The park boasts of a variety of flora and fauna. It is open all the year round and one of the most-visited places in the state.
| | |
| --- | --- |
| State Parks | Beavertail State Park, Lincoln Woods State Park, Fort Adams State Park, Snake Den State Park, Brenton State Park |
| Beaches | Fort Adams State Beach, Misquamicut State Beach, Charlestown Breachway State Beach, Scarborough State Beach Complex |
| Museums | Beavertail Lighthouse Museum, National Museum of American Illustration, Naval War College Museum, Providence Children's Museum, South County Museum |
| Historic Landmarks | The Breakers, Beechwood Mansion, Samuel Whitehorn House, Fort Adams, Brick Market |
| Other Places | Roger Williams Park Zoo, Jamestown Windmill, Nibbles Woodaway, Block Island |
Related : Airports in Rhode Island | Hotels in Rhode Island | Rhode Island Cities | Rhode Island Railway Map

Image Source : The Odyssey Online

Published On: Tuesday, May 16th, 2017