Map of Poland Cities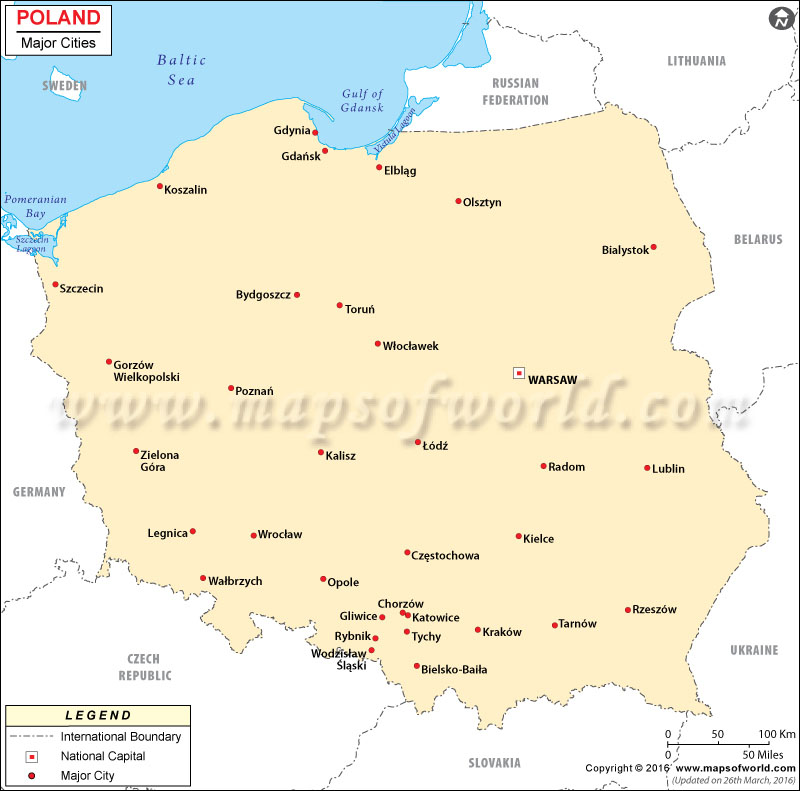 Each of the Cities in Poland has something unique to offer. Some of them are considered to be the major tourist hubs and most of the Cities in Poland being located amidst the lap of nature provide splendid panoramic view to the inhabitants of Poland as well as to the outsiders visiting Poland. Some of the major Cities in Poland have been listed below
Warsaw
Wroclaw
Poznanli>
Cracow
Wloclawek
Gdansk
Sopot
Gdynia
Lublin
Zabrze

Olsztyn
Tychy
Rzeszow
Bydgoszcz
Rybnik
Szczecin
Katowice
Bialystok
Sosnowiec
Bytom
Among the above mentioned Cities in Poland Warsaw is a city with a perfect blend of traditionalism with modernity. It offers a wide range of view to the city dwellers as well as to the travelers visiting Warsaw. From the terrace on Zamkowy Square, where the St. Anne's Church and Royal Castle are being situated one can get the view of the new Swietokrzyski Bridge. This city is indeed a centre of Culture and Science where presently a number of skyscrapers office towers have been constructed. One can feel the touch of history in this Old Polish Town.
On the other hand, Cracow, the former royal capital of Poland, is indeed one among the major tourist destinations. This attractive spot mingles history with modernity. This City of Poland is situated on the banks of the Vistula River and has acquired fame across the world as a centre of history, culture and art.
Apart from this, Wroclaw and Poznan are said to be the magical city and the legendary cradle of Poland respectively.